Heads up! We're working hard to be accurate – but these are unusual times, so please always check before heading out.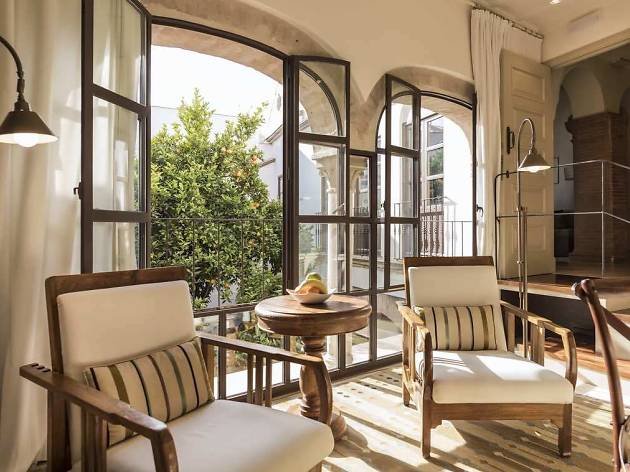 The 10 best hotels in Spain
Revamped castles, hidden caves, remote manors—the best hotels in Spain are well-worth a trip all on their own
Whatever the mood, moment or budget, Spain has a hotel that fits the bill. We're talking places with personality, history and one-of-a-kind design that will take you from the ragged heights of the Pyrenees to the sun-bleached badlands of Andalusia, the Modernist boulevards of Barcelona to the Moorish alleyways of Córdoba. Choose wisely and where you stay will add a whole new dimension to your travels.
Monasteries with boutique cachet, classy caves between city and sierra, revamped castles and middle-of-nowhere country manors—we've combed the country to find lodgings that border on the soulful, spiritual and sublime. Here are some of our favourite hotels in Spain.
Best hotels in Spain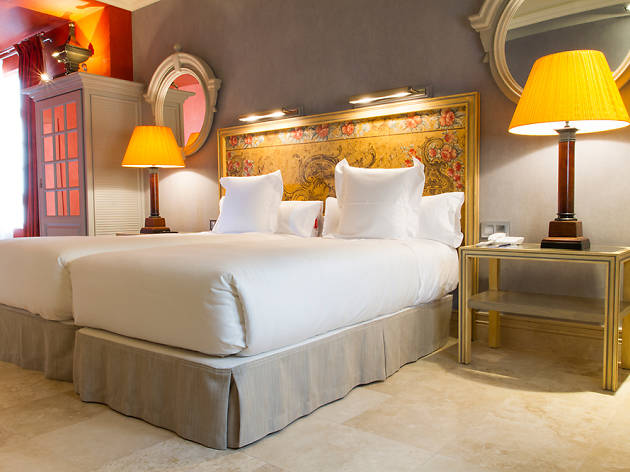 Where: Seville
A boutique wand has brought this 17th-century town mansion winging into the 21st century. Right in Seville's historic heart, the 'Poet's House' is but a five-minute stroll from the showstopping cathedral and Alcázar. Casa del Poeta has 17 rooms, done out in crisp blues and whites and Travertine stone, with beds draped in Egyptian cotton. These wrap around an inner patio where a fountain burbles. The roof terrace, with knockout views of the city's spires and domes, and live guitar music every evening are icing-on-the-cake stuff.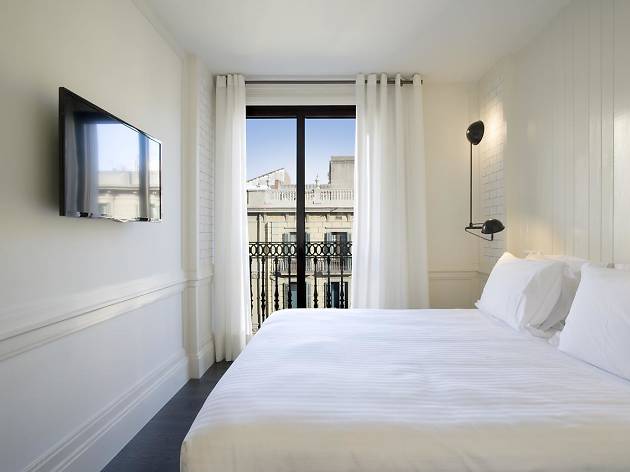 Photograph: Courtesy Booking.com
Where: Barcelona
Barcelona has posher hotels, for sure, but few combine the same sense of urban cool with easy-on-the-wallet rates and an in-house bakery. At Hotel Praktik Bakery, rooms are slickly minimalist (if compact), with metro-tiled walls and bathrooms with rainshowers. Wake up and smell the fresh loaves and pastries already making their way to the breakfast table. And there's more: check-out is until 2pm (hurrah!), there are cracking city views from the roof terrace and Gaudi's playful La Pedrera is just steps away.
Photograph: Courtesy Valencia Mindfulness Retreat
3. Valencia Mindfulness Retreat
Where: Valencia
This port city on Spain's southeast coast is perhaps better known for its Modernista buildings and Santiago Calatrava's futuristic exploits than mindfulness. But this sweetly run B&B does things a little differently. Lodged in a historic, antique-dotted mansion near the Plaza de la Virgin, the Valencia Mindfulness Retreat exudes a nicely chilled vibe, with local artworks gracing the walls, stress-busting pilates, yoga and mindfulness meditation classes, and breakfasts delivered by butler. They're so confident they've got things right that they'll tear up your bill if you leave unsatisfied.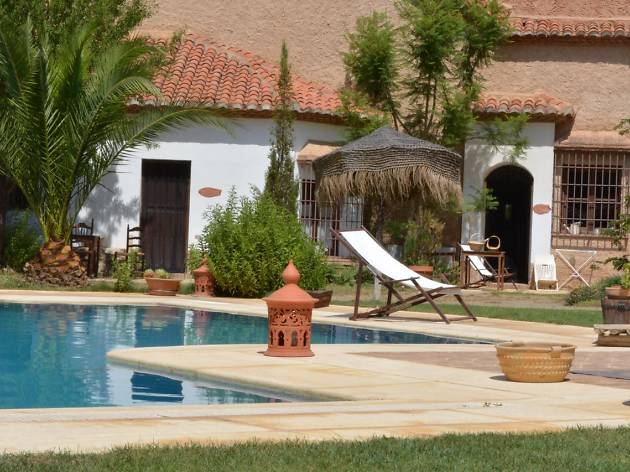 Photograph: Courtesy Booking.com
Where: Purullena
If you've ever fantasised over a Flintstone lifestyle, this is the dream. East of Granada, with its simply Moorish Alhambra Palace, and north of the snow-capped Sierra Nevada, lies Purullena. Here caves honeycomb hillsides, staying cool in the blazing hot summers and warm in the winters. Hole up in one of these simple, rustic, wood-and-stone cave dwellings to strike out into the silent Río Fardes valley. Perks at Cuevas Almagruz include an outdoor pool and free guided tours of the Megalithic Park of Gorafe.
Photograph: Courtesy Booking.com
Where: Quintana de Soba
Out on its rural lonesome in the Basque Country, this 18th-century country hotel looks out across lush mountains that sweep down to the Bay of Biscay. Casona de Quintana delivers its own blend of romance, with an artful mix of antiques, nouveau French chic (think white linen and candlelight) and uplifting views. Top billing, perhaps, goes to the beamed Tower Suite, but no two rooms (all of which are named after trees) are alike. Hike to prehistoric caves, play games by an open fire or unplug in the terraced gardens.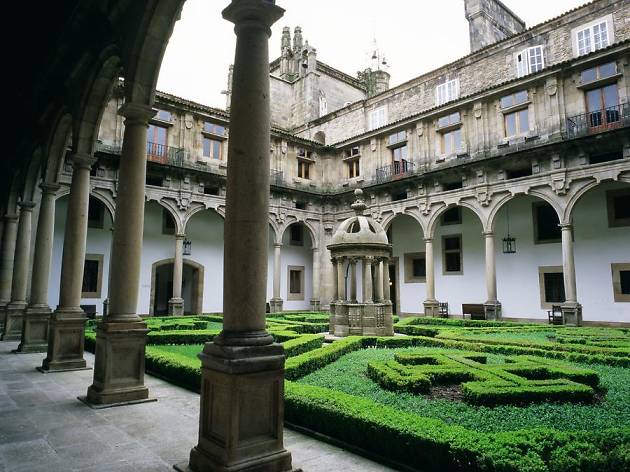 Photograph: Courtesy Booking.com
Where: Santiago de Compostela
Blister-footed pilgrims have been rocking up at this parador, also known as the Hostal dos Reis Catolicos, since 1499. One of the world's oldest hostelries, it's now a slicker, more luxurious affair. History pervades the antique-furnished rooms, some with four-poster beds, the atmospherically lit cloister and the vaulted refectory restaurant, pairing Galician seafood and wines. Beat the pilgrims to the breakfast buffet before stepping out onto grand Praza do Obradoiro, where the cathedral looms large.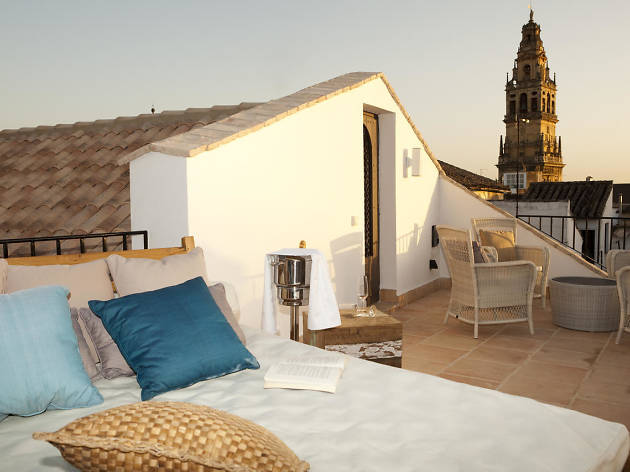 Photograph: Courtesy Booking.com
Where: Córdoba
Spread across three courtyards, this beautifully converted 17th-century monastery is ludicrously romantic, with its red-brick arches, mosaic cobblestones and orange tree-shaded patios. From the roof terrace, views from Balcón de Córdoba reach to the nearby Mezquita and its minaret. The 10 serene rooms and suites come with bowls of fresh fruit. Service is discreetly friendly, and the menu puts its own riffs on clean, bright Mediterranean flavours, along the lines of scarlet shrimp with boletus confit and quince roll with Iranian pistachio ice cream.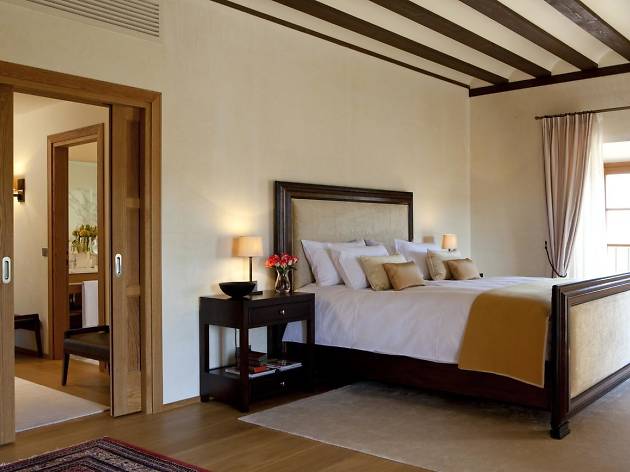 Photograph: Courtesy Booking.com
8. Abadía Retuerta LeDomaine
Where: Sardon de Duero, Valladolid
You don't just happen upon this chicly restored 13th-century monastery—you seek it out. Perhaps for Abadía Retuerta LeDomaine's wonderfully hushed, sunlit rooms and suites, with views out over cordruoyed vineyards, tasteful walnut furnishings and complimentary mini-bars. Perhaps because of the lantern-lit spa, with its hydrotherapy pool, vinotherapy treatments and 'spa sommelier'. Not to mention the private wine tours and tastings, the Michelin-starred dining below majestic vaults, and the quiet strolls in the cloister gardens. Special? You bet.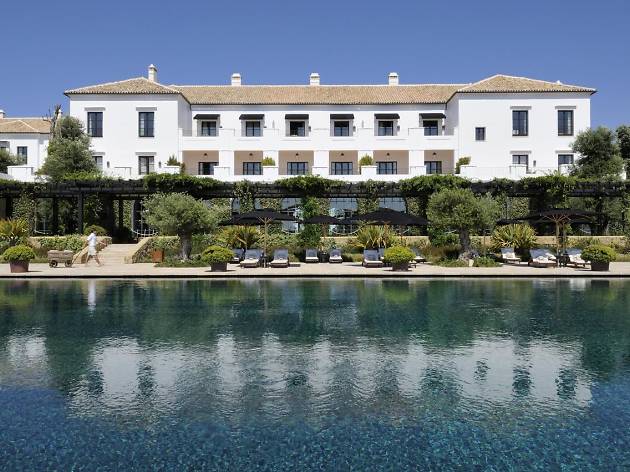 Photograph: Courtesy Booking.com
Where: Casares
Regularly topping polls of Spain's most fabulous hotels, Finca Cortesín is a half-an-hour drive from ritzy Marbella. Interior designer Duarte Pinto Coelho has put his stamp on this fantasy escape, with its palatial courtyards, vast grounds scented with jasmine and roses, and details in everything from intricately carved wooden ceilings to antiques hailing from Spain, Portugal and Morocco. Go for the private beach club, championship golf course (among the country's best), Thai-inspired spa and Michelin-starred Japanese restaurant.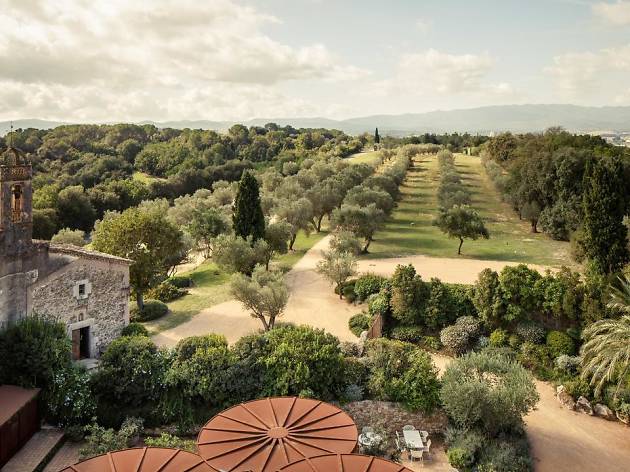 Photograph: Courtesy Booking.com
Where: Girona
Back in the 1970s, Dalí wanted to snap up this castle, but the sale was a no-go. Now the ultra-chic Catalan bolthole displays some of the Surrealist's most outstanding art. The current owners' passion for travel is stamped all over the interiors, from Marrakech floor tiles to stained glass, Indian silk and patchwork hide rugs. And the transition between medieval and modern is seamless, with pops of bold colour enlivening crumbling stonewalls. Trek to fortified Peratallada, swim in the lavishly tiled pool and retreat to a tower room for eyes-on-stalks views that stretch from the Pyrenees to the Med.