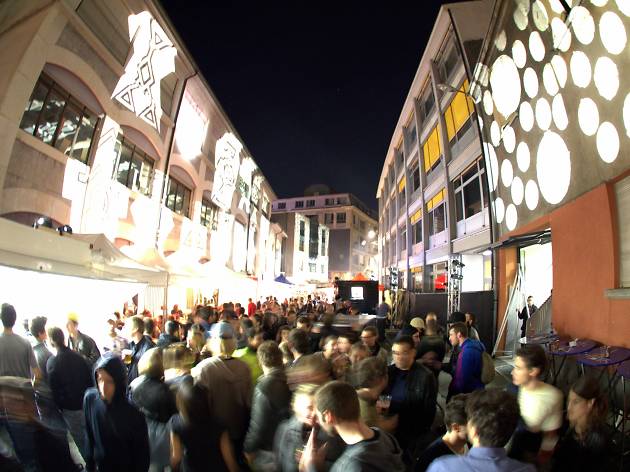 1/3
©Thiago Lemos
Explore the various events at Geneva's Electron Festival
2/3
©Gabriel Asper
3/3
Chicago's house music founding father, the DJ Lil Louis
Time Out says
Pioneering urban music and culture festival that showcases a daring electronic based arts programme.
Running every April since 2004, Electron is firmly established on the European festival circuit these days, a shining hub of activity that this year encompasses parties, workshops, lectures and film screenings, not to mention a killer line-up that offsets its house and techno emphasis with a good few experimental curveballs.
With nearly 100 artists performing over the event's four days, highlights are plentiful. On Thursday an obvious one will be the 10 Years of Boyz Noize Records event at Pole Central:Palladium, for which Alex "Boyz Noize" Ridha will be joined by label proteges Djedjotronic, Housemeister, Strip Steve and SCNTST. Elsewhere, Bonde Do Role's live baile-funk (at Pole Central:Rez) will make a colourful and very different alternative to all the techno on offer, while Rodhad's DJ set (Pole Central:Zoo) offers the chance to see up close one of Berlin techno's current hottest properties.
On Friday the trickle of marquee names becomes a torrent. DJ Koze (Palladium) and John Talabot (Fonderie Kugler) are the names that jump out most readily, but the bone-rattling bass music of Evian Christ (Rez), the fabulously gutter-minded ghetto-house of DJ Funk and the gender-politicking electro-pop of Planningtorock (both Rez) will give the night a great deal of extra stylistic texture. Ascendant house pair Adriatique and Detroit-referencing techno DJ/producer Deetron, meanwhile, are the night's standout Swiss acts.
There's no let-up on Saturday, with Warp Records' IDM mainstay Squarepusher (
Palladium), revered Japanese turntablist/producer DJ Krush (Palladium) and Chicago house founding father Lil Louis (Zoo) lending the upper reaches of the bill something of a "heritage" feel. Bulgarian hardware virtuoso KiNK (Rez) and Hotflush label boss Scuba (Palladium) are among the slightly younger generation of big-hitters slated to appear. Daniel Avery's studio partner Ghost Culture, meanwhile, plays a live set of his lush, tender-hearted electro-pop in Rez, while Dutch house maverick San Proper's set in Zoo is likely to be some of the best fun to be had all weekend. Sunday is wind-down day both in terms of the number of acts and the amount of walking involved, with all the night's music confined to the Palladium stage. Locals Toctech and Me & Her will be worth catching early on, while The Hacker and SBTRKT's live shows should make for a vivid closing one-two.
Details