Five great summer culture festivals
Beyond the mammoth music events, there's a host of multi-arts celebrations to look forward to this season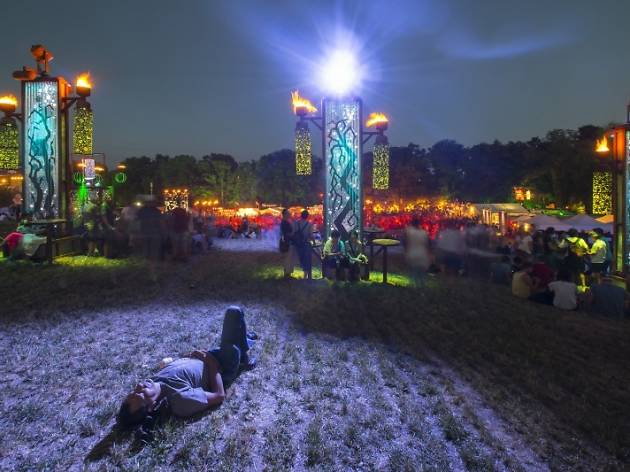 If waking up hungover and dripping with sweat in a tent isn't your thing, we've got good news. Summer festivals don't have to be like that. The best ones are about celebrating the diversity of culture, rather than slumming it under canvas – watching street theatre, getting into debates about art and, in some cases, poking your nose around other people's houses. Here's our selection of the best multidisciplinary festivals happening around Switzerland – with not a tent peg in sight.
Every other year some of Zurich's biggest cultural institutions, including the Opera House, Schauspielhaus and Kunsthaus, join forces to stage this rich celebration of the city's culture. The four-week-long fest seeks to tackle 'uncharted territory' in the arts with theatre, opera, concerts, exhibitions and readings. Alongside the big dates, a selection of free events at smaller venues aims to lure in new audiences. This year's glamorously grim theme is 'beauty/madness'.
June 1-24
Think you've seen weird? Palp Festival is weirder. Over the course of the summer, the Canton of Valais is overtaken by a series of eccentric activities that give Britain's annual cheese-rolling festival a run for its money. Take your pick from a balloon silent disco in an amphitheatre, art exhibitions in the homes of real people in Sion, or electroclette: a raclette tasting set to electronic music. Now that's what we call fat beats.
June 2-September 9
Festival de la Cité • Lausanne
This six-day Lausanne event aims to be truly multidisciplinary, with theatre, contemporary dance, literature, music, comedy, visual art and more all rubbing shoulders. The organisers say their mission is to be both edgy and accessible, promoting a lively and diverse cultural mix to widen knowledge and appreciation of art in general. Sounds intense? It really isn't. What's more, entry is free – so if you suddenly realise that weird dance-theatre fusion experiment isn't your thing, you can peg it at the interval.
July 10-15
This annual rock festival in Nyon began in 1976, and has featured everyone from Neil Young to Arctic Monkeys and The Cure over the years. But the event also boasts an impressive spectacle called Village du Monde (the world village), a makeshift town that immerses you in a different international destination every year: we're talking life-size sets, décor, food, music and cultural activities that make you feel like you're really there. Then there's also La Ruche circus arena, several proper sit-down restaurants, the wooden hut accommodation and neat architectural structures for you to wander through.
July 17-22
Join acrobats, jugglers, comedians and musicians at this annual street artist festival. Entrance is free, but tipping is expected after the acts, which are performed to the assembled masses on the streets. Expect plenty of audience participation and a medieval village square-style atmosphere, but be sure to arrive early if you want a prime spot.
July 27-29