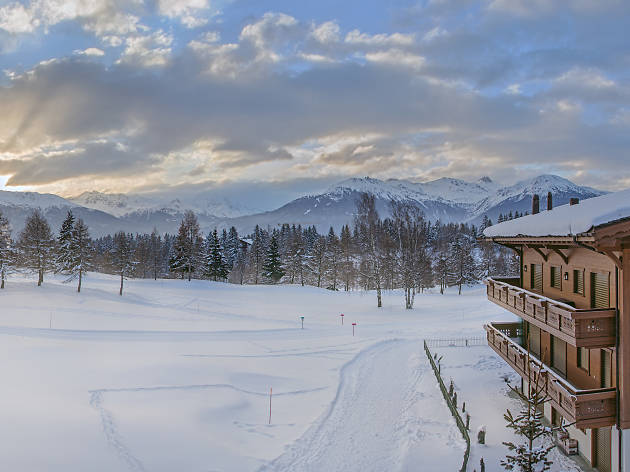 Inspiring ski-in and ski-out hotels across Switzerland
Hop out of bed and on to the slopes at these stunning venues
It's not news that Switzerland loves skiing. The country's long-standing obsession with the sport has led to an incredible ski scene, enjoyed by countless locals, tourists and expats alike. And if you're going to make the most of skiing in Switzerland come winter, a ski-in and ski-out hotel will give you everything you need.
These hotels are the ideal getaway for any skiers wanting super-easy access to the slopes. Why? Because ski-in and ski-out venues are located right by those slopes – we're talking metres away, in some cases. This means you can spring out of bed and straight on to the piste, without wasting valuable carving time schlepping to the slope.
In case you hadn't guessed, Switzerland does ski-in and ski-out hotels like no one else. Time Out has chosen some of the very best venues from around the country – in association with Switzerland Tourism – which boast even more than superb slopes by your door. These frosty hotspots also offer first-class spa and wellness treatments, buzzing nightlife, family-friendly facilities, top-notch dining and drinking options, and much more.
So whatever you want your ski-in and ski-out hotel to be, you'll find it below, and remember that you can discover more great ski-in and ski-out options at Switzerland Tourism's website.
Take a look at the video below for a taster of what to expect from ski-in and ski-out hotels.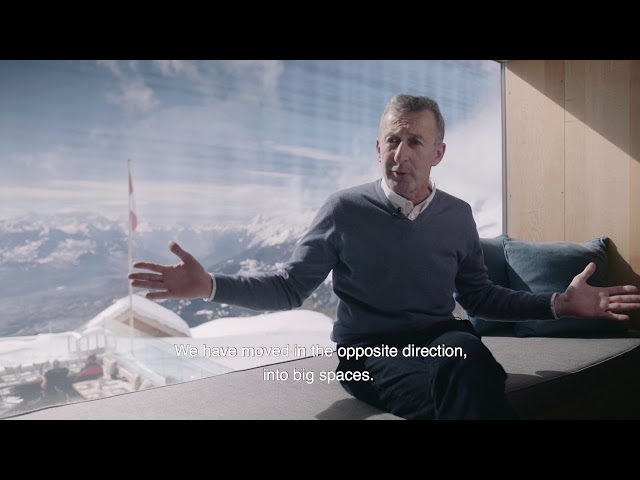 The best ski-in and ski-out hotels
For cross-country skiing-adventurers
With part of a marathon ski trail directly outside the building, this hotel couldn't be in a more ideal location for ambitious skiers. Set in the blissfully peaceful hamlet of Spinas, the guesthouse also features a fondue restaurant, 100-year-old bowling alley and sun terrace.
It's not just cross-country ski trails that are located directly in front of this popular hotel – you'll also find a golf course, for when you want to take off the skis and practice your putting. Or just take your skiing to the next level thanks to cross-country instructors, who will meet guests at the hotel. There's also a highly acclaimed (as in, 15 Gault Millau points-acclaimed) Japanese restaurant, spa and well-stocked wine cellar for post-piste.
For rejuvenating and relaxing
After a long day on the slopes, you'll need to relax. And how better to do that than in the toasty-warm water of an outdoor pool, spa or sauna in some of the best wellness oases in the Swiss mountains, each just a few steps from those glorious slopes when you want to get back on the skis.
Make the most of the great ski-in/ski-out access at this hotel, but don't forget to make the most of the extensive range of wellness options, too. The Alpine Spa offers 32-degree Arosa mountain water, massage jets, a waterfall, rock whirlpool, aroma grotto, stone massage path, solarium, gym and much more. And if it's treatments and classes you're after, there are tons on offer, from yoga to massage to hairstyling to tai chi.
You can't argue with tradition, and the Lenkerhof has been used as a traditional bathing hotel for almost 350 years, having been built as a spa hotel in 1689 above a Sulphur hot spring. This means 34-degree water in the outdoor pool, with jets that massage your back. There's also an indoor pool, a huge beauty and spa wellness area, and a sauna complex with ice grotto and relaxation area.
For serious aprés-ski party vibes
You've had a full-on day on the slopes. Now it's time to reward yourself with some full-on fun off the slopes at one of these lively hotels, where the dancefloor is just as important as the quality of the skiing outside.
The first offering from hip design-hotel chain W to be located in the mountains is, of course, an ultimately stylish affair that provides for those wanting high-quality apres-ski options. The hotel's buzzing on-site nightclub is the perfect place to carry on the party after you've made the most of the many dining and drinking choices, and when you want to shake off the cobwebs the following day, hit the spa or fitness centre.
Anyone in search of thumping beats to go with their downhill thrills should head to Kurhaus Lenzerheide. The hotel's renowned Cinema Music Club hosts wild parties and the Kurhaus bar is the perfect way to warm-up for a big night out. So that's the nightlife side of things sorted, and luckily the rest of the hotel is just as on-point, with sleek accommodation, a sauna (much-needed after a night of partying) and plenty of hiking and biking trails nearby if you fancy a change from skiing.
Looking to cram as much skiing as possible into every minute of your trip? With their truly perfect positioning on the slopes, these are the hotels for you. Oh, and they've also got a touch of luxury to them as well, because skiing 24/7 doesn't mean you can't treat yourself as well.
Fancy rolling out of bed and on to the slopes? Look no further than this magnificently positioned hotel. Set way above Crans-Montana at 2,112m high, this former cable car station simply could not be better located: it's a mere ten metres from the nearest slope. Glance around and you'll see Mont Blanc on one side and the Matterhorn on the other. You've arrived.
Step out on to the sun terrace of this 4-star design hotel and you're pretty much standing on the renowned Kleine Scheidegg downhill run. That's how close this hotel is to the action. Set above the village of Grindewald, this cosy venue has a rustic, traditionally Swiss feel to it and also has a lot to offer alongside its incredible positioning. This includes a luxurious wellness centre with an outdoor whirlpool, featuring incredible views of that mountainside scenery you're right in the middle of.
What if you want to take the kids with you on your ski adventure? Then head to one of these hotels, which offer a range of family-friendly attractions and plenty to keep the kids happy – and the grown-ups, too, of course.
Kids will love this place as much as you do – maybe even more. There's a nursery, jam-packed summer and winter children's programmes filled with fun stuff like treasure hunts, gift-crafting and excursions. Then there are the playgrounds, bike camps, go-karting tracks… Adults, meanwhile, can take advantage of the sauna, fitness room and the impressive bar and restaurant choices. And don't forget that this is still a ski-in and ski-out hotel, meaning that you're just steps away from prime ski territory.
Get the little ones started on the slopes at this super-comfy hotel, which features a 'ski kindergarten'. Once they've had a bit of time on the skis, kids can then hit the bowling alley, cinema or table football, among lots of other activities. Adults aren't left out either, with nearby hiking trails, opportunities for scooter trips, a climbing garden, and a top-notch spa for when you want to wind-down.