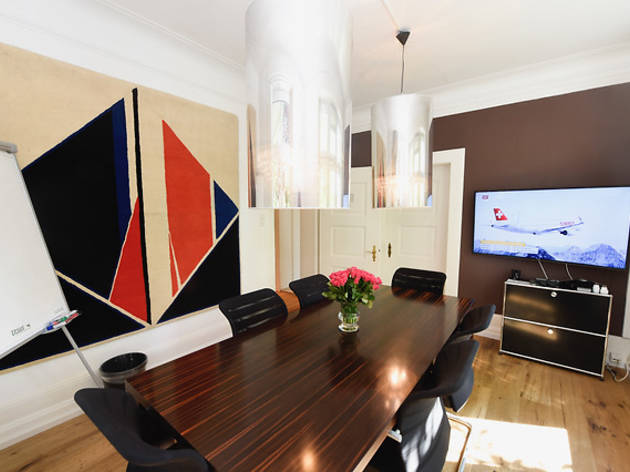 Stressing over office space? Here's the solution
Find the ideal space for your business, whether you need bricks and mortar or a virtual setup
The office. A fact of modern-day life and the place where lots of us spend lots of our time. And if you're going to be spending all that time there, why on earth wouldn't you make sure that you've got the perfect office for the job – and for you?
This is where the smart folk at Ecos Office Centres come into the picture. As you might guess from their name, Ecos know offices. It's their thing. Which is why they're perfectly placed to help sort your office needs. The company can provide a range of premium office spaces, meeting rooms, support services and even virtual offices (more of them later) in three prime business areas of Switzerland: Zurich, Zug and Pfäffikon.
Because whether you're part of a team that deals with high-finance or a freelance blogger navigating your way with a laptop, you need the perfect base – and that's exactly what Ecos can help with.
The Zurich offices are set in a smart and modern renovated villa, offering conference rooms and office space, plus dining and kitchen areas (even CEOs need to eat) and a large, landscaped garden for when you need a bit of greenery to brighten up your working day. There's even a chalet-style meeting room and event space – pictured below – if you want a fresh change of scenery for your next meeting. The offices are near the city centre (easily reachable from Bellevue and Stadelhofen stations) and in a building with a prestigious address – because it never hurts to impress potential (and current) clients.
Meeting room in Ecos' Zurich office space. Photo: André Springer
The Zug and Pfäffikon offices are housed in similarly stylish locations and best of all, once you're signed-up you can use the facilities of all three buildings. Perfect if you're moving around or even if you just need a change of scenery (pro tip: the Pfäffikon office features marvellous Alpine views if you need to get back to nature for a bit on your lunchbreak).
Whether you're using the Ecos office spaces as your business HQ, an occasional work pad or for meetings and conferences, you'll also get access to a whole world of services and facilites, including a reception team, personalised answering services, business admin, video-conferencing and much more. Sure, that stuff doesn't sound too sexy, but let's face it – it's super-useful.
If, however, you're not quite ready for the cost of an office space, but still want a slice of premium office action, a virtual office may well be the perfect solution. Wherever you're based, a virtual office gives your business one of those coveted Swiss business addresses to 'wow' clients and you also get access to a range of services. These include receptionist support, secretarial services and a local business number – again, all seriously useful stuff.
So there you have it. Ecos can take care of pretty much everything except running your company – that one's up to you. And luckily, that part will be a lot easier with Ecos in the picture.
Ecos are also offering Time Out audiences a special discount of 50% off the first month of rental (through a minimum of a three-month rental, terms and conditions apply) or 50% off the first meeting room or event booked. Email zuerich@ecosoffice.ch or call +41 43 544 4445 for details.
Find out more at the Ecos Office Centres website.
Best selling Time Out Offers