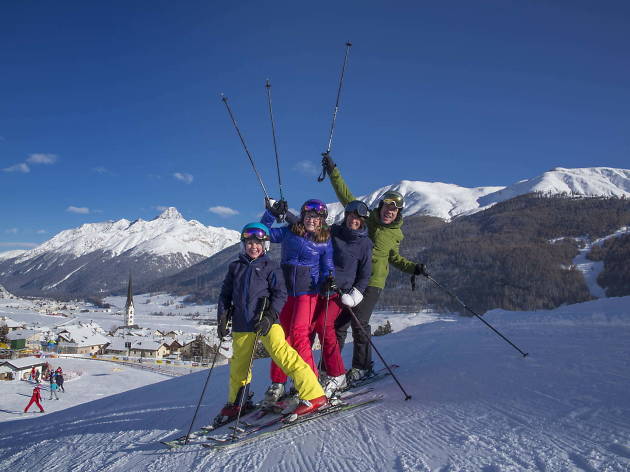 Ten things to do for families in St. Moritz, Engadin
From tobogganing to high-altitude playgrounds to sightseeing, there's lots to love for families in St. Moritz, Engadin
St. Moritz in the beautiful Engadin region is known for its cosmopolitan atmosphere, chic venues and stylish ski resorts. But as well as appealing to high-flyers and ski-enthusiasts, the area is becoming known as a fantastic place for a family holiday.
There are all kinds of family-focused activities in the area, guaranteed to keep visitors of all ages more than happy. You'll also want to experience St. Moritz's premium skiing as a family, and the best way to do that is through the Engadin Snow-Deal, which gives hefty discounts on family ski passes, ensuring that you can explore the area's slopes at your leisure and find the perfect spot for everyone.
And when you've finished on the slopes or just fancy a change of scenery, there's plenty more to enjoy aside from the skiing. Make the most of the area's many sights, attractions and events, from cultural festivals to great restaurants to top-notch shopping.
Below, we've put together a list of ten great things for families to do in the region, and for more Engadin inspiration visit www.engadin.ch/en.
10 things to do for families in St. Moritz, Engadin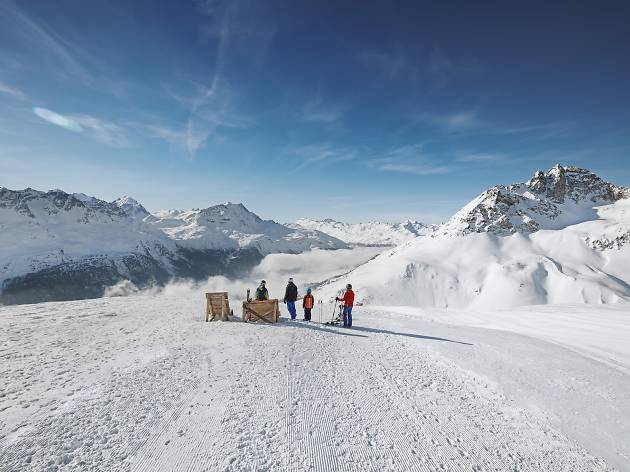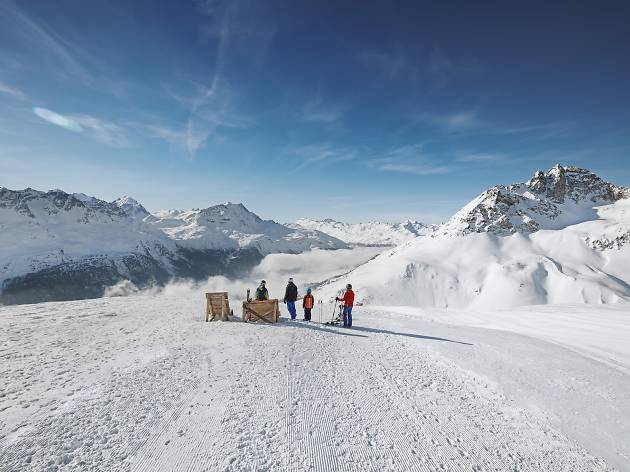 Filip Zuan
Get a head-start with the Snow-Deal
Taking the whole family skiing doesn't have to be a costly holiday thanks to the Engadin Snow-Deal. This smart offer for the 2019/2020 winter season offers a range of major savings on ski-passes, and there are extra early-booking discounts especially for family ski-pass packages. What this means is that the whole family can relax and concentrate on what's really important: mastering those slopes and having a great time on holiday. Find out more at www.snow-deal.ch/en.
Snowboarding or ski with the whole family
In the pretty mountain village of Zuoz, the Gian Plaiv Fun Slope provides an opportunity for the family to snowboard or ski together, regardless of age or ability. The slope's mix of traditional piste, snow park and cross-course means that there's something for all to enjoy, whether you're an absolute beginner or a seasoned pro. Both snowboarders and skiiers will be well-served here, so take your pick and head to the top of the slope.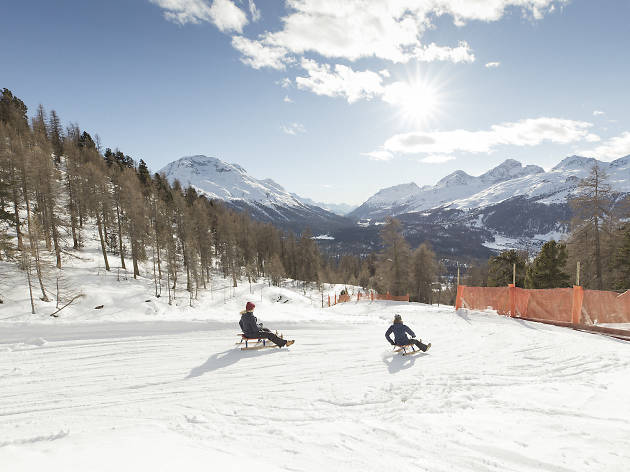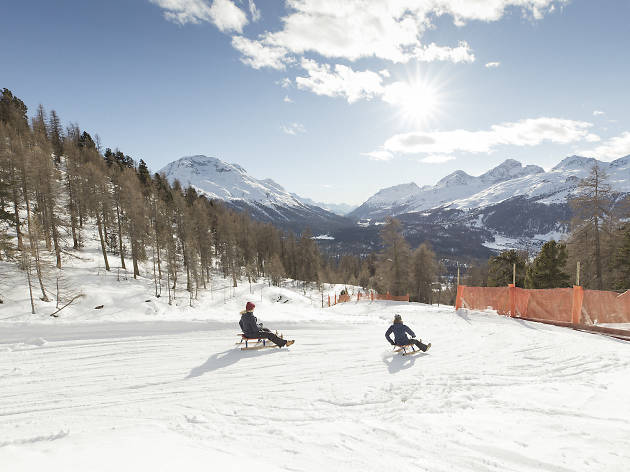 Filip Zuan
Hurtle down a toboggan run
Snowsports aren't just about skiing and snowboarding – tobogganing is a great way of trying something different on the slopes and the Muottas Muragl toboggan run is the place to do it. One of the fastest runs in the region, it offers hairpin bends, 20 winding curves, fast straights and a vertical drop of 718 metres, all while you whizz through snowy forests. It's perfect for older children and adults alike.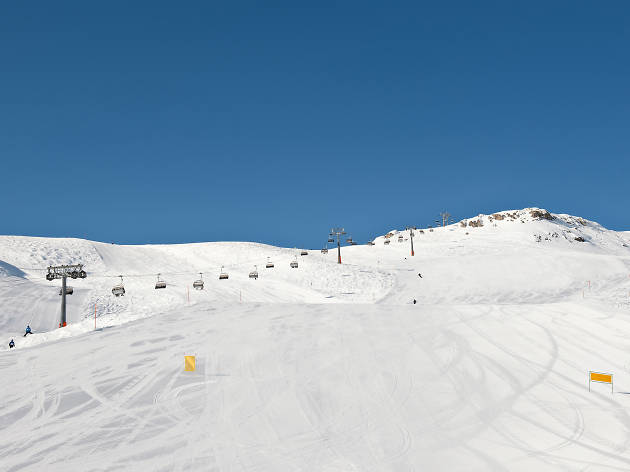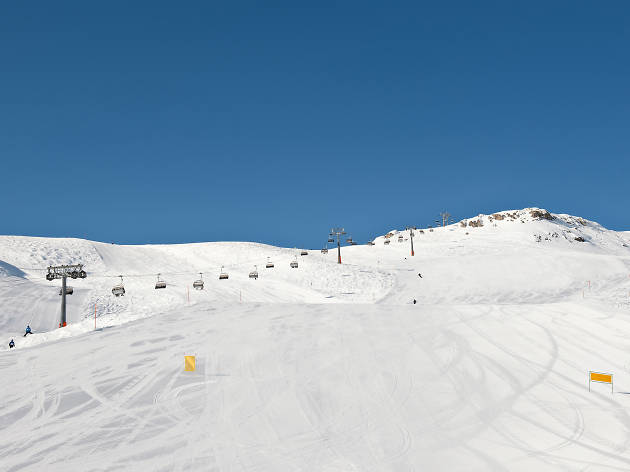 Gian Giovanoli
Get competitive on the Audi Ski Run
There's nothing like a little friendly competition between family members, and at the Audi Ski Run you can see once and for all who's fastest on the slopes. The 400-metre-long course measures racing times to 1/100th of a second thanks to light barriers and automatic cameras at the finish line. And to feel like even more of a professional, you even get to launch from a former Ski World Cup starting hut.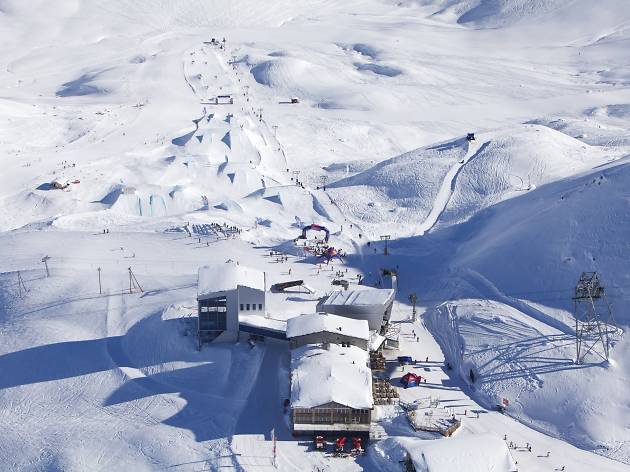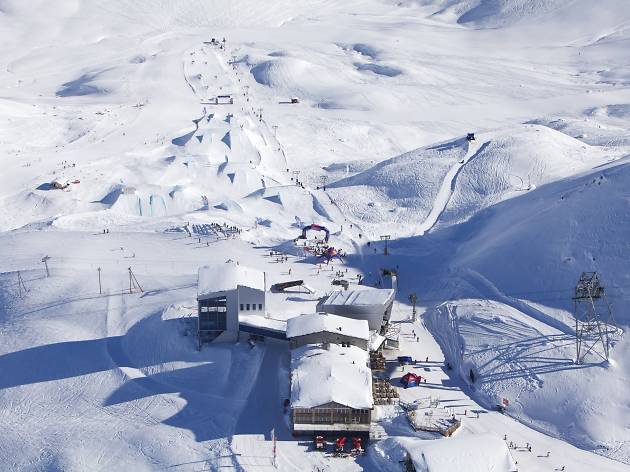 Marc Weiler Photography
Catch some air at Corvatsch Snow Park
If you're in need of a new challenge after carving up the same old slopes, head to the huge Corvatsch Park and shape up your aerial skills on a series of ramps, jumps, mini-half-pipes and rail lines. Don't worry if that all sounds a bit daunting, as there are features that anyone can try, even if you're just starting out. If you'd rather leave the extreme sports to the pros, Corvatsch is often used for national and international competitions, so just kick back and watch the experts.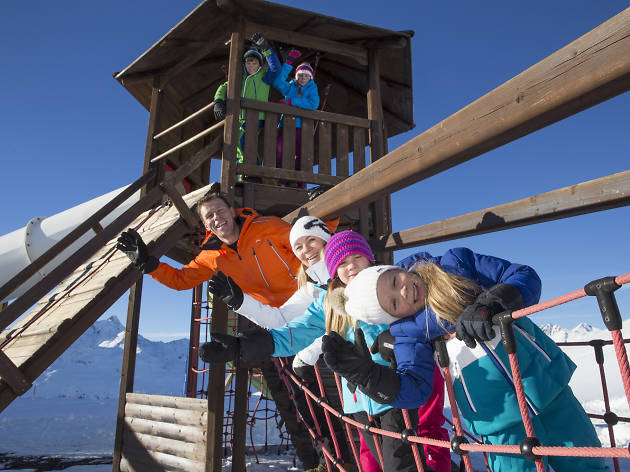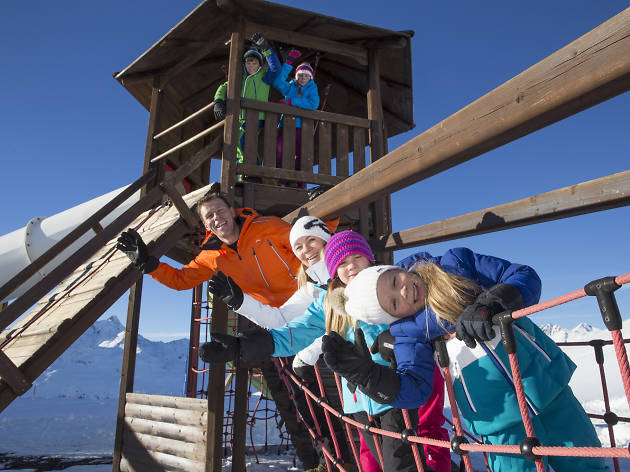 Christof Sonderegger
Climb to the top of the world at Muottas Muragl
If the kids need a break from the slopes, take them to the Muottas Muragl children's playground. There's a climbing castle for them to scale, where they'll be at 2,456 metres above sea level when they make it to the summit. There are also facilities for the very youngest adventurers, including baby swings, plus a cosy restaurant nearby when you need to refuel. Just remember it might take you a while to prise them away from their newfound play paradise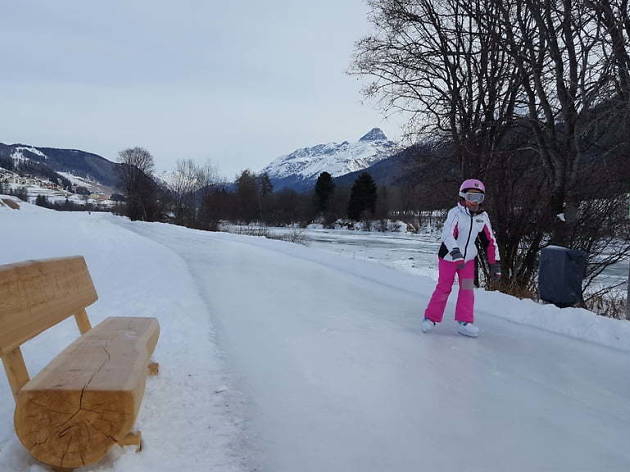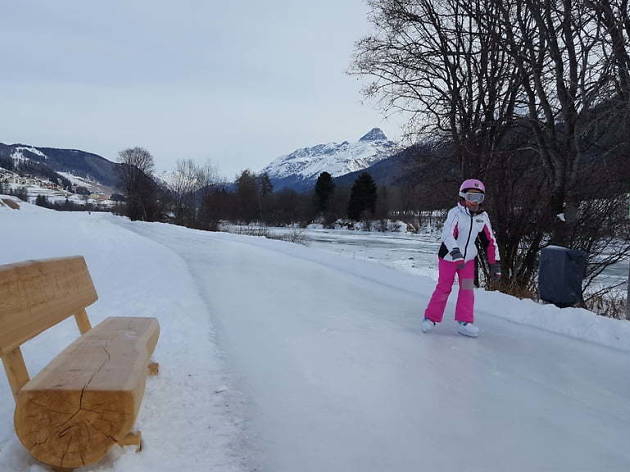 Swap skis for skates at Ice Way Madulain
Bored of snow? Hit the ice instead on the Ice Way Madulain. This 1km ice path takes you through beautiful countryside and a small village, set in a peaceful, secluded environment. It's the perfect change from busy slopes and the whole family can easily glide along Madulain together at whatever pace you like, with rest stops at benches along the way. Prepare to discover your new favourite sport!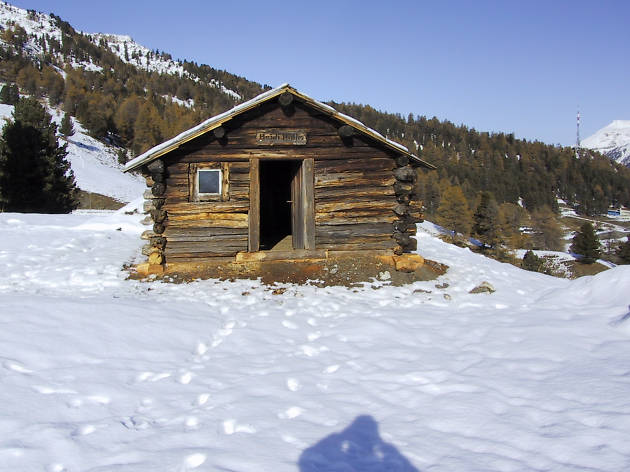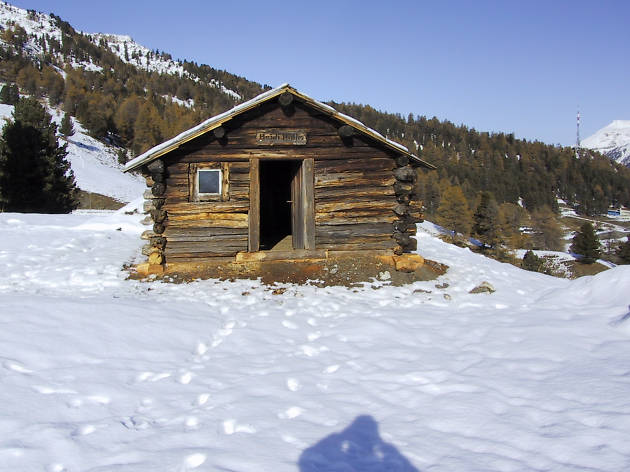 Step into a timeless story at Heidi's Hut
Swiss author Johanna Spyri's 'Heidi' stories have become known as classics, read and loved by countless families across Switzerland and around the world. Children and adults alike will love putting themselves in the story by visiting the mountain hut from the original 1937 film version of 'Heidi'. The hut can be found high above St Moritz, and is free to enter.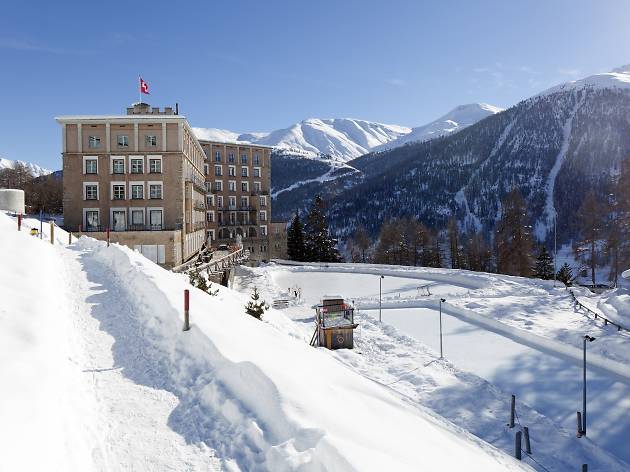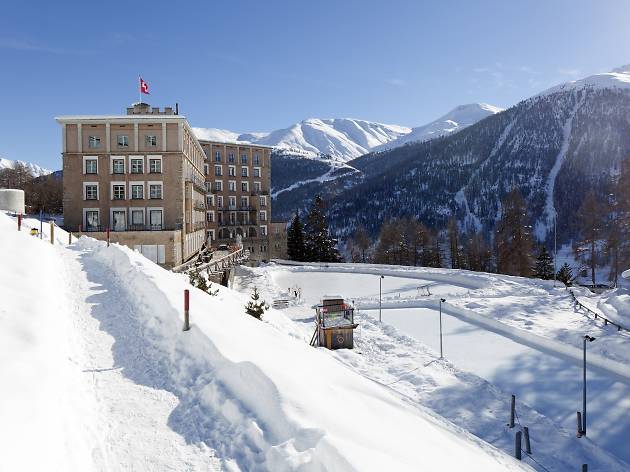 Sleep in stylish surroundings
If you're keen to experience the region at its most scenic and impressive, Hotel Castell will provide everything you need for the perfect family trip. This four-star luxury boutique venue overlooks Zuoz and is surrounded by incredible mountains, as well as being next to a golf court and hiking trails. The hotel even offers babysitting and childcare services, plus a games room and playground.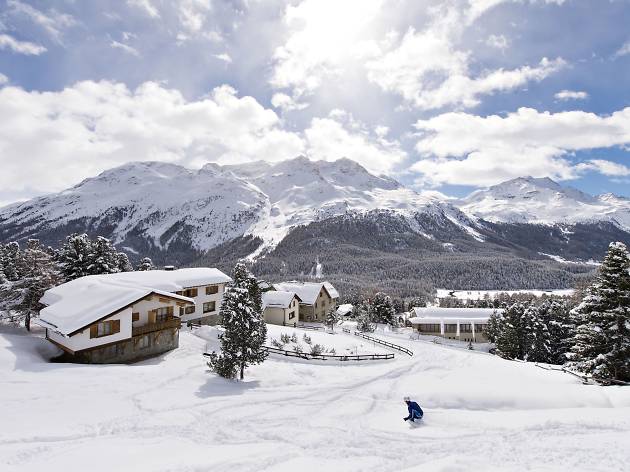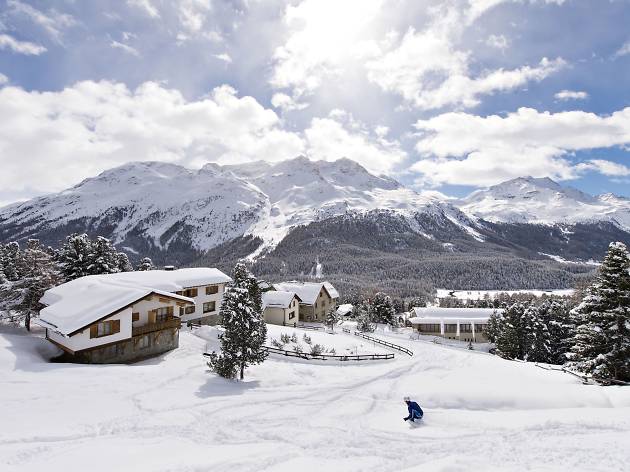 After a busy day, make sure you've got the perfect accommodation to head back to and relax in: Randolins Familienresort has got you covered here, with everything you need to make your family trip go smoothly. Kids will love the children's ski school just five minutes away, indoor and outdoor play facilities, plus an activities programme, while adults will appreciate the sauna, whirlpool baths and incredible views across the Engadin.
Start planning your trip today
Make your next family holiday a memorable one by booking St Moritz, Engadin. The range of activities on offer means there really is something for everyone – even the fussiest of younger visitors – and remember that you can save money on your trip before you've even started by booking ahead with the Engadin Snow-Deal. Find out more about the region and what's on offer at www.engadin.ch/en.