The best ice skating in Switzerland
Take a twirl on the ice this winter with our pick of Switzerland's best ice rinks. With stunning natural ice rinks on mountain lakes and outdoor Kunsteisbahn popping up in town squares, it's time to get your skates on!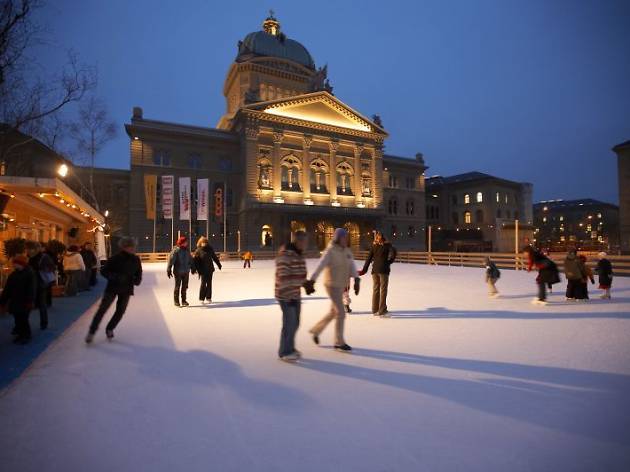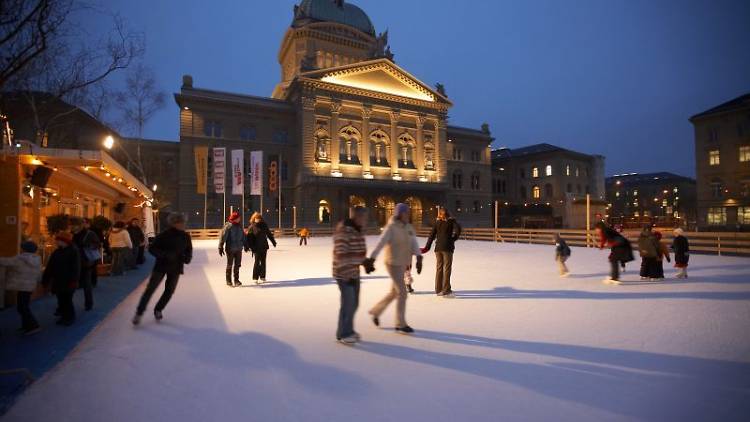 Zurich
Things to do, Ice skating
During the winter months, Dolder Sports hosts Europe's largest open-air ice rink. It's a popular spot for Zurich locals and visitors alike, and certainly offers a great escape in the weeks before Christmas, when the city is packed with shoppers.
Geneva and Lausanne
Things to do, Ice skating
This large sports and events venue is primarily known for its trio of ice-rinks – an external one for recreational skating, a large interior rink which hosts events and spectacles as well as public skating sessions, and a stadium-like rink hosting the hockey matches and large-scale entertainment events such as Art on Ice.
Things to do, Ice skating
A popular spot, Vevey's ice rink delivers 600sq m of icy fun during the winter months. The rink's open-sided cover offers the opportunity for "sunset skates".
Things to do, Ice skating
This may not be the largest or fanciest ice rink around, but it's smack in the middle of Lausanne's cool Flon district and promises a packed programme of cool events.
Bern and Basel
Things to do, Ice skating
Located in Basel's pretty Margarethenpark at the corner of the Gundeldingen und Bruderholz districts, this large ice skating complex features two ice rinks - outdoor and indoor.
Best of Switzerland
Things to do, Ice skating
Home of Davos Hockey Club, this ice rink hosts matches and public skating sessions, along with the annual Spengler Cup invitational ice hockey tournament and ice-dancing spectacles including the popular Art on Ice.
Things to do, Ice skating
The original Swiss ski resort, St. Moritz has welcomed winter tourists for over 150 years. Visitors can try skating and curling on the resort's many ice rinks, give themselves a fright on a toboggan run or try snow-shoeing and cross country skiing.
The huge Lac de Joux in the Jura valley of the same name is a draw for outdoor enthusiasts at any time of year. In winter its relatively high altitude (1,004m) means the lake often freezes over, becoming the largest natural outdoor ice skating rink in Europe.
Things to do, Ice skating
This enormous ice rink is open for the second year in Interlaken. It comprises a whopping five skate rinks of various sizes.