Heads up! We're working hard to be accurate – but these are unusual times, so please always check before heading out.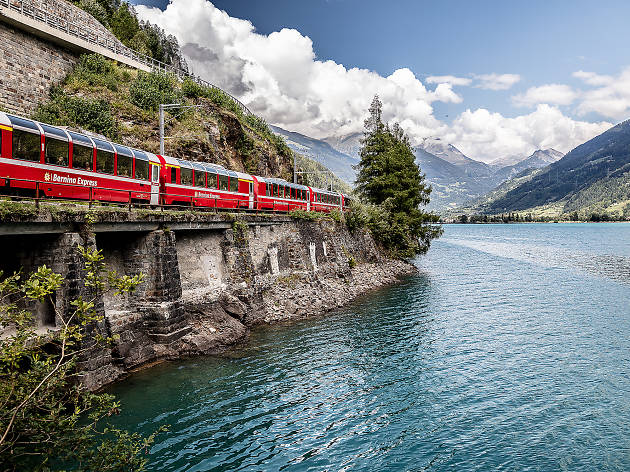 Travel unique: explore Switzerland like never before with incredible Rhaetian Railways experiences
Fall in love with train travel on the Bernina Express and other great Rhaetian Railway journeys
Travelling for leisure by train is, quite simply, one of life's great pleasures. And nowhere is that more true than on the Rhaetian Railway. The RhB, as it's known, offers a whole series of magnificent, truly special train routes and travel experiences that will stay with you for a lifetime.
For starters, there's the famed Bernina Express, one of the most spectacular train journeys in the world – a bold claim indeed, but one you'll wholeheartedly agree with as you pass glaciers, palm trees (yes, you really do see both glaciers and palm trees on the same route) and all manner of other incredible scenery. It's not difficult to see why part of the route was awarded UNESCO World Heritage Status.
So, what could possibly improve such a unique and special trip? How about excellent local food and wine? You'll find both on-board RhB trains, including traditional favourites like fondue (of course!) and regional specialities served in cosy, beautiful dining cars.
And it's not just the train journeys that'll blow you away. How about mixing things up a bit by adding in some active adventuring? No problem. There are tons of hiking and biking opportunities and packages along the Rhaetian Railway network of routes, giving you another way of taking in that immense scenery. Best of all, you can hop back on to a train whenever you feel like it.
Whether you're looking for culture, history, culinary indulgence, active pursuits or all of the above, the Rhaetian Railway really is the smart way to travel around Switzerland. See you on-board!
Read more about the Bernina Express.
Find out more about the Rhaetian Railway at www.rhb.ch/en/home.
The breathtaking Bernina Express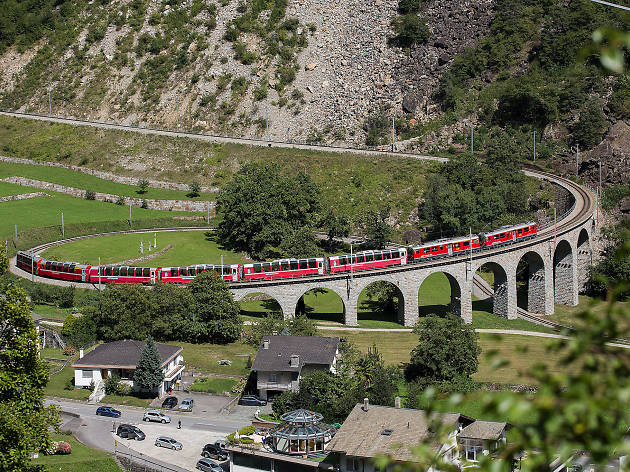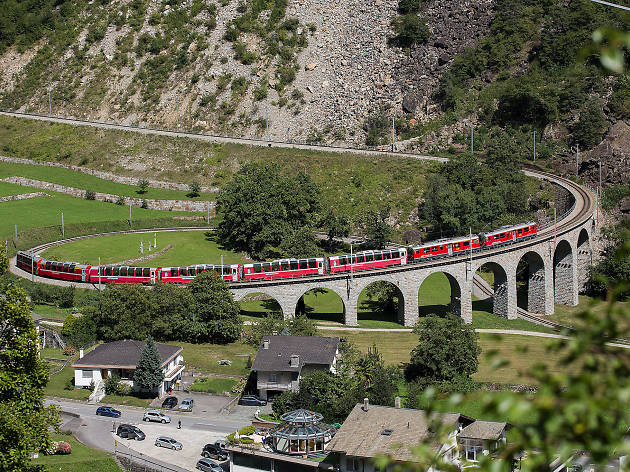 Christoph Benz
Bernina Express special offer
There are many ways to travel across the Alps, but none are quite as spectacular as the Bernina Express, the legendary train journey that runs from eastern Switzerland to Tirano in Italy and through a UNESCO World Heritage Site. And from the end of October 2018 until March 2019, you can enjoy a special return journey offer: two people can travel on the Bernina Express with lunch for just €129. Visit www.rhb.ch/139 for details.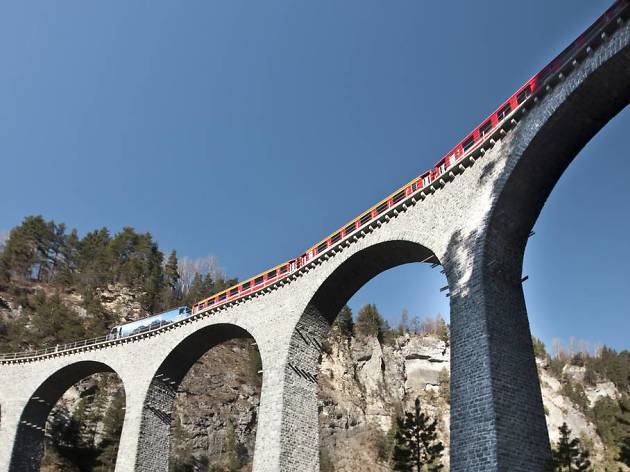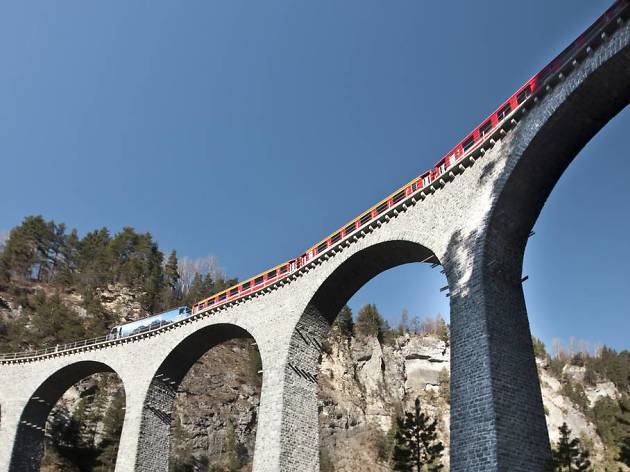 UNESCO World Heritage Pass
When you're travelling through a UNESCO World Heritage Route, you really should make the most of it – and that's exactly what the UNESCO World Heritage Pass allows you to do. With the pass, you can travel between the stunning route between Thusis and Tirano – a route that's over 100 years old – for two days, as often as you like. Get that camera ready!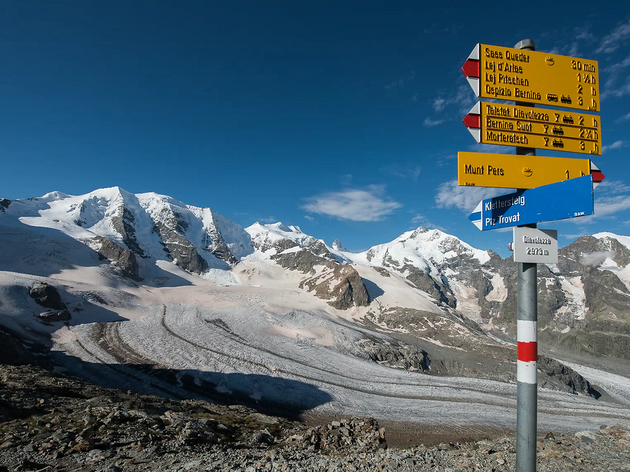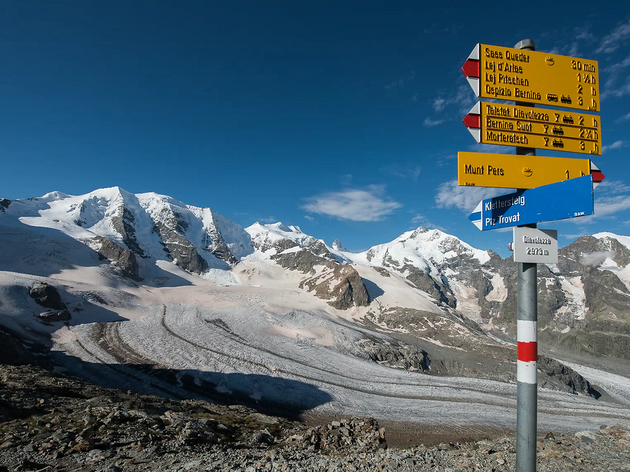 Bernina glaciers – Diavolezza
As you travel through the rugged Engadin valley you'll reach over 2,000 metres above sea level, eventually arriving at Bernina Diavolezza. Hop on the cable car and climb another 1,000 metres towards Piz Bernina, the highest mountain in the eastern Alps. You'll be rewarded with unrivalled views of the glaciers that make up the surrounding landscape. This is what you signed up for!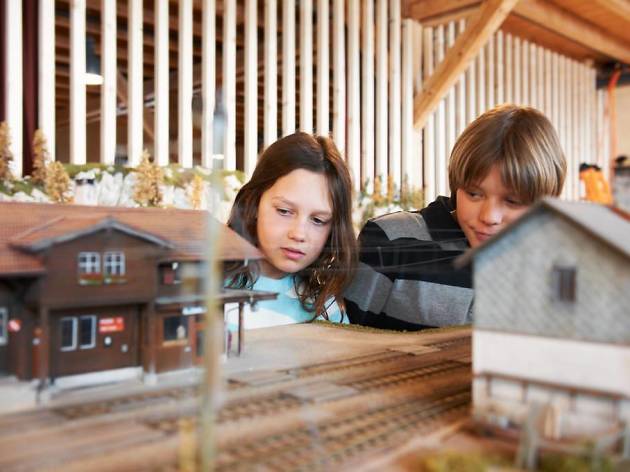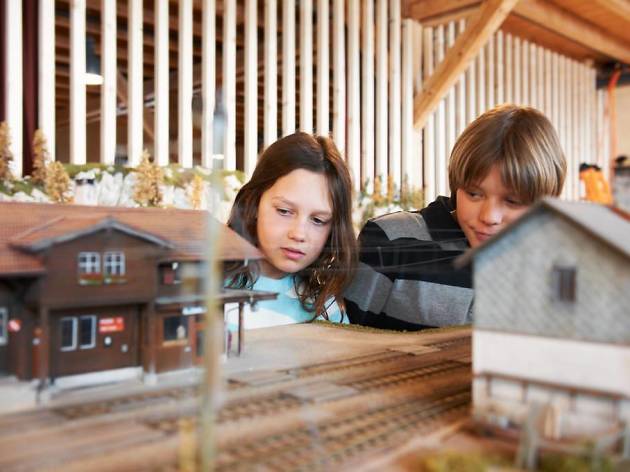 As the Bernina Express passes through Bergün, you'll find the charming Albula Railway Museum, featuring over 600 exhibits and installations exploring railway history in Graubünden, so that you can learn more about one of the most incredible rail journeys on the planet – the one you're on. The most popular exhibit is a simulator that lets you 'drive' one of the famous Swiss 'Crocodile' locomotives. Call out 'All aboard!' as many times as you like.
Culinary bliss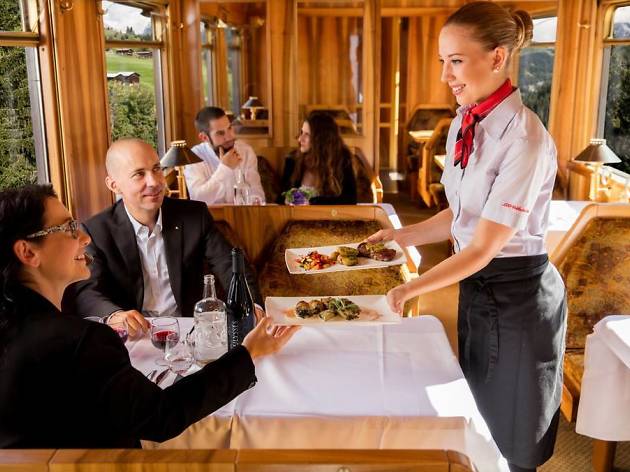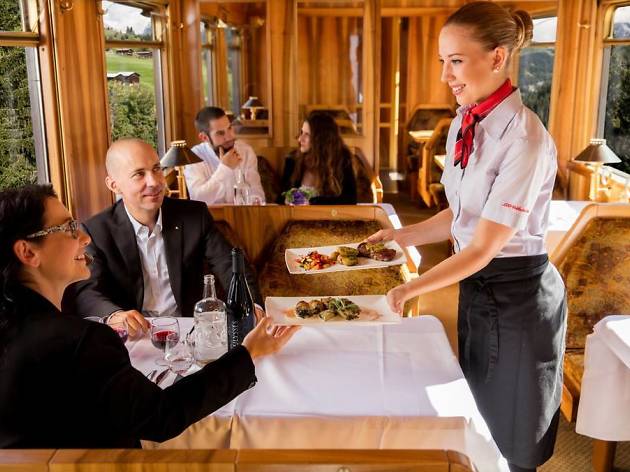 The Graubünden region is known for its great wine – find out why by trying some for yourself (including the renowned Graubünden pinot noir) with a four-course meal on a trip from Chur to St Moritz.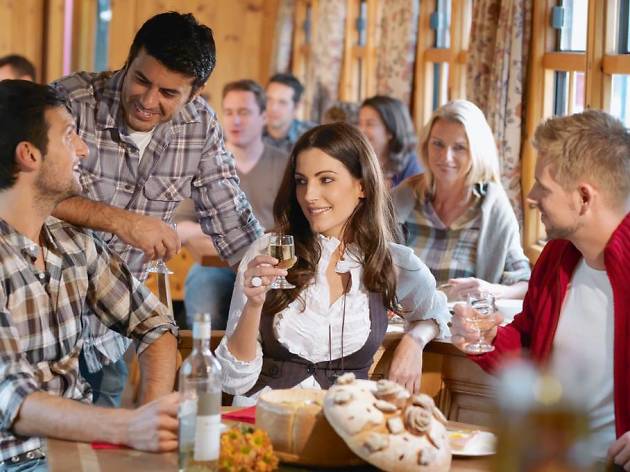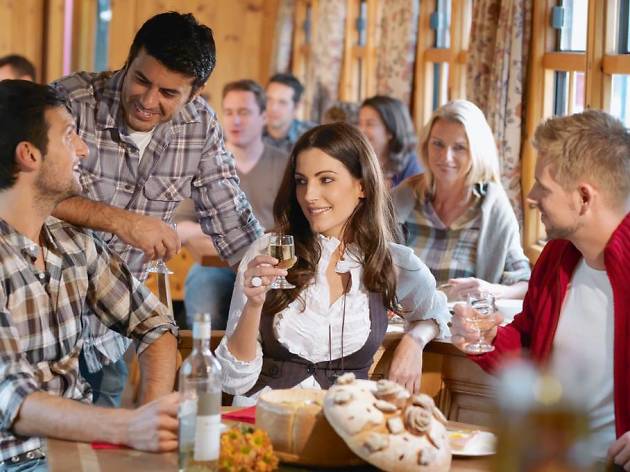 What could be more Swiss than authentic, gloriously cheesy fondue? What's even better is that you'll be enjoying this indulgent, traditional meal in the homely setting of the Stiva Retica, a cosy and rustic 'inn on wheels'.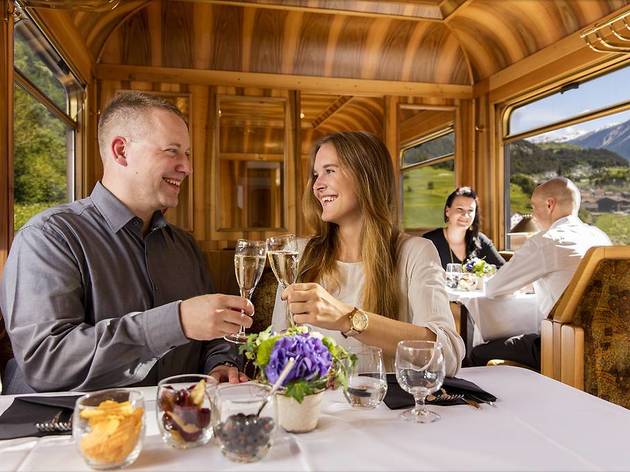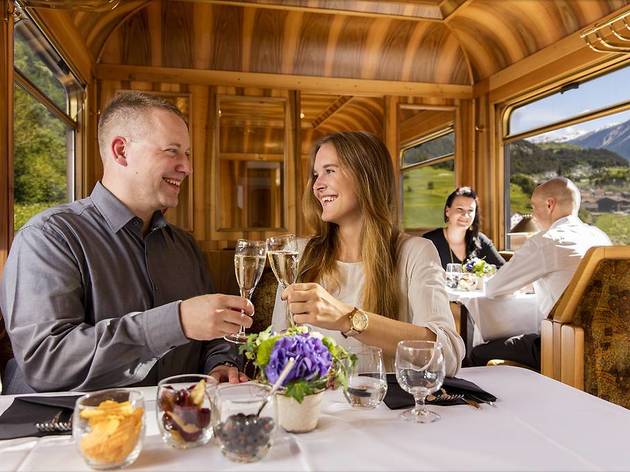 Treat your tastebuds to a three-course meal prepared with local produce from the Graubünden region, while you gaze at the incredible scenery outside on the picturesque Albula Line. Things look pretty good inside the carraige, too, as you'll be dining in a vintage, 1930s-themed restaurant car.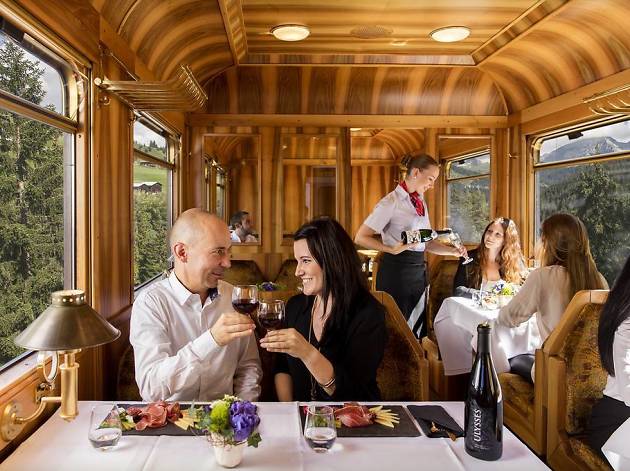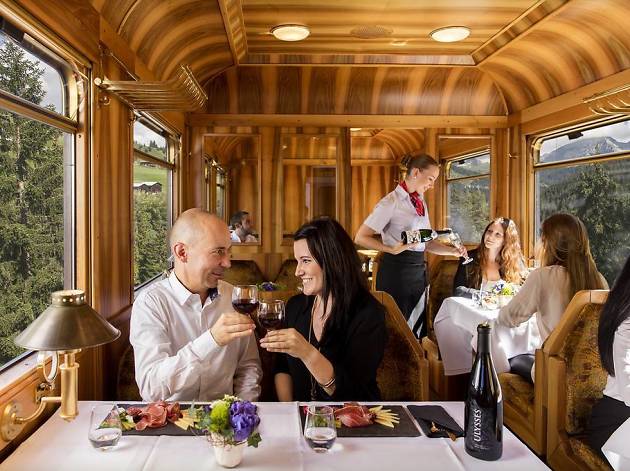 Attention, meat-eaters: this one's for you – a traditional buurametzgeta (or 'farmer's feast) featuring a three-course meal, aperitif and coffee, served in the beautiful dining car.
Get adventuring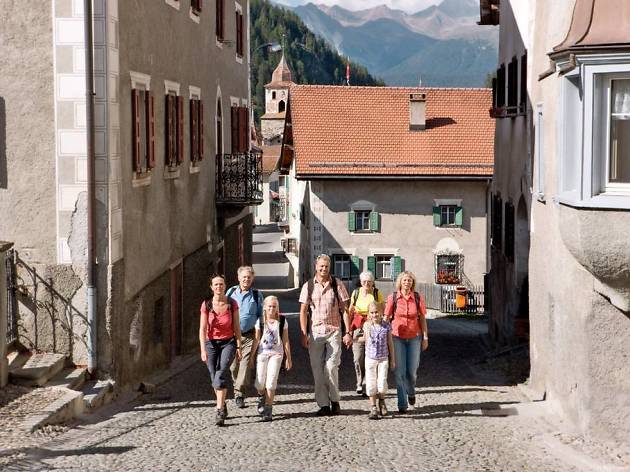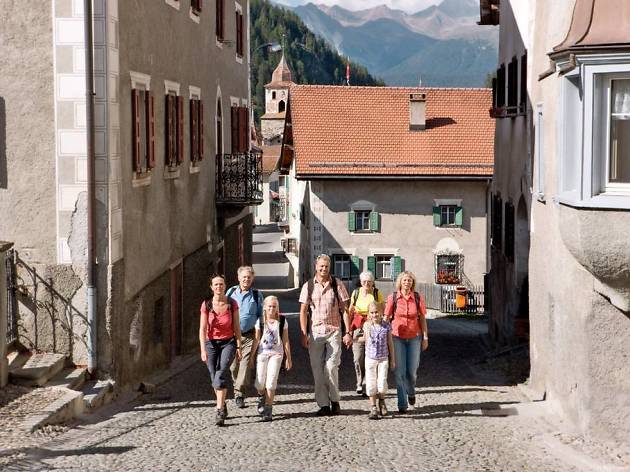 Remember that UNESCO World Heritage Route we mentioned? If you want more time to explore the stunning landscape you passed on the train, embark on this hiking trail that covers the 131km of the UNESCO route. And don't worry, you can simply hop on the train if you don't fancy walking the whole epic route. Along the way you'll pass through three different language regions and get to see all manner of architectural splendours – such as viaducts and helical tunnels – as well as the magnificent natural scenery. Choose from a three or five-day hiking package to suit your needs.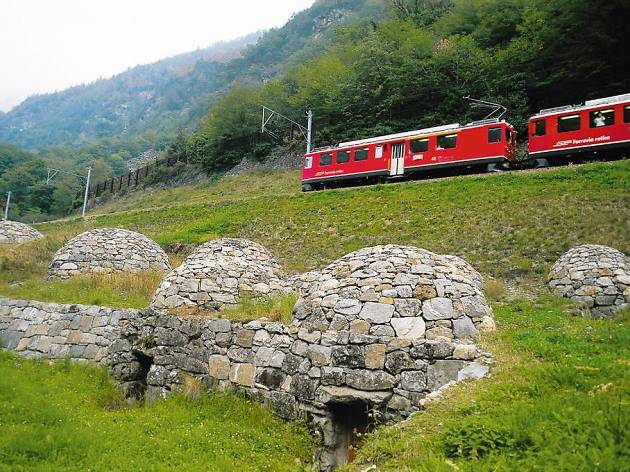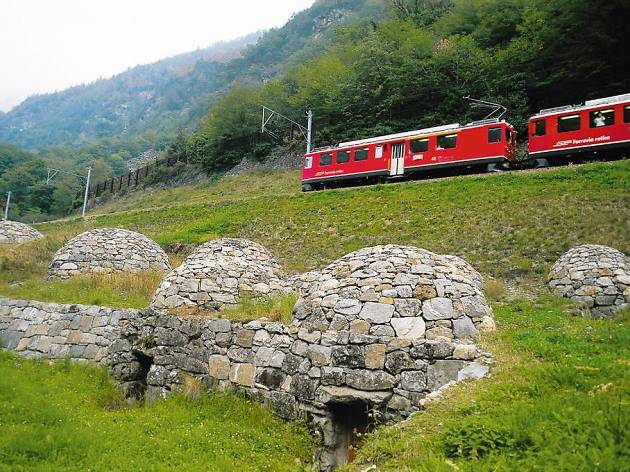 Looking for an adventure? Head straight for the Via Valtellina hiking route, which runs through Austria, Italy and Switzerland. Along your way, sample wine from the Graubünden and Vorarlberg regions, tuck-in to traditional local dishes and rest safe in the knowledge that your luggage will be following you on the train. Hiking packages include accommodation, packed lunches and use of the RhB, meaning you can climb aboard if you fancy giving your legs a rest at any point.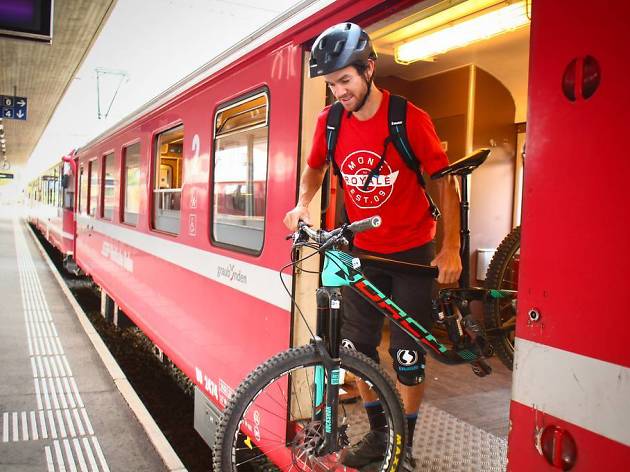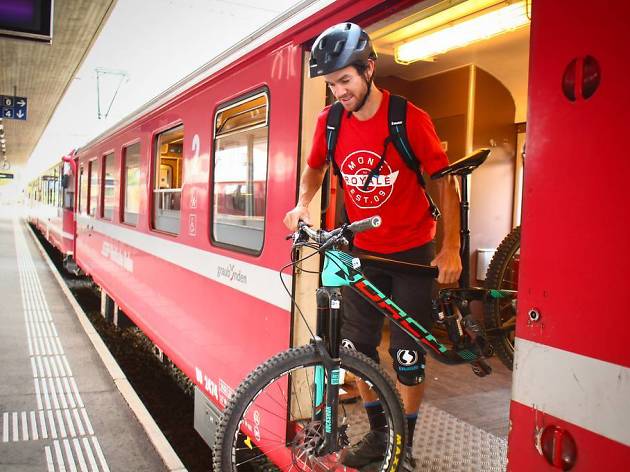 Cyclists, there's plenty for you, too. In fact, there are over 4,000 kilometres of marked bike paths and trails around Graubünden, meaning you can spend hours – or days – exploring. Take it easy with an electric bike or step it up a gear on a mountain bike. Either way, you'll be cycling through unforgettable countryside, making plenty of photo stops along the way. And remember that RhB will be helping you out at every step (or should that be pedal?), via a luggage service and special bike tickets that allow you to climb on and off the train with your bike.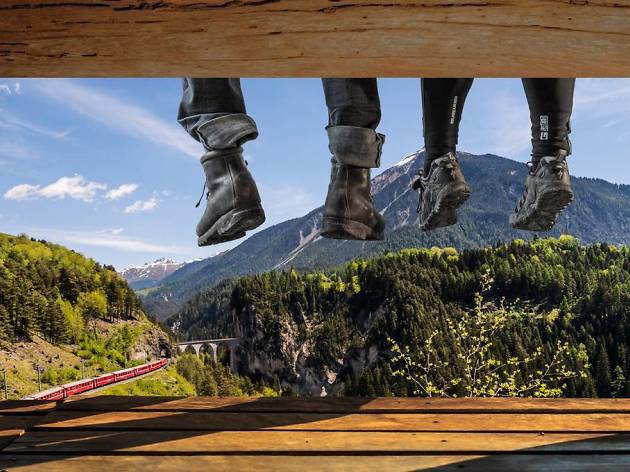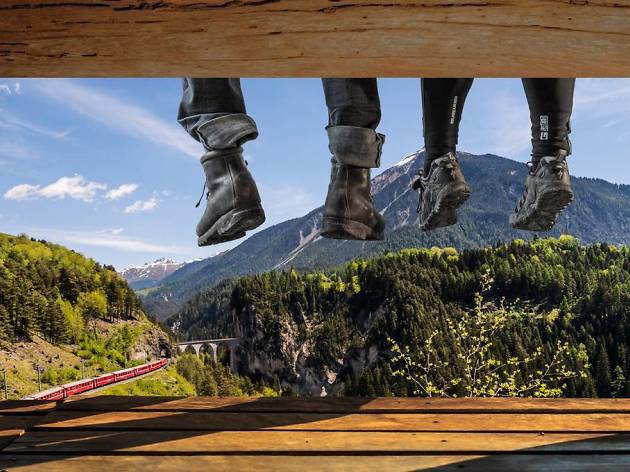 Rhaetian Railway active tours
Can't decide between hiking and cycling? No problem – simply combine the two. The Rhaetian Railway active tours offer the chance to explore the beautiful Graubünden region by foot, on two wheels and also via train, of course. And if that really isn't enough modes of transport for you, remember that you get a 20 percent discount on cable car, bus and carriages when travelling with RhB. That should keep you busy.
Book now to soak up the best of Switzerland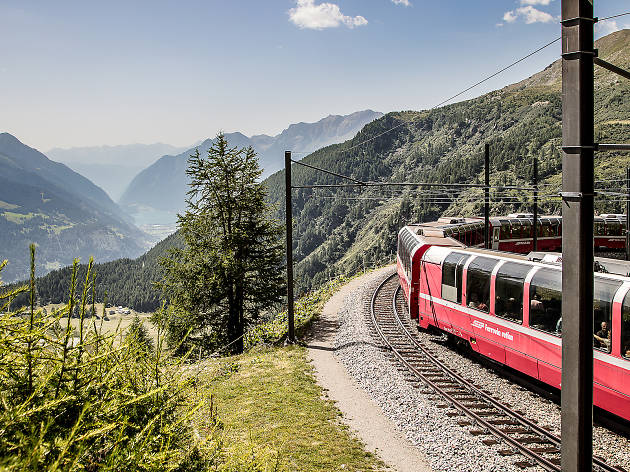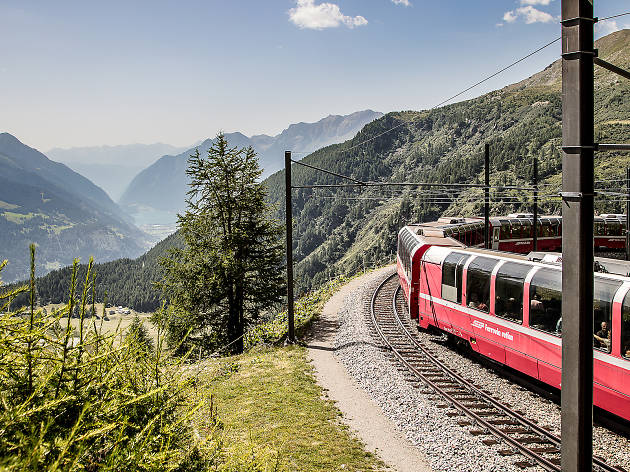 Andrea Badrutt
A once-in-a-lifetime trip on the Rhaetian Railways network
A word of warning, though: after experiencing the immense Bernina Express, you just won't want to travel any other way. So, just try not to get too disappointed when you unlock your car to drive home afterwards – remember, you can always ignore the 'once-in-a-lifetime' rule and become a frequent visitor!
Book now
Unsurprisingly, places on this this unique and breathtaking route fill up pretty quickly, so make sure you reserve your spot by booking ahead.
Simply decide what you want to see or do with your journey (frankly, our recommendation is: as much as possible – you won't be disappointed) and get planning at www.rhb.ch/en/home.