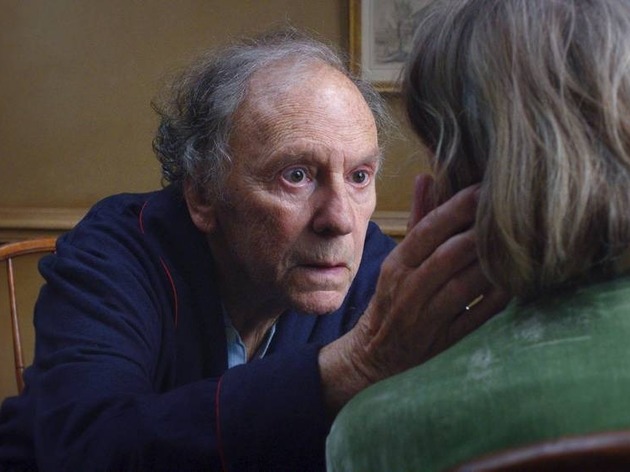 Time Out says
David Cronenberg once mused about a "straight drama" version of The Fly. "It'd be a tough sell for a movie," the great Canadian director said of this hypothetical downer, which would jettison the insect-man elements of his 1986 sci-fi masterpiece, preserving only the central story of one lover watching helplessly as another succumbs to a degenerative illness.
The film Cronenberg was describing is basically Amour. Michael Haneke, another formal master whose work blurs the line between art and shock cinema, has fashioned a body-horror drama nearly universal in its terrifying "appeal." (Perhaps that's why it won last year's Palme d'Or.) Extinguishing the golden-glow mawkishness typical of death-bed movies, Amour is a feel-bad milestone: the most brutally honest picture ever made about growing old and wasting away.
Like The Fly, the film takes place almost entirely within a single interior space – here, the swanky Parisian apartment of retired music teachers Georges (Jean-Louis Trintignant, from The Conformist) and Anne (Emmanuelle Riva, of Hirsohima, Mon Amour). Still smitten with each other after many decades of marriage, the octogenarians share a peaceful, comfortable life. But this cosy coexistence is disrupted when Anne, in an unsettling early scene, falls into a spell of unresponsive paralysis. She's suffered a stroke; this is the first step in a gradual deterioration of her mind and body. As Georges later says to their distressed daughter (Isabelle Huppert), "It will go steadily downhill for a while, and then it will be over."
Amour takes us through every hardship and humiliation: Anne's loss of motor functions and language, the hiring (and firing) of help, the way the two lovers wearily weather the pity and thinly disguised horror of their friends and family. All of that may sound like punishment as usual from Haneke, the hectoring Austrian auteur who's made a career from showing audiences things they'd rather not see. Some of the film's detractors have accused the director of old tricks, suggesting Anne and Georges are just the latest victims of his ongoing campaign against the bourgeoisie. What this (mis)reading ignores is the magnificent humanity afforded the characters, much of it courtesy of the aged thespians playing them.
As French screen legends, the leads carry a history of cinematic baggage; we're seeing these famous actors, not just the people they're playing, in the august years of their lives. Riva's performance isn't a transformation but a series of them: quickly ingratiating us to the healthy Anne, she plays the woman's descent into invalidity as a gradation of physical and emotional states. Trintignant, in the less showy role, manages to capture the selfless honour of caring for an ailing loved one without ever coming across as a cardboard saint. When Georges slaps Anne across the face, after she bitterly spits out the water he's force-feeding her, it's as though all his sorrow and rage has been channelled into one outburst.
This moment, among many others, is difficult to watch. That's as it should be. A profound trial of endurance, Amour shows us dying as movies rarely do – plainly and unsentimentally. (Like Anne and Georges, Haneke has no patience for platitudes.) Yet there's little cruelty, only compassion, in the film's unblinking gaze. Amour is as severe as Caché, The White Ribbon or any of the director's scolding anti-thrillers, but it's also a deeply resonant love story. The most shocking thing about it may be the sincerity –and aptness – of its title.
Details
Release details
Rated:
M
Release date:
Thursday February 21 2013
Duration:
129 mins
Cast and crew
Director:
Michael Haneke
Screenwriter:
Michael Haneke
Cast:
Isabelle Huppert
Jean-Louis Trintignant
Emmanuelle Riva

Users say