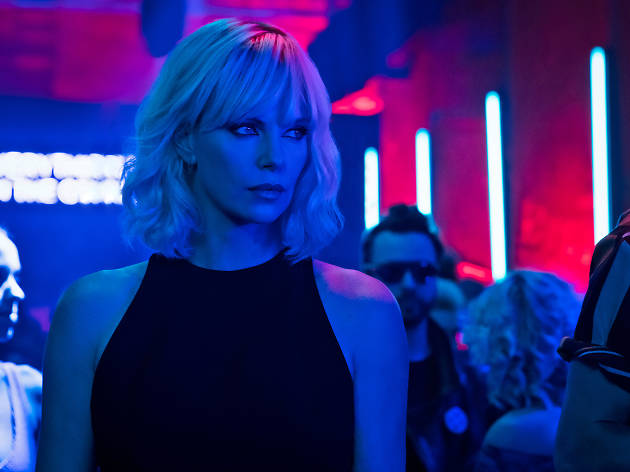 Time Out says
The fierce Charlize Theron gets an action film of her own, one that doesn't quite deserve her
If you've been craving a female spy to lead her own espionage flick, like Mission: Impossible –Rogue Nation's Rebecca Ferguson but with more screen time, you're in luck. John Wick co-director David Leitch's defiantly over-the-top Atomic Blonde is bloated on plotting and heavy with neon-lit visuals, but it will satisfy your appetite for woman-powered heroism. Allow the icy, unconquerable Charlize Theron and her Fury Road–certified action chops to escort you through a labyrinth of devious Cold War machinations in a movie filled with high-wire fights, high-end fashion and no-strings-attached sex. Just don't call her a bitch (as one character learns the hard way).
The impending fall of the Berlin Wall is our 1989 backdrop as we follow British agent Lorraine Broughton (Theron, with killer shades and a wobbly accent) through a typically faux-complicated spy narrative: an undercover mole is murdered and a top-secret list is threatened. As part of her assignment to gain access to a Russian intelligence network, Lorraine is paired with unflappable Berlin station chief David Percival (James McAvoy) and falls into a steamy affair with a double-crossing seductress (Sofia Boutella). Meanwhile, a distracting second timeline has a CIA spook (John Goodman) interrogating a bruised Lorraine in a slow drip of flashbacks.
Not everything adds up, and a dash of cheeky Bond humor is sorely missed. Atomic Blonde relies excessively on the built-in charisma of its lead and an obvious soundtrack that hops from one staple to the next (New Order, David Bowie, Queen, you name it); the film often feels like a retro music video. But it has enough punchy delight to sustain our attention, including one exceptionally well-choreographed fight sequence that lets Theron take the stage with astonishing moves. While it's not a perfect female-centric spy thriller (let's keep trying), Atomic Blonde winks to the future with exciting possibilities.
Details
Release details
Rated:
MA15+
Release date:
Thursday August 3 2017
Duration:
118 mins
Cast and crew
Director:
David Leitch
Cast:
Charlize Theron
James McAvoy
John Goodman

Users say