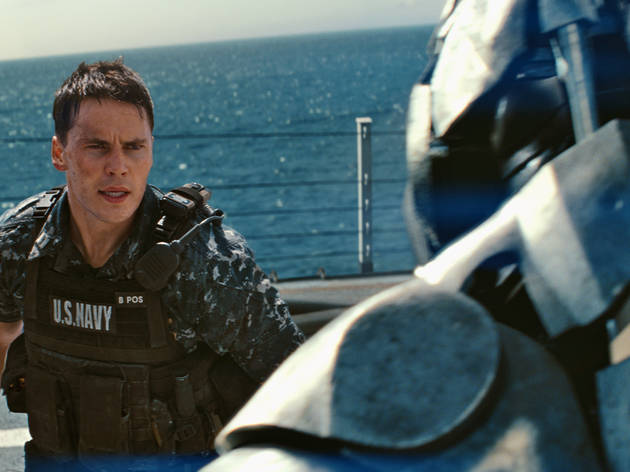 Remember when aliens in films were, oh I don't know – scary? Happy times. Nowadays they're trundled on in every second action flick for the teen market so that trigger-happy heroes can destroy things without moral consequences. You almost feel sorry for the space invaders of Battleship, who gatecrash a naval exercise in Hawaii and unwittingly become the Japanese in what's effectively a 21st century Pearl Harbor re-enactment. (Peter Berg's film takes pains to include a heroic Japanese Captain to pre-empt accusations of lingering resentments on that score.)
Taylor Kitsch stars in his second FX-driven fiasco in as many months, although John Carter is sophisticated stuff by comparison. He's Hopper, a loose-cannon lieutenant who has to prove his mettle to his potential father-in-law, an admiral (Liam Neeson in stentorian mode). Meanwhile Hopper's pneumatic beloved (Brooklyn Decker), a physical therapist, is helping an amputee marine, Mick (played by Iraq veteran Gregory D Gadson), climb a mountain atop which lies the satellite station the aliens need to call in their reinforcements. Heroic redemption is the name of this game: Hasbro's strategy boardgame is referenced only obliquely, but someone somewhere has pocketed a handsome rights cheque for a nothing idea.
Rihanna is cynically cast as an able seawoman firing lots of big guns, and despite a high body count there's no blood or suffering on show – all the better to reap as wide and undemanding an audience as possible. Battleship is logic-free Michael Bay-style fodder where nothing's at stake and even the jingoism is hard to take seriously. Everyone loses.
Release details
Rated:
M
Release date:
Thursday April 12 2012
Duration:
131 mins
Cast and crew
Director:
Peter Berg
Screenwriter:
Jon Hoeber, Erich Hoeber
Cast:
Liam Neeson
Taylor Kitsch
Alexander Skarsgard
Rihanna