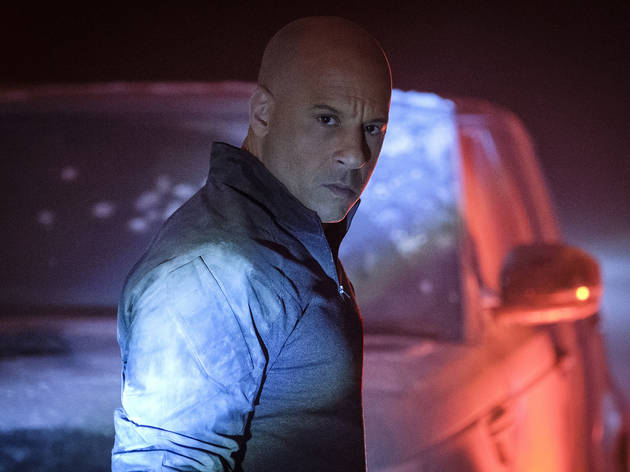 Time Out says
This derivative but fun Vin Diesel action movie has just enough self-awareness to dilute the bombast
When the first ten minutes of Bloodshot showcase a British villain capering to Talking Heads' 'Psycho Killer' while threatening to fridge the hero's wife, you can't help thinking this is the kind of movie that Deadpool's opening credits were mocking. Fortunately, Bloodshot develops a touch of self-effacing wit as it goes on – up to and including an explanation of why that scene seems so crassly generic.
Dispensing with all but a few names from the Valiant Comics series on which it is nominally based, Bloodshot is a mélange of past thrillers and fantasies, from Edge of Tomorrow to Upgrade to Memento, and has the self-awareness to cast the latter's star, Guy Pearce. Styled to somewhat resemble David Cronenberg, Pearce plays Dr Emil Harting, head of an outfit called Rising Spirit Technologies that has enhanced gravely injured soldiers with super-science. In the case of Ray Garrison (Vin Diesel), that means flooding Garrison's bloodstream with nanotechnology that gives him enhanced strength and the ability to rapidly heal from the worst physical punishment. What he doesn't have is any memory of his life before RST got hold of him – until it starts glitching back into his psyche, impelling Garrison toward a personal mission to discover his past self and the identity of his real enemies.
The plot twists sufficiently to keep a modest interest, while the violence is often shot too close and cut too quickly to have much of an impact. Visual effects artist turned director David SF Wilson breaks out a nifty CG setpiece here and there – there's a particularly cool bit where Garrison's blasted face reassembles itself – and stages a climactic brawl on a plummeting glass elevator with more brio and excitement than the action elsewhere. Diesel is dependable in, if not especially challenged by, a film that has its most fun in the margins, as when the focus is on Lamorne Morris and Siddharth Dhananjay as a couple of eccentric computer wonks. They bring a sense of playfulness and some laugh-out-loud lines that leaven the mayhem and ensure your eyes won't go bloodshot watching this one.
Details
Release details
Rated:
M
Release date:
Thursday March 12 2020
Duration:
109 mins
Cast and crew
Director:
David S. F. Wilson
Screenwriter:
Eric Heisserer, Jeff Wadlow
Cast:
Vin Diesel
Guy Pearce
Toby Kebbell
Eiza González

Users say