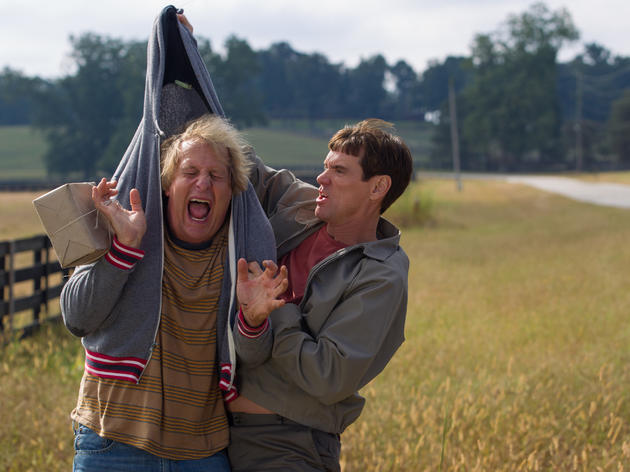 Time Out says
Exactly two decades after Dumb and Dumber first introduced Lloyd Christmas and Harry Dunne (Jim Carrey and Jeff Daniels, respectively), cinema's most improbably tolerable pair of morons is back for a proper sequel that looks like a cash-grab but works like a time machine.
The Farrelly brothers' latest is an earnest throwback that plays to the strengths of a filmmaking duo whose sense of humor has always been pitched between classical and outdated. Dumb and Dumber To may not be quite as funny as the first one, but it's the funniest thing the Farrellys have made since.
The kind of movie that features 50-year-old men hot-boxing the back of a hearse with their own farts, Dumb and Dumber To is a refreshingly straightforward rejoinder to a time when the average studio comedy was more self-reflexive than a Kiarostami film. The plot might knowingly mimic the original, but it does so more out of fidelity than laziness: Harry, in dire need of a new kidney, learns that he fathered a daughter in 1991. The mother (Kathleen Turner, whose impressively thick skin is as much a magnet for jokes as it is a shield against them) reveals that the baby was adopted by one of the country's most brilliant men. Faster than you can make the most annoying sound in the world, Harry and Lloyd are road-tripping to meet the girl at a science conference in El Paso, leaving all sorts of carnage in their wake.
Between Harry forcibly removing Lloyd's colostomy bag (it's a long story), a bizarre string of Barbara Hershey references and the year's best death scene, it's clear that the Farrelly brothers have a unique genius for engineering gags that are either a little dumber than you expect, or a lot dumber than you can believe. Crucially, their two leading stooges are just as committed to delivering them as they were in 1994. Any movie could feature a cat named "Butthole" (so named because, as Harry illustrates, the cat has a butthole), but the matter-of-fact sincerity with which Daniels sells the joke is a lost art. In fact, Dumb and Dumber To is such a blast from the past that its digital varnish and CG flourishes feel like the only real affront to good taste in a film where every giggle is accompanied by a deep sense of head-shaking shame - you won't want to laugh when the cat tries meth, but you will.
Details
Release details
Rated:
M
Release date:
Thursday January 8 2015
Duration:
109 mins
Cast and crew
Director:
Bobby Farrelly, Peter Farrelly
Screenwriter:
Sean Anders, John Morris
Cast:
Jim Carrey
Jeff Daniels
Kathleen Turner

Users say