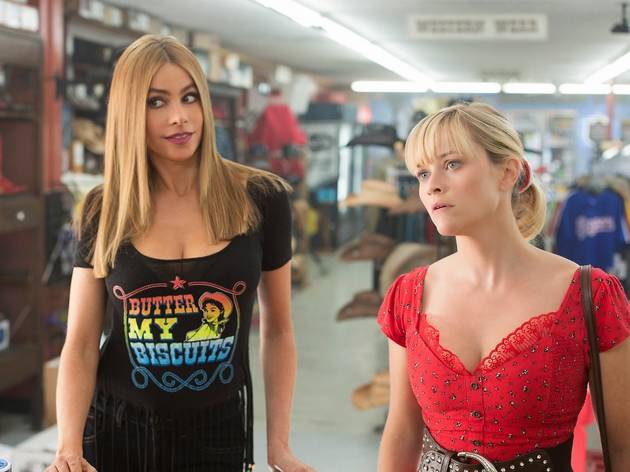 Time Out says
It's hard to fault Hot Pursuit for shamelessly trying to draft off the success of The Heat, since it's not as if the world is overrun with broad comedies about resourceful women who demolish the men foolish enough to underestimate them. At the same time, this trite road-trip comedy can be so lazy that it squanders the goodwill of a premise that ought to be self-evident.
Directed by Step Up series godmother Anne Fletcher, the film centers on Cooper (Reese Witherspoon), a dweebish and diminutive Texas cop with a checkered past. Police work is in Cooper's blood, but an itchy trigger finger on her taser has resulted in her being assigned to a desk job as a glorified secretary. That is, until she's assigned to escort Daniella (Sofia Vergara) from her mansion to a courtroom, where the South American fashionista is scheduled to testify against the merciless drug lord who used to employ her husband. The pickup goes awry and the women suddenly find themselves speeding away in a convertible, two different teams of armed killers on their tail.
One of them is short and the other one is Colombian – that's pretty much all there is to this milquetoast buddy comedy that ought to have premiered directly on seat-back airplane televisions where it's destined to spend the better part of its existence. Bouncing from one tired sitcom setup to the next (Cooper is covered in cocaine! Daniella has to pretend to be her lesbian lover in order to fool a shotgun-toting Jim Gaffigan!), the film is completely bereft of energy. Still, the shaggy plotting channels the same outmoded charm of the open road that's helped Tommy Boy to become a casual classic, and Vergara – essentially playing the Modern Family character that she's turned into a brand – seems to be having enough fun for all of us. As for Witherspoon, it's easy to forget that the Election star built a career on the strength of her comedic chops, as Hot Pursuit often feels like her first day in the field.
Details
Release details
Rated:
NA
Release date:
Thursday June 11 2015
Duration:
87 mins
Cast and crew
Director:
Anne Fletcher
Screenwriter:
David Feeney
Cast:
Sofía Vergara
Reese Witherspoon
John Carroll Lynch

Users say