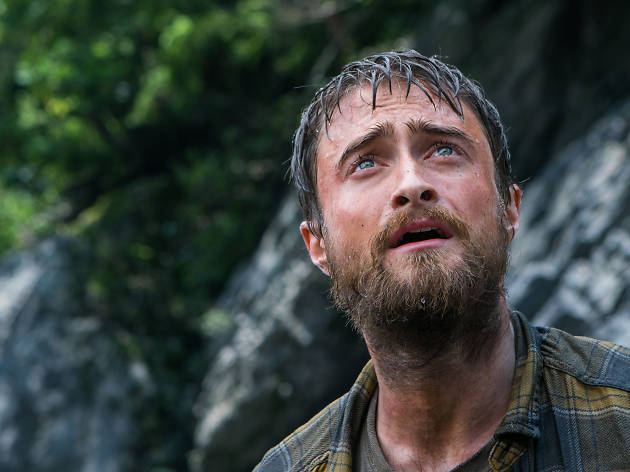 Time Out says
Daniel Radcliffe heads into the wilds of the Amazon in an adventure-thriller with a nervy spin – but will he make it out again?
It may be the blood-eating worms making a home in the lump on someone's forehead. Or the gag-worthy scene where the explorers eat a roasted monkey. But at some point during Jungle, the new film by Greg 'Wolf Creek' McLean, everyone will realise we're not at Hogwarts anymore. True, Daniel Radcliffe has been trying to kill off the spirit of the Boy Who Lived for a very long time, most recently by playing a farting corpse in 2016's largely derided Swiss Army Man. But Jungle, a gruelling true survival story, pushes Radcliffe right into the heart of darkness and out the other side: it's unsparing stuff.
In 1981, Israel-born Ghinsberg (on whose memoir the film is based) follows a charismatic but deeply untrustworthy Austrian, Karl Ruprecter (Thomas Kretschmann), into the wilds of Bolivia on the promise of spotting a lost tribe and possibly some gold along the way. Ghinsberg persuades two of his backpacking friends (played by Australian actors Alex Russell and Joel Jackson) to go along on the odyssey, which quickly turns sour when one of the four ends up with his feet covered in blisters and the monsoons threaten to arrive early.
Anyone who has lost their bearings on a hike for even a moment can understand the creeping panic conveyed in the film, along with the brittleness of the ties of friendship when up against the uncaring wilderness. Things kick into thrilling gear when the four decide to build a raft and take on the rapids, and the second half of the film focuses on Ghinsberg, separated from the others and faced with starvation, wild cats, quicksand and the aforementioned under-the-skin worms. He also suffers flashbacks and hallucinations – most of them brilliantly handled (with one clunky exception).
McLean's film channels the great stories of madness at the end of a snaking river such as Aguirre: The Wrath of God (1972), Deliverance (1972) and Apocalypse Now (1979), amped up by the director's love of both body horror and tales of tourism gone horribly, horribly wrong. (If he ever makes a film in which cocky backpackers don't meet a merciless serial killer/giant crocodile/burrowing skull leech, it will be whole new ballgame.) Radcliffe throws himself wholeheartedly into the physical demands of this role and the result is a harrowing journey from which it's hard to glean much optimism. The boy might live, but what will be left of him?
Details
Release details
Rated:
M
Release date:
Thursday November 9 2017
Duration:
111 mins
Cast and crew
Director:
Greg Mclean
Screenwriter:
Justin Monjo
Cast:
Daniel Radcliffe
Thomas Kretschmann
Alex Russell

Users say