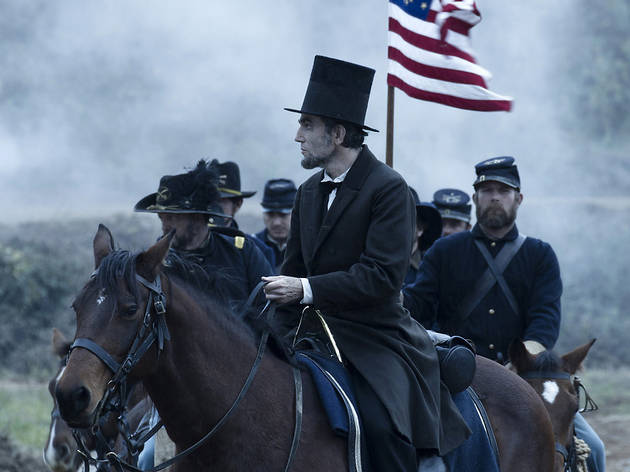 Time Out says
The combination of Steven Spielberg and America's most beloved President might seem like a recipe for sentimentality. But the surprisingly spare, riveting Lincoln is after something more complex. At once a further mythologising of Honest Abe and an absorbing demystification of 19th-century politics, it's one of the most mature films Spielberg has made.
Working from a crisp, intelligent script by Tony Kushner, the movie eschews the wiki structure common among biopics. Process-minded, it focuses almost exclusively on the events of January 1865, as the 16th President (Daniel Day-Lewis) covertly delays a truce with the South to pass the slavery-ending 13th Amendment in the House. The Emancipation Proclamation won't hold – indeed, as he explains in exhaustive detail, it may never have been legal – and if the South rejoins the union, ratification becomes impossible. Lincoln looks ahead: this is not just about the moment, but future generations. More than once, he emphasises to his skeptical Cabinet that the time to act is now.
While Spielberg has planned a Lincoln project for a decade and the finished film credits Doris Kearns Goodwin's 2005 Team of Rivals as a source, Lincoln works from fewer than 90 pages of her 750-page book. The director and playwright seem to have had a contemporary inspiration in mind. Even if it weren't an election year – or the movie didn't accord such prominent placement to the second inaugural – it would be hard not to see the interest in strategy and temperament as a direct commentary on the man currently living in Lincoln's house.
With an immersive, unostentatious presentation of the period (you'd never guess Spielberg had made the earnest, turgid Amistad), Lincoln briskly takes us through the calculus of passing the amendment. Secretary of State Seward (David Strathairn) enlists a trio of proto-lobbyists (James Spader, John Hawkes and Tim Blake Nelson) to shake down 20 lame-duck Democrats for votes. The President sends a conservative Republican (Hal Holbrook) to vet a back-table peace offer he intends to stall. Many of his allies must bend: In the name of capturing more votes, abolitionist Thaddeus Stevens (Tommy Lee Jones at his most anguished) stands before the Congress and asserts he believes only in equality for all men under the law – and not, as he truly believes, the then-scandalous proposition of natural equality between blacks and whites.
If Kushner's declamatory style sometimes gives Lincoln a theatrical feel – in the prologue, a black Union soldier rhetorically remarks to the President that it will be a century before African-Americans have the vote – Day-Lewis's high-pitched Kentucky twang drowns out the creaks of the floorboards. The actor's folksy, uncannily lived-in portrayal provides a warm counterpoint to the cerebral proceedings; awaiting battle news, he dispels tension with a bit of toilet humour.
Like Kushner's Angels in America, Lincoln is less a literal history than a work that uses a historical moment to meditate on grand themes. It reminds us that there is no halcyon age of politics, and that even an act as self-evidently righteous as outlawing slavery was forged through compromise, backroom deals and legal loopholes. Profoundly, it illustrates that all politics involves facing an uncertain future. (In one of the more startling scenes, Lincoln is asked by a servant how he'll feel about the men and women he's freeing. "I suspect I'll get used to you," he replies.) At a moment when the American House seems hopelessly divided, Lincoln has the optimism to suggest that great achievements can prevail.
Details
Release details
Rated:
NA
Release date:
Thursday February 7 2013
Duration:
150 mins
Cast and crew
Director:
Steven Spielberg
Screenwriter:
John Logan
Cast:
Daniel Day-Lewis
Cliff Gordon
Tommy Lee Jones

Users say