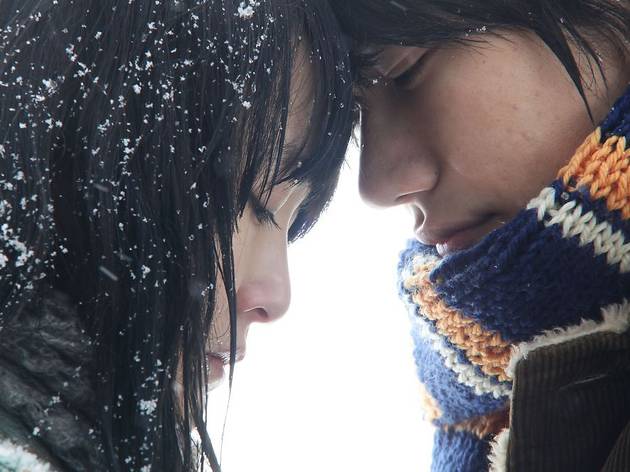 Time Out says
When Haruki Murakami published his autobiographical novel Norwegian Wood in 1987, it quickly achieved cult status with Gen X romantics. It's since sold 10 million copies in Japan alone.
Set in 1960s Tokyo, it follows a freshman as he experiences a world shaped only by grief, oblivious to the hedonistic campus life and student protests unfurling around him.
The labour of Vietnamese-French director Tran Anh Hung (The Scent of Green Papaya), it took lengthy discussion to persuade Murakami that his study of emotion could translate to screen. Was the author right to worry?
Toru Watanabe, the serious young protagonist, is plagued by the guilt of his childhood friend Kizuki's suicide and the additional burden of his feelings for Kizuki's girlfriend, Naoko. Actor Kenichi Matsuyama, best known in Japan for his action movie roles, couldn't be more strangely cast here.
After Watanabe seduces her, the emotionally fragile Naoko suffers a breakdown, from which she cannot — will not — recover, and spends the rest of the film languishing in a dreamlike country sanctuary. Here she can only spend time with the heartbroken Watanabe if chaperoned by another patient, but while the pair do have some painfully awkward couplings, she's more interested in whispering in riddles, imprisoning him with a sense of idealism and duty.
To compensate, Watanabe launches into an affair back in Tokyo with spunky student Midori, a lively character with a colourful back-story, who leads him on a merry chase. Then there's the campus cad, Nagasawa, whose treatment of his delicate, Audrey Hepburn-like girlfriend Hatsumi forces Watanabe to agonise over his own behaviour.
There are more tragedies to come, but it's difficult to feel sorry for the characters. As a heroine, Naoko is wetter than Tokyo in monsoon season (Tran Ahn Hung clearly thinks so too, as most of her scenes are cast in torrential rain), while Watanabe is infuriatingly passive. "Of course," he always defers to the women in his life as he trails four steps behind them; women whose madness and mind games buffer him around like a cork on the ocean.
Tran Ahn Hung plumbs these emotional depths on screen by way of some startling cinematography, using changing seasons and elements to convey moods. He lingers on faces, interjects downpours into intimate conversations, focuses on beads of dew on moss, or lets a spider pick its way across the screen.
It's a sensual sensory experience, but painfully drawn out; rather like having your nipples stroked into smooth nubs, or being butterfly kissed to death. Watanabe's poetically existential existence becomes almost too much to bear, and by hour two, the more impatient viewer may have to sit on their hands, to resist the urge to run up to the screen and slap some sense into everyone.
Details
Release details
Rated:
MA
Release date:
Thursday October 6 2011
Duration:
133 mins
Cast and crew
Director:
Tran Anh Hung
Screenwriter:
Haruki Murakami
Cast:
Kenichi Matsuyama
Rinko Kikuchi
Kiko Mizuhara
Kengo Kora
Reika Kirishima

Users say