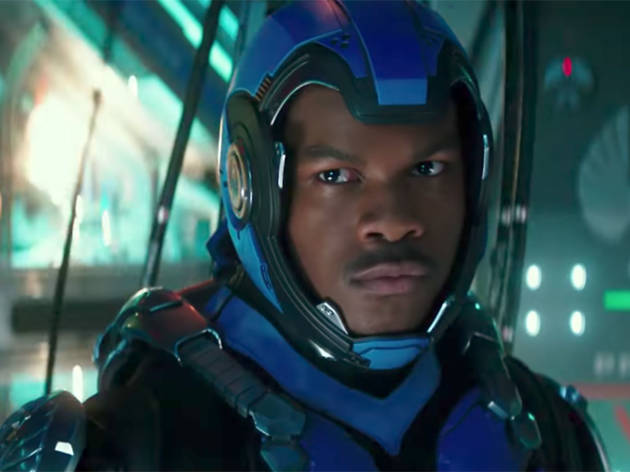 Time Out says
Guillermo del Toro hands over the reins of a smashing-robot franchise that shows no signs of slowing – or quietening – down.
Jaegers (giant robots) and Kaiju (huge primeval creatures with interdimensional containment issues) are again going head to head in Pacific Rim Uprising, and while director Guillermo del Toro has not returned for this sequel to his 2013 original, TV veteran Steven S DeKnight (Netflix's Daredevil) proves a more-than-capable replacement. Uprising may lack some of the texture and personality of Del Toro's work, but it's still a film he would have gone to see a dozen times when he was a young monster fan.

More than 20 minutes shorter than its predecessor and set ten years later, Uprising eschews complex world-building and subtle characterisations to provide rock-'em- sock-'em robotics for undiscerning sci-fi fans. John Boyega, star of The Force Awakens and The Last Jedi, plays Jake Pentecost, son of the first film's heroic, deceased Stacker. Apprehended for illegally dealing Jaeger hardware, Jake is given the chance to wipe his slate clean by helping instruct new robot-pilot cadets, including fellow orphan and mechanical wiz Amara (newcomer Cailee Spaeny).
Familiar basic-training shenanigans follow, along with some clichéd intrigue involving a tech CEO who wants to introduce unmanned Jaegers. Livening things up are Charlie Day and Burn Gorman as returning oddball scientists Geiszler and Gottlieb; the former has one moment in which he gets a little too personally involved in his hyperzoological studies, suggesting a distinctively weird road that Uprising chooses not to travel down.
There's a directness and swift pace to the first hour or so that works on an elemental level, and the final act is a delirious sugar rush of city-smashing spectacle (in Tokyo, of course, which has been evacuated to avoid any pesky collateral damage), delivering precisely the goods the movie promises. Generic it may be, but Uprising kicks the metal ass of any of the ponderous Transformers films.
Details
Release details
Rated:
M
Release date:
Thursday March 22 2018
Duration:
111 mins
Cast and crew
Director:
Steven S. DeKnight
Screenwriter:
Steven S. DeKnight, Emily Carmichael, Kira Snyder, T.S. Nowlin
Cast:
John Boyega
Scott Eastwood
Cailee Spaeny
Charlie Day

Rating Breakdown
5 star:

0

4 star:

0

3 star:

0

2 star:

0

1 star:

1
The first PACIFIC RIM by director Guillermo Del Toro was well crafted with top-notch direction, cinematography, writing, state-of-the-art visual effects and was quality B-grade schlock, This new sequel has inferior direction, inferior writing with a screenplay where the first two acts of the film are not compelling and downright banal. The third act the film is exciting in it's mayhem and destruction but 70% of this film is dumbed down to an offensive extent. There's a 13 year old girl who builds her own jaeger from junkward parts without ever explaining how she achieves such a feat. She outsmarts all the adults which had my eyes rolling in disbelief. The writing to this sequel is the real problem. Compared to the first movie one can tell that the effort was there in respecting audience entertainment where with this sequel is an instant cash grab in the lucrative Asian market.