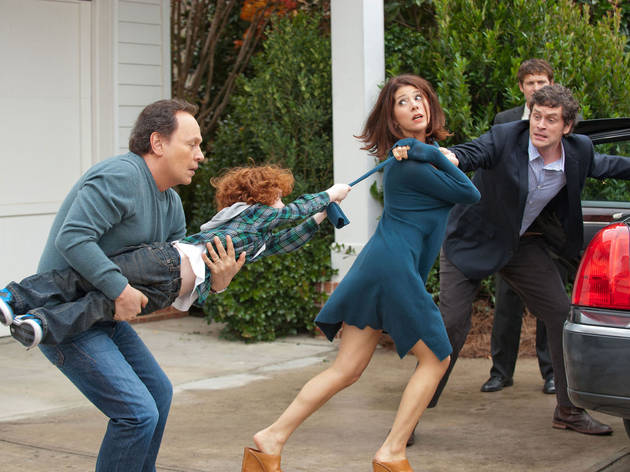 Time Out says
Kids, gather around. Mummy and daddy have something to tell you. This Christmas you are going to get a visit from some old people. Their names are Billy Crystal and Bette Midler. It might be hard for you to understand but once upon a time, Billy and Bette were big stars. Yes, just like Justin Bieber and Carly Rae Jepsen. Now, Billy and Bette are in a movie called Parental Guidance that mummy and daddy might be taking you to see on Boxing Day if all the tickets to The Hobbit are gone. Try not to cry, because you might enjoy the movie. It's about how grandparents are important even though they say weird things and make bad jokes and try to get you excited about boring things, like baseball.
In the movie, Billy and Bette have a daughter, Alice (Marisa Tomei), who has three children of her own. Alice and her husband Phil (Tom Everett Scott) have raised their kids not to eat meat or sugar and they never say negative things to them, even when they're being naughty. Doesn't that sound great? Except that all three kids are a little bit strange. The daughter (Bailee Madison) is always stressed and only has time for violin practice. The older boy (Joshua Rush) has a stutter and the younger boy (Kyle Harrison Breitkopf) has an imaginary friend. Alice and Phil have to go away for a few nights and they ask Billy and Bette to look after the kids. Billy and Bette have an old-fashioned style of parenting so funny things happen, like the kids get out control when given cake, and Alice gets upset. But sometimes it's good when grown ups tell each other how they're feeling because that way everyone can be friends again.
The kids in the movie sometimes talk about rude things like poop and pee but that doesn't mean you can too! Because movies are all about pretending. That's why Billy's hair is still black, even though he's old. His hair is pretending too. Now, who wants ice cream?
Details
Release details
Rated:
PG
Release date:
Wednesday December 26 2012
Duration:
105 mins
Cast and crew
Users say