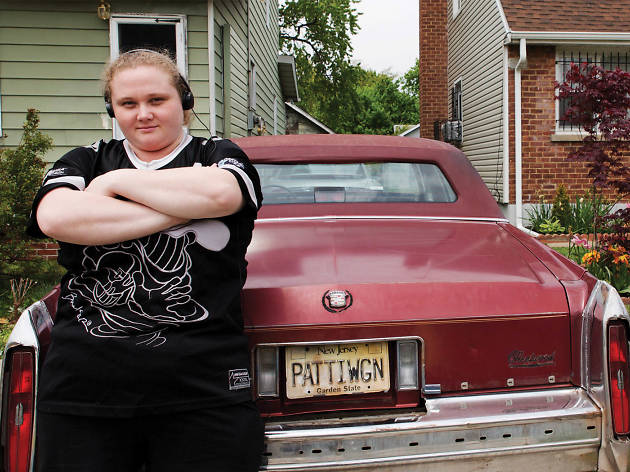 Time Out says
A rhyme-dropping New Jersey waitress dreams of rap stardom in this crowd-pleasing drama that's familiar but rousing all the same.
A young rapper forms an escape plan in this upbeat indie with a star turn from Danielle Macdonald. She's 23-year-old Patricia Dombrowski, a New Jersey native who's created an alter-ego to distract her from her downtrodden daily life. Patti Cake$, or Killa P, is a brash, talented hip hop artist who chiefly exists in Patricia's dreams, though they're dreams shared by her affectionate best friend Jheri (Siddharth Dhananjay). After a street freestyle battle gives Patricia the confidence to break out in rap, she and Jheri start the plot to hit the big time.
But this is no simple wish-fulfilment exercise: obstacles include a wheelchair-bound grandmother (Cathy Moriarty), a drunken and disparaging mother (Bridget Everett), a lack of work and cash, and hostile locals who call the plus-sized Patricia "Dumbo." Written and directed by music-video stylist Geremy Jasper, Patti Cake$ is inspired by his own experiences and the New Jersey community he grew up in, lending an authenticity to the film's grittier scenes. This plays out in dive bars, strip joints and cruddy suburban homes. Only while working as a waitress does our hero get a glimpse of a more glamorous life, which may not be as ideal as it seems.
The tone balances realism and optimism with the accent on the latter; ultimately Patti Cake$ has the kind of uplifting, defiant-misfit mood that's easy to compare with fellow Sundance hit Little Miss Sunshine. It also benefits from a terrific cast: Australian actor Macdonald delivers a winning blend of fighting spirit and vulnerability, while Bridget Everett is heartbreaking as the brittle mother who surrendered her own musical career to pregnancy. The introduction of a potential bandmate known as Basterd the Anti-Christ (Mamoudou Athie) delivers mixed results, but if you've already been won over by Patti, you'll be rooting for her gang all the way.
Details
Release details
Release date:
Thursday September 14 2017
Duration:
108 mins
Cast and crew
Director:
Geremy Jasper
Screenwriter:
Geremy Jasper
Cast:
Danielle Macdonald
Bridget Everett
Siddharth Dhananjay

Users say