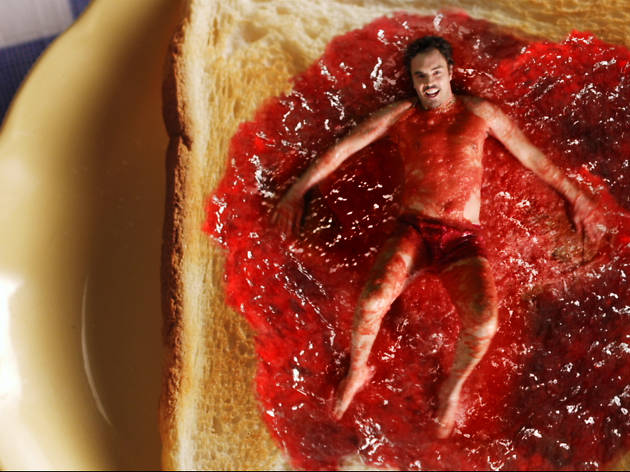 Time Out says
The debut documentary feature by Australian actor Damon Gameau (Balibo, Thunderstruck) sets out to expose the vast amount of sugar we consume without even realising it. Following the lead of Morgan Spurlock's film Super Size Me, Gameau makes himself a guinea pig, replacing his own low-sugar diet with a diet of 40 teaspoons of sugar a day, representing the intake of the average Australian.
What's scary is that he is able to do it without eating fast food, lollies or drinking soft drinks. Instead, he ingests normal supermarket foods like cereals, yoghurt and pasta sauce and drinks fruit juices, iced tea and smoothies. That smoothies containing sweet fruits are as sugar-loaded as Coca-Cola is one of the bombshells that this lively documentary drops, along with the fact that 80 per cent of supermarket products contain the white ruin.
Gameau chronicles his weight gain and mood swings while travelling to the Northern Territory and the USA to reveal the horrendous health impact of high-sugar diets. A close-up on oral surgery performed on a Kentucky youth whose teeth have been rotted by soda makes for lurid viewing.
Gameau sweetens his bitter pill with cameos from the likes of Hugh Jackman and Stephen Fry explaining the history and science of sugar. There's also a barrage of comical special effects, such as Gameau climbing up his own nose to investigate the effect of sugar on his brain. He has clearly taken to the tools of filmmaking like the proverbial kid in a... you know.
School screenings are being planned and the documentary will certainly appeal to kids with its colour, movement, clarity and humour. Adults, meanwhile, will take pause at the knowledge that the food industry has exploited our hard-wired love for sweet things to sell us unhealthy products.
Details
Release details
Rated:
PG
Release date:
Saturday February 28 2015
Duration:
97 mins
Cast and crew
Director:
Damon Gameau
Screenwriter:
Damon Gameau
Users say