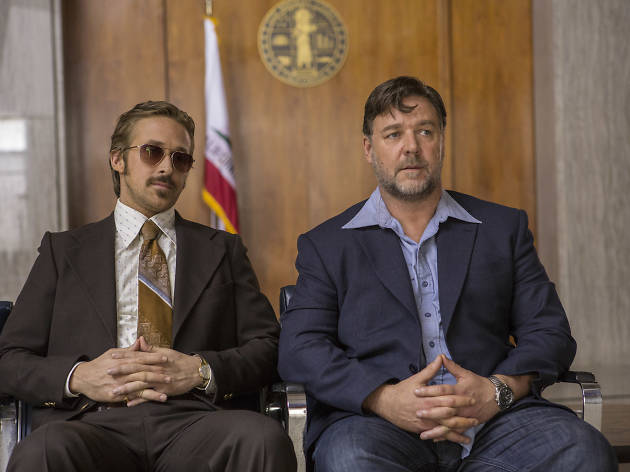 Time Out says
A dazzling throwback to '70s sleaze and '80s buddy flicks, Shane Black's detective story scratches an itch you didn't know you had
Ryan Gosling in a physical action-comedy? Whoever thought of the idea should be crowned genius of the year. With dynamite timing and uproarious gestures, Gosling mines his diverse abilities and becomes a blast in The Nice Guys, directed by Lethal Weapon and Kiss Kiss Bang Bang scribe Shane Black. Cowritten by Black and Anthony Bagarozzi, this nonstop-hilarious buddy-cop film is both a committed rekindling of the old formula Black aced throughout his career and a playful wink to the genre, bouncily walking on the fine line with occasional backflips.
Not that Gosling's character, Holland March, a clumsy, drunken private eye living in 1977 Los Angeles, is exactly a cop, per se. (He's often hired by confused old ladies looking for their dead family members.) And neither is his eventual partner, the ultra-serious tough guy Jackson Healy (Russell Crowe, beefed up and effective), who rakes in hard cash by beating up his clients' enemies. What could possibly go wrong when these two pair up out of obligation?
A lot – especially when the backdrop is a gritty-to-the-touch Tinseltown (captured by veteran cinematographer Philippe Rousselot in earthy colours) drowning in orange smog and overtaken by the golden age of porn. Think a dash of Chinatown's noir sprinkled over Boogie Nights, and you're in the ballpark, with Nixon on the cover of Forbes, Jaws 2 decorating roadside billboards and exquisite period details shining on every corner.
When the death of a porn star named Misty Mountains – seen in the film's gloriously funny opening sequence set to the beat of the Temptations' 'Papa was a Rollin' Stone' -unites the widowed March and divorced Healy in search of another adult entertainer, the missing Amelia, the duo enter a sprawling maze of shady power structures and dead stakeholders. Along the way, they hang out among Dirk Diggler and Rollergirl wannabes in spectacular bejeweled garments and receive a considerable amount of help from March's badass 12-year-old daughter, Holly (Angourie Rice), who possesses far superior PI chops than her panicky dad.
Between a gorgeously grandiose finale, memorable parts for Yaya DaCosta and Kim Basinger and a juicy soundtrack that includes Earth, Wind & Fire and Kool & the Gang, The Nice Guys is the perfect, incredibly crafted yet laid-back procedural we've been starved for. Even when it sometimes seems that the endless jokes are being thrown against a wall to see what sticks, The Nice Guys, on the whole, summons that victorious, innocent feeling of seeing likable heroes win while having fun along the way. It's nice, guys. - Tomris Laffly
Details
Release details
Rated:
MA15+
Release date:
Thursday May 26 2016
Duration:
116 mins
Cast and crew
Director:
Shane Black
Screenwriter:
Anthony Bagarozzi, Shane Black
Cast:
Ryan Gosling
Matt Bomer
Russell Crowe
Kim Basinger
Angourie Rice

Users say