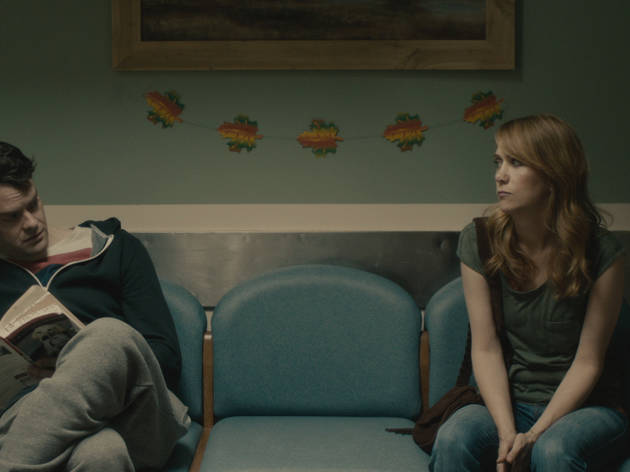 Time Out says
For several more seasons, Bill Hader could have been SNL's adorable club kid Stefon – and Kristen Wiig the cringingly competitive Penelope – and no one would have complained a bit. Props, then, to the filmmakers behind this uneven yet affecting indie for giving these ex–TV regulars a pair of roles that allow them to stretch into unexplored dramatic territory (and, you know, be funny once in a while).
It helps that Milo (Hader) and Maggie (Wiig) are cranky adult siblings, sharing a whip-crack shorthand that longtime skit partners know how to muster effortlessly. These characters have been out of touch for a decade; both seem on the cusp of giving up, he with a razor in his dingy LA bathtub, she with a brazen act of infidelity sure to wreck the perfect suburban life she's come to loathe. Come together they do, though, and somehow, The Skeleton Twins finds a way to explore the alternately healing or hurtful nature of nostalgia. (When a riotous scene has the duo lip-synching to a gushy Starship song, you might say healing and hurtful.)
These small moments are glorious ones, as is every scene with the underrated Luke Wilson, still finding subtle ways to shade his everybro persona as Maggie's likable husband in the dark. It's a shame, then, that the script (cowritten by director Craig Johnson and Mark Heyman) feels the need to lunge for buried family trauma, big reveals and hugs in its final act. There was flesh enough on these twins' bones to begin with.
Details
Release details
Rated:
M
Release date:
Thursday September 25 2014
Duration:
93 mins
Cast and crew
Director:
Craig Johnson
Screenwriter:
Craig Johnson, Mark Heyman
Cast:
Kristen Wiig
Ty Burrell
Boyd Holbrook
Bill Hader
Luke Wilson

Users say