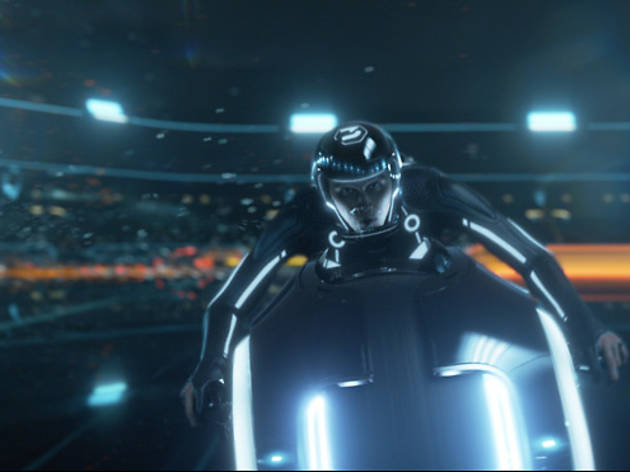 Time Out says
Disney's fanciful 1982 cash-in on the larval video game craze was hardly a masterpiece, but there was something cute about Tron's assertion that computer programs were just like people and that if we could upload ourselves to their world we could engage with their politics and play their games, one on one.
In revisiting the idea some 28 years later, director Joseph Kosinsky gives us an Orpheus story in which Sam Flynn (Garrett Hedlund) descends into a 3D digital underworld called the Grid in search of the computer genius father who disappeared on him 20 years earlier. That father is Kevin Flynn (Jeff Bridges), the visionary game designer of the original film, now an aging prisoner of the Grid who has held onto his hipster tendencies in cyberspace ("You're messing with my Zen thing, man," he complains at one point.)
Tron Legacy also gives us a CGI Bridges as the Grid's more youthful-looking overlord, a thoroughly corrupted piece of software called Clu. Sam is captured by Clu and plunged straight into this world's gladiatorial schedule of dangerous games including the famous 'Light Cycles' - players who are killed in these clashes shatter like glass, game over - but is rescued and reunited with his father by Quorra (Olivia Wilde), a female program who happens to be one scorching-hot sequence of binary coding.
What unfolds is your typical chase-and-rescue scenario, all just colour and movement, but with a rock-out score by Daft Punk and a genuinely bright patch in the high-camp form of Castor (Michael Sheen). This thin white duke in a blonde mullet hosts a nightclub for programs - perhaps Leisure Suit Larry hangs out there? - and is a welcome breath of loopy character in an otherwise airless fantasy. Nick Dent
Details
Release details
Rated:
PG
Release date:
Thursday December 16 2010
Duration:
125 mins
Cast and crew
Director:
Joseph Kosinski
Screenwriter:
Steven Lisberger, Bonnie MacBird, Adam Horowitz, Lee Sternthal, Brian Klugman, Edward Kitsis
Cast:
Garrett Hedlund
Jeff Bridges
Olivia Wilde

Users say