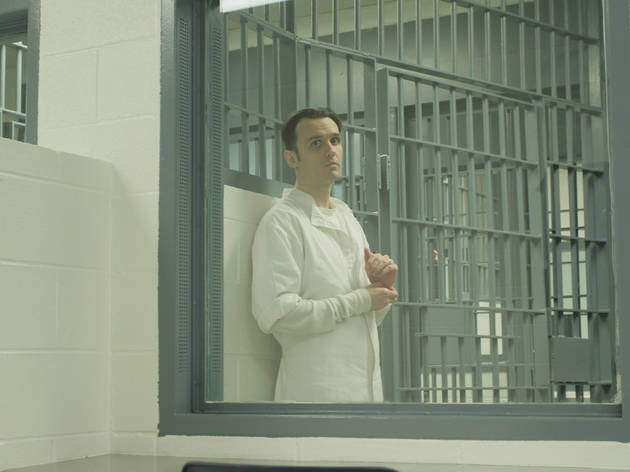 Time Out says
It's painfully difficult to watch West of Memphis here at this preview screening. Partly because the footage we're shown is so traumatic that I'm in physical discomfort, and partly because at least two journalists near me are blubbing helplessly throughout.
You don't need to have already seen Joe Berlinger and Bruce Sinofsky's phenomenal Paradise Lost trilogy of documentaries that came before West of Memphis to understand it, but here's the drill. In 1994, three teenage heavy metal fans from Arkansas – Damien Echols, Jason Baldwin and Jessie Misskelley – were jailed for life (with Echols on death row) for the satanic murder of three eight-year-old-boys. In the 18 years they languished in prison, they made endless appeals, garnering very vocal support from the likes of Johnny Depp, Henry Rollins, the Dixie Chicks, Eddie Vedder and director Peter Jackson (The Hobbit, Lord of the Rings), who started pouring funds into the trio's legal battles back in 2005.
Stylistically, this is a very different film, with moments of visual majesty. Paradise Lost was more of a gritty whodunit, filmed on the hop. Once we had established that the three accused were highly unlikely to have committed the gruesome crime, Berlinger's focus shifted from one likely suspect to another. West of Memphis, by contrast, assumes we accept Terry Hobbs – stepfather of one of the murdered boys – as the chief suspect, and a great deal of the movie is devoted to cementing the case against him through new interviews with his family and friends.
In case I've not been clear, it's a traumatic film. The scenes with Hobbs' daughter Amanda – a hitherto unheard of victim in this saga – are almost too much to bear. (There's still no appearance by Echols' family, who were also conspicuously absent in the Paradise Lost documentaries – you'll have to read Echols' comparatively peaceful and zen-like memoir, Life After Death, to hear about them.)
There's so much more evidence to contemplate, amid this broiling sea of corruption. The notion that this was a sex ritual murder, due to the genitalia and lips of the boys being chewed off – is thrown into doubt now that we are shown footage of turtles (the same kind found in the creek the boys' bodies were dumped in) ripping off these soft tissues in pig carcasses. Then there's the introduction of David Jacoby, the friend who gave Hobbs his alibi, and who now emerges from the wreckage as a broken man.
We might assume that with Echols as co-producer, the purpose of this film is to present evidence that the court – and public – never got to hear when the trio decided to go for an Alford Plea that would guarantee their release if they admitted guilt. But it's also a love story between Echols and Lorri Davis – whom he married in a Buddhist ceremony while still on death row, and who gave up her life as a Manhattan landscape architect to campaign for his innocence – that manages to endure despite springing up in a swamp of evil-doing.
West of Memphis poignantly demonstrates how the spider web of one incident can expand to blight hundreds of lives for different reasons. History is seen to repeat itself in these low-income families, stricken by generation after generation of abuse. New atrocities come to light that might otherwise never even have been revealed.
As Echols told AV Club in a recent interview, "Most people create currents in their lives that carry them toward a destination that they don't have the ability or the wherewithal to escape from. So it seems like an inalterable state of affairs to them."
West of Memphis is showing at Cinema Nova until Wed, Feb 27.
Details
Release details
Rated:
MA
Release date:
Thursday February 14 2013
Duration:
147 mins
Cast and crew
Users say