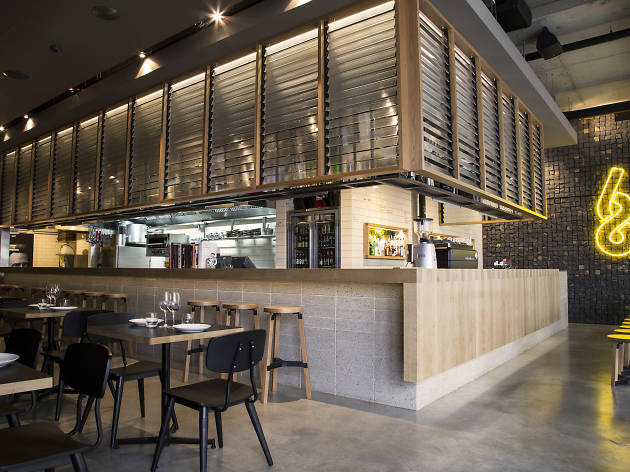 If you're the kind of person who is curious about how a high end kitchen functions make sure you book a seat up at the kitchen counter at EightySix. Watching all the action at the burners is part of the experience – it's like being in the middle of a Chef's Table episode, and this time you'll be the one eating the pork belly with pickled fennel and black pudding, or the soft, three-bite steamed buns filled with duck meat, hoisin sauce and quick pickles.
This Braddon hot spot has worn a comfortable groove that is just shy of a dress-for-dinner venue, but keeps standards high in the kitchen. And most importantly, dining here is fun. Maybe all you want is a little bucket of fried chicken with kewpie mayo and sriracha, and more power to you. Here the bronze armour on your juicy chook is wafer thin – just enough to trap the moisture in the meat. Or perhaps a serve of silky skinned agnolotti that wrap around their sweet pumpkin and mascarpone filling like a silk gown on a burlesque dancer.
The salmon in a bag arrives in a colourful melange of fresh orange, radish, green beans, fennel fronds and pink pickled ginger – it's some sort of audacious chimera of salad and seafood main that manages to comfort and excite in equal measure.
Staff here have that knack of making you feel like their personal guest, and their enthusiasm for the locals wines on the menu is contagious. The Mr V Rhone blend from Lark Hill has skin contact, oakiness, savoury notes and a fresh drinkability that will make your face fall when you reach the last sip. Never mind, there's a Chilean red that's light enough to be food friendly and complex enough to keep you interested. And after all that sensible ordering you can cash in all your adult life points for a caramel popcorn sundae or a banoffee pie. Worth it.
Venue name:
EightySix
Contact:
Address:
Mode 3
Elouera St & Lonsdale St
Braddon
2612

Opening hours:
Daily 6pm-late