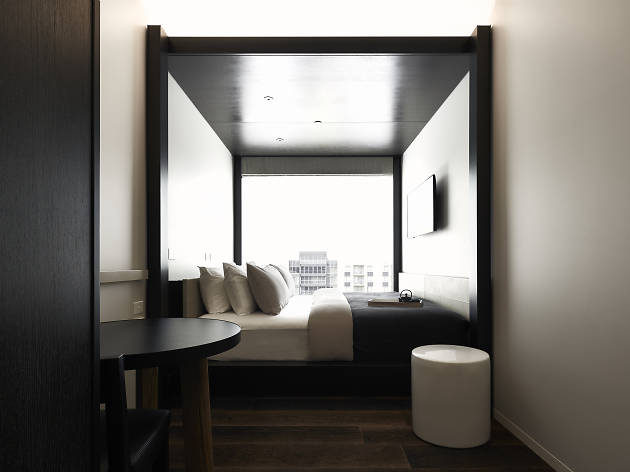 This boutique Canberran hotel maximises the fun of hotel life
From the outside, the Little National seems to be mostly a carpark, wearing a hotel as a jaunty cap. And in many ways this is true. There are seven floors of parking inside this modern cube situated along the hotel-dense National Circuit. But with two levels of accommodation they've managed to create an exceptionally comfortable hotel that is pitch perfect for business travel.
The rooms aren't huge (in fact they're as wide as your king sized bed is long) but clever, Japanese-influenced design means you never feel cramped. The bed sits against a wall of windows to create a kind of welcoming nest effect, but automated black out curtains mean your sleep is deep and undisturbed, in no small part thanks to the very soft mattress that feel like you're sleeping on a bed of warm, rising dough. The TV is mounted at the foot of the bed and they have a very impressive collection of movies that are free of charge. If only air travel could be this comfortable.
It's the thoughtful details that show that this is an experienced hotel group. There are luggage stands, so that everything you own doesn't spread like a tide across the floor; small tables in the shower so your toiletries can all sit side by side instead of kicking around your feet; and decent Wi-Fi for a little bedside work while you wait for you coffee machine to warm up. On level five there is a quiet lounge full of private nooks and crannies for getting some work done in peace, or you can head upstairs after 5pm when the bar opens to sit by the gas fireplaces and sink into smooshy couches.
Breakfast is an impressive buffet over in sister Hotel Realm across the street, as are the gym facilities if you need to keep your heart rate up. Travelling for business can be disruptive to your life, but at the Little National they've made every effort to minimise the irritations of being away from home, and maximise the fun of hotel life.
Venue name:
Little National Hotel
Contact:
Address:
21 National Circuit
Barton
Canberra
2600