Heads up! We're working hard to be accurate – but these are unusual times, so please always check before heading out.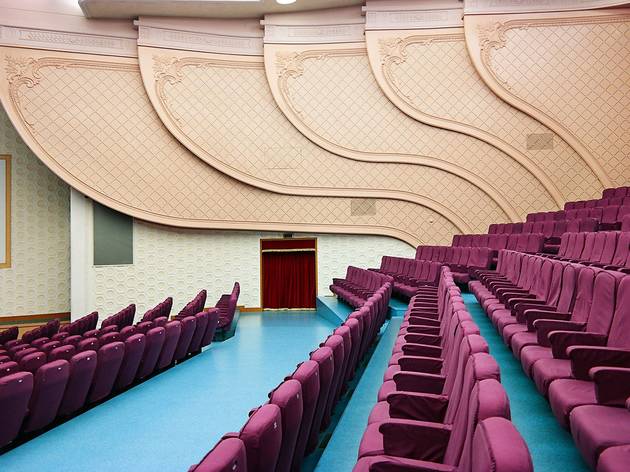 'A socialist fairyland': the bizarre and beautiful buildings of Pyongyang
North Korea's capital is a city unlike any other. Join architecture critic Oliver Wainwright on a virtual tour of its landmarks
When a country is cut off from the outside world for nearly 70 years, the architecture gets pretty weird, fast. Take North Korea's capital, Pyongyang. The libraries look like palaces. The metro stations have chandeliers and marble columns. Landmark buildings, the grand plans of dictators past, sit empty.
Chances are you'll never be able to take in this eerily beautiful city yourself: like pretty much everything else in North Korea, tourism is tightly controlled by the communist government. But a new publication, the 'Pyongyang Architecture Map', can help out.
In this whistlestop guide to the city's most bewildering modern buildings, architecture critic and photographer Oliver Wainwright aims to show how the country's increasingly isolationist trajectory – under three different leaders since the end of the Korean War – has shaped its architecture.
From Kim Il-sung, you get socialist realism. From Kim Jong-il, expressive modernism. And current ruler Kim Jong-un? His stuff, writes the author, is straight out of a 'socialist fairyland'. In this 'highly theatrical, stage-like city', you'll find anything from a retro swimming pool complete with a glass elevator to a set of towering, hammer-and-sickle-clenching fists. Here are ten of the most striking landmarks and buildings featured in the publication.
Photographs and descriptions by Oliver Wainwright, from 'Pyongyang Architecture Map', published by Blue Crow Media.
Ten architectural landmarks in Pyongyang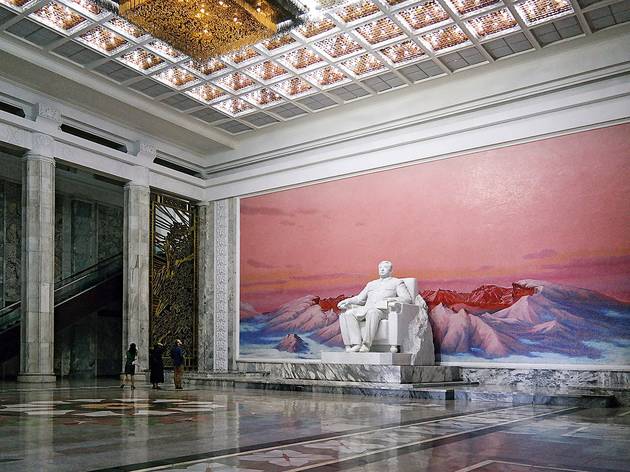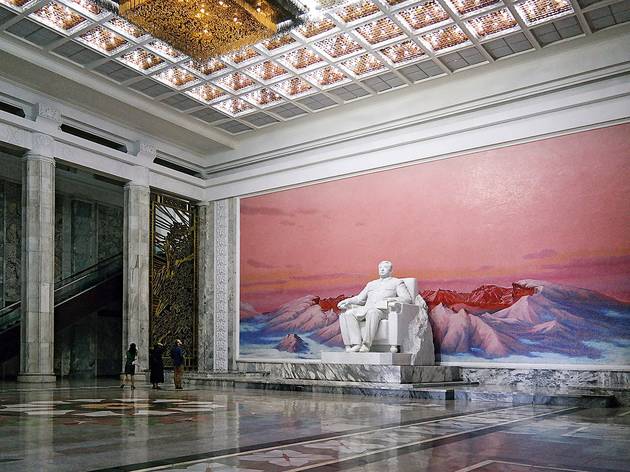 Photograph: Oliver Wainwright
Grand People's Study House
'Pyongyang's central library, the Grand People's Study House stands as the imposing centrepiece of the city. Visitors enter into a vast marble lobby, where they are greeted by a statue of an enthroned Kim Il-sung, leading to a gargantuan complex of 600 rooms, with capacity for 30 million books and up to 12,000 visitors a day.'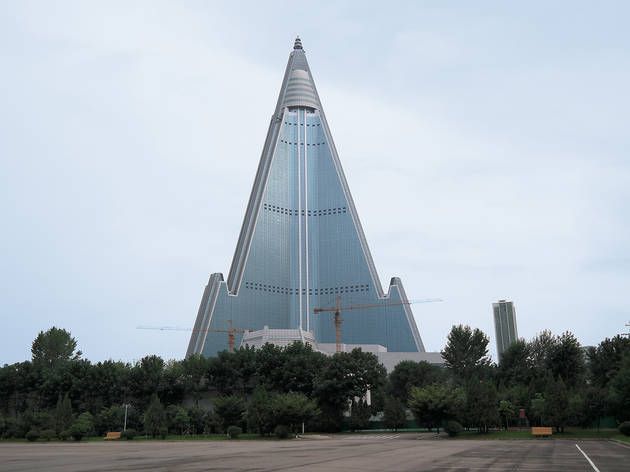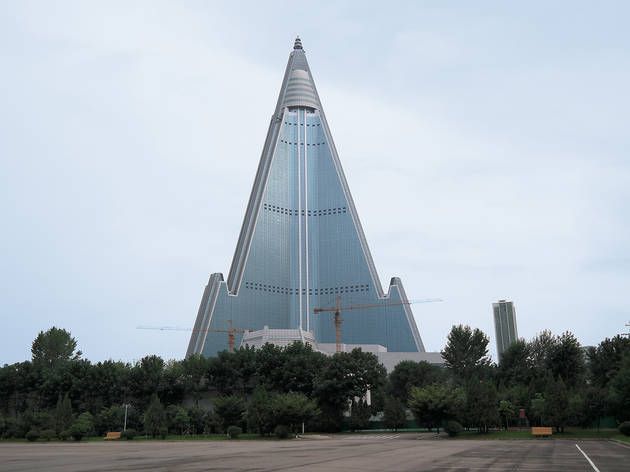 Photograph: Oliver Wainwright
'Originally intended to be completed in time for the 1989 World Festival of Youth and Students, the Ryugyong Hotel stood on the Pyongyang skyline for years as a concrete carcass, nicknamed the "hotel of doom". It was planned to be equipped with 3,000 rooms and five revolving restaurants, and was finally clad with mirrored glass in 2012 as part of a deal with an Egyptian telecoms company – but the hotel remains unopened.'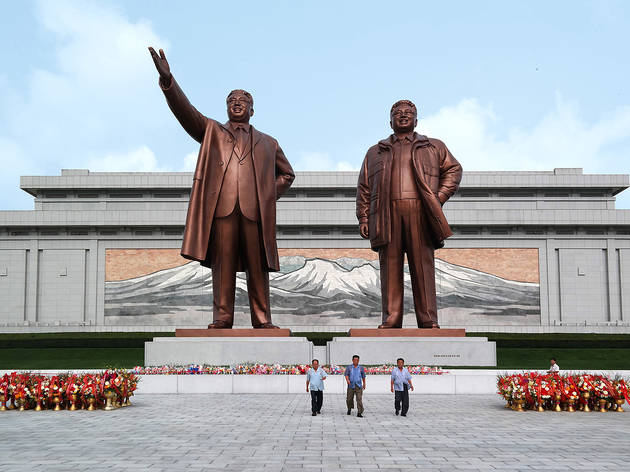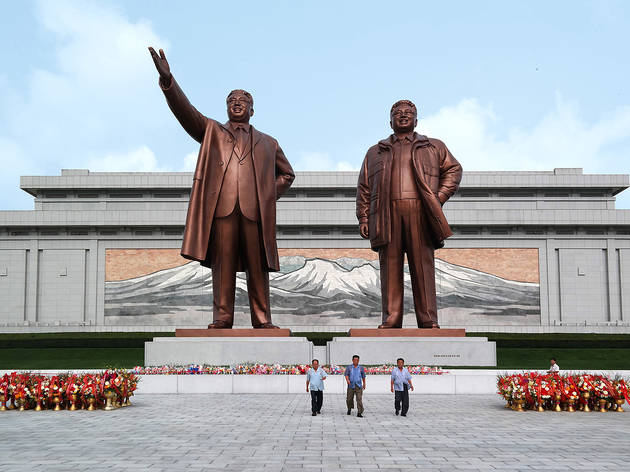 Photograph: Oliver Wainwright
Mansu Grand Hill Monument
'Claiming to be the largest bronze statues anywhere in the world, the 20-metre-high effigies of Kim Il-sung and Kim Jong-il stand at the top of Mansu Hill, looking out across a vast stone plaza and down the hill towards the Party Foundation Monument, placed along an axis two kilometres away. They stand in front of a huge mosaic of the sacred Mount Paektu, flanked on either side by a pair of massive red granite flags, held aloft by crowds of devoted bronze workers, one bearing the inscription: "Let us drive out the US imperialists and reunite our fatherland!"'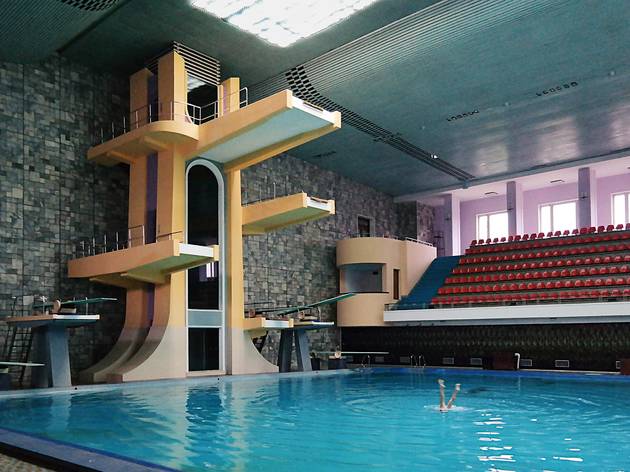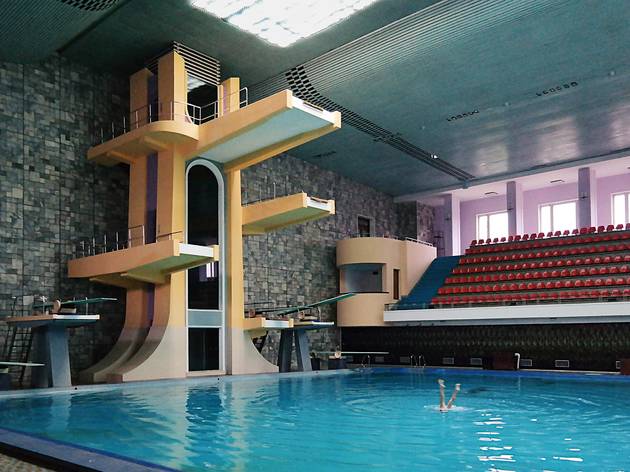 Photograph: Oliver Wainwright
Changgwang Health and Recreation Complex
'This massive complex built along the Pothong River was the city's flagship health centre when it opened in 1980. It contains a sauna, bathhouse, swimming pools and hair salons – where customers can choose from a range of officially sanctioned haircuts. In a futuristic touch, the diving boards are reached by a mechanical elevator in a shaft faced with smoked glass.'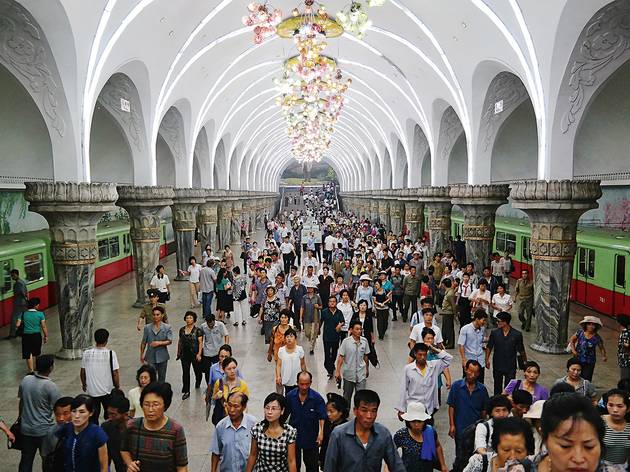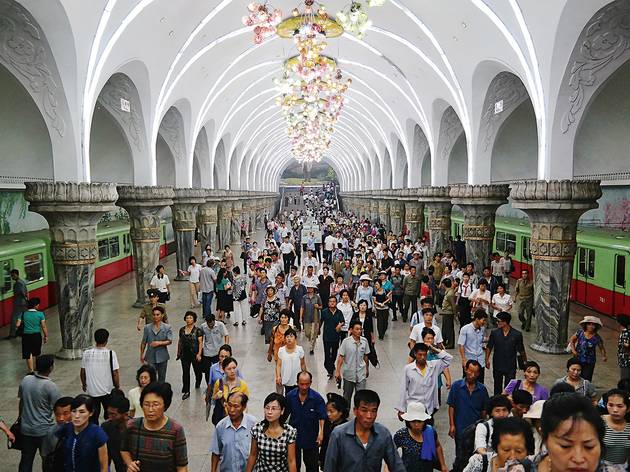 Photograph: Oliver Wainwright
'Allegedly the deepest subway system in the world, at 110 metres below ground, the Pyongyang metro shares the same palatial scale and lavish decoration as Moscow's network. Yonggwang ("Glory") station is one of the most impressive stations in the city, with chandeliers designed to recall the fireworks of victory celebrations and huge marble columns sculpted in the shape of victorious flaming torches.'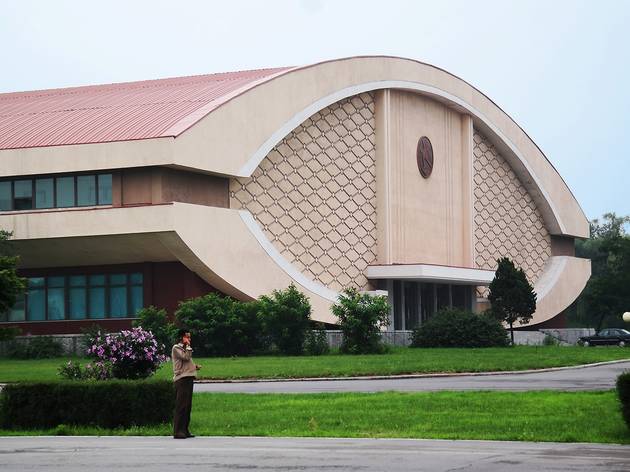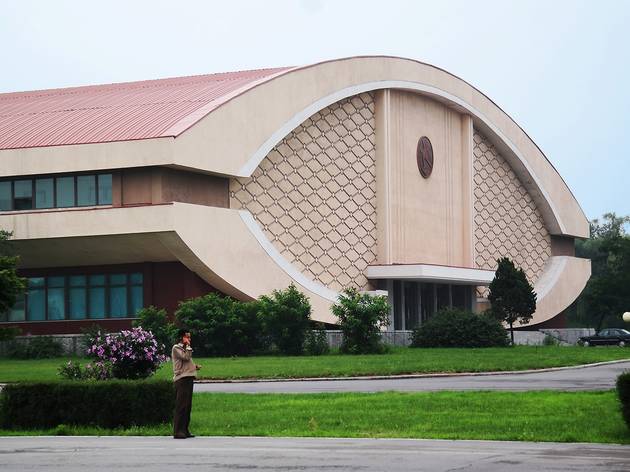 Photograph: Oliver Wainwright
'Built for the 1989 World Festival of Youth and Students, the venues of Chongchun Sports Street cater to 20 different sports, with combined seating for 56,000 spectators. The badminton arena's roof is designed to mimic the arc of a flying shuttlecock, while the weightlifting venue is modelled on a pair of giant dumbbells.'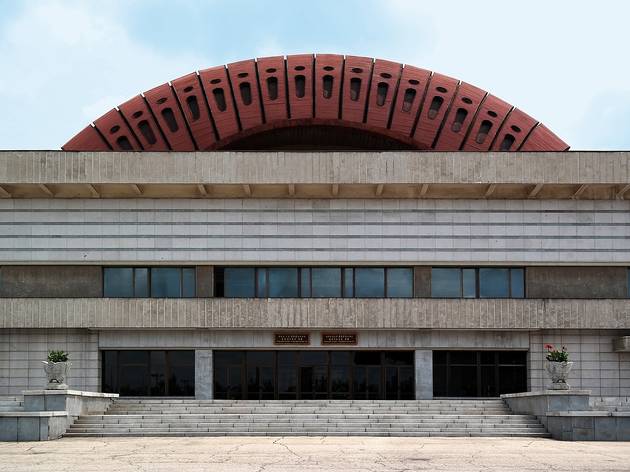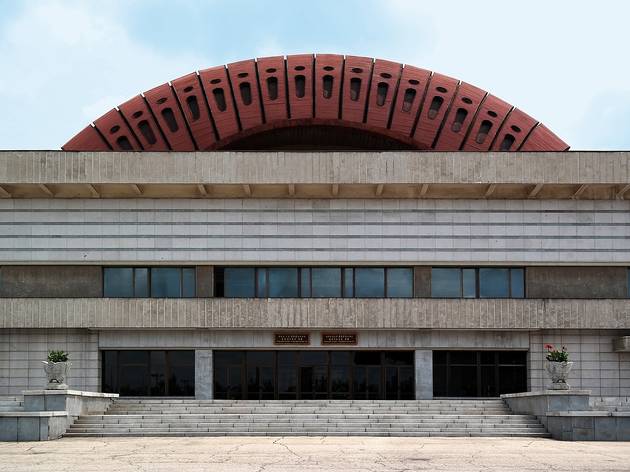 Photograph: Oliver Wainwright
'Crowned with a big red roof shaped like an armadillo's shell, the Central Youth Hall hosts concerts, lectures and plays for young people. It is run by the League of Socialist Working Youths of Korea, and houses two large theatres along with rooms dedicated to science and technology, badminton, table tennis, karaoke and Baduk, the Korean version of Go.'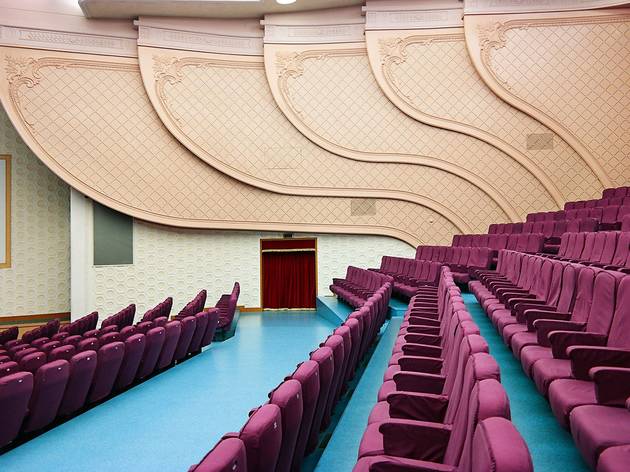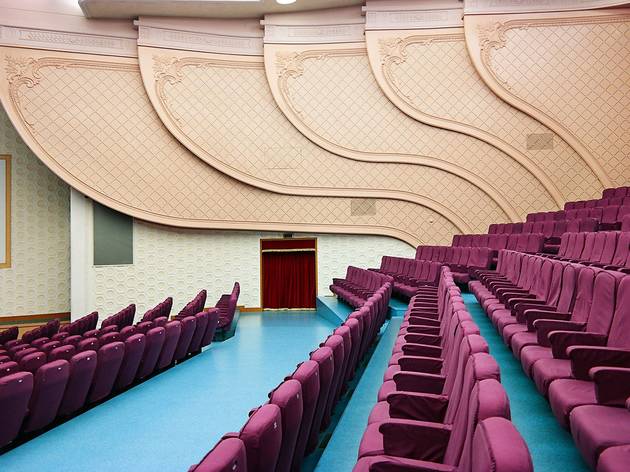 Photograph: Oliver Wainwright
East Pyongyang Grand Theatre
'With a bright blue vinyl floor, beetroot-coloured seats and peachy scalloped walls, the renovated East Pyongyang Grand Theatre is typical of contemporary North Korean interiors, with their unusual palettes of striking complementary colours. The 2007 retrofit saw the original wooden parquet floors and terrazzo ripped out in favour of vinyl and polished stone tiles, deemed to be more modern and durable.'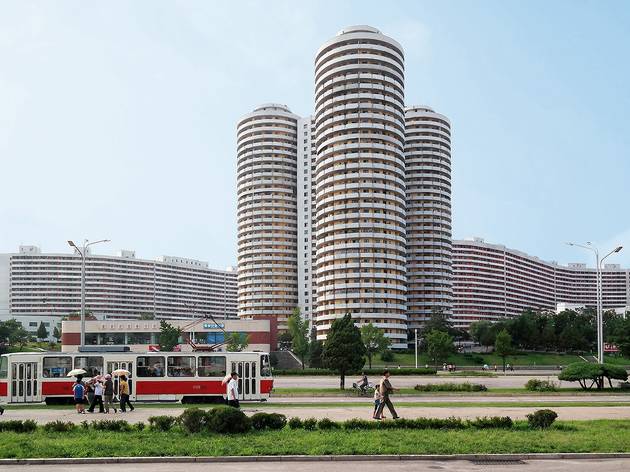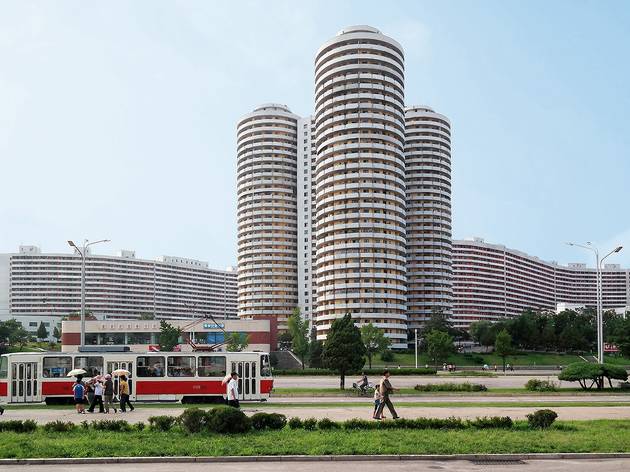 Photograph: Oliver Wainwright
Kwangbok Street Apartments
'Once again built for the World Festival of Youth and Students, the 4km-long avenue of Kwangbok Street is lined with showcase apartment blocks, mostly reserved for party officials. The buildings range from cylindrical clusters to stepped ziggurats and curving serpentine blocks. As Kim Jong-il wrote approvingly: "The arrangement of buildings on straight lines along the main street is an outmoded method."'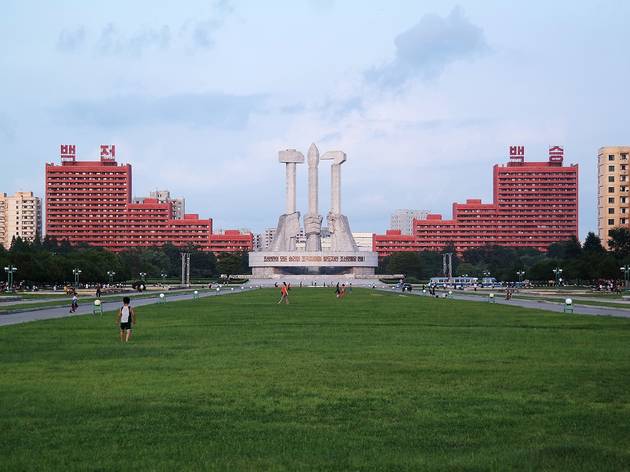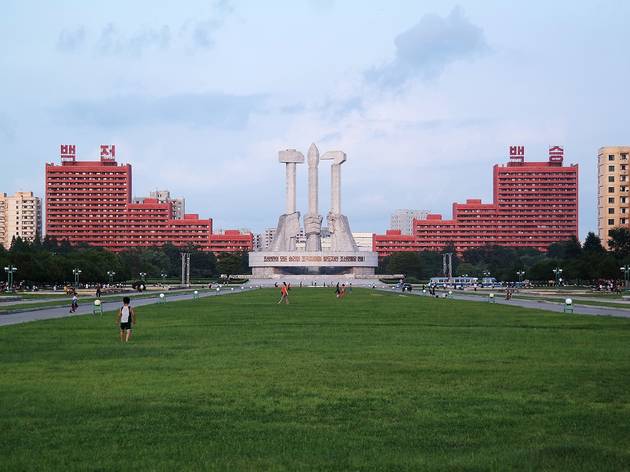 Photograph: Oliver Wainwright
Monument to the Party Foundation
'Built to celebrate the fiftieth anniversary of the founding of the Workers' Party of Korea, the three granite fists thus rise 50 metres into the air, each clenching a symbol of the revolution: a hammer for the workers, a sickle for the farmers and a calligraphy brush symbolising the intellectuals, the latter feature setting the North Korean communist party apart from others around the world. In a recurring piece of numerological symbolism, the number of stone slabs around the circular belt stand for the birth date of Kim Jong-il.'
More unusual architecture
The facsimile district of Tianducheng has its own Eiffel Tower, Gardens of Versailles and Parisian boulevards.