Heads up! We're working hard to be accurate – but these are unusual times, so please always check before heading out.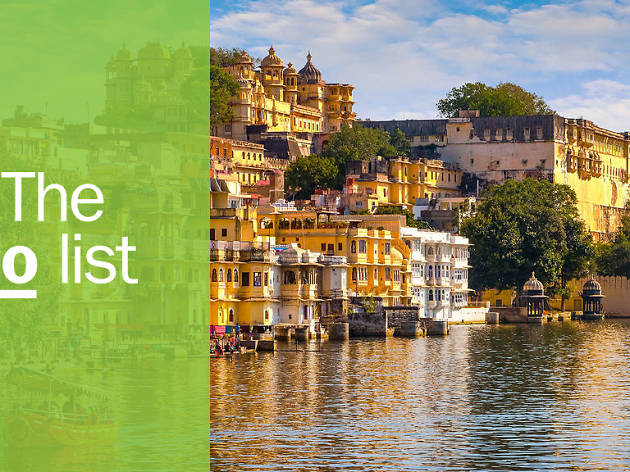 The 12 best things to do in Udaipur
Discover gleaming lakes, beautiful palaces and colourful bazaars and more of the best things to do in Udaipur
This city is often called the 'Venice of the East' and while this may be a slight exaggeration, the best things to do in Udaipur, all within a strones throw of numerous lakes and bridges, certainly lend it a unique charm. Seemingly frozen in time, this historical city still has a palace with a royal family in residence. No wonder it was the backdrop for James Bond's adventures in 'Octopussy' (screenings of which happen daily around the old city). There's plenty for history and culture buffs to see and do, but there's also incredible food, shopping, and pleasant weather. Explore this sparkling Indian city with our guide to the best things to do in Udaipur.
Done something on this list and loved it? Share it with the hashtag #TimeOutDoList and tag @TimeOutEverywhere.
Find out more about how Time Out selects the very best things to do all over the world.
Best things to do in Udaipur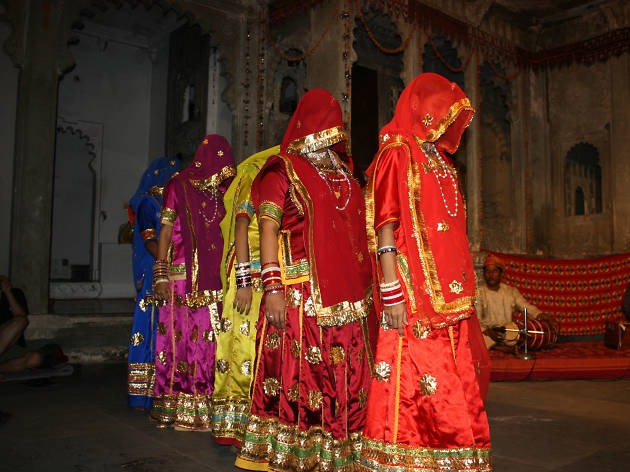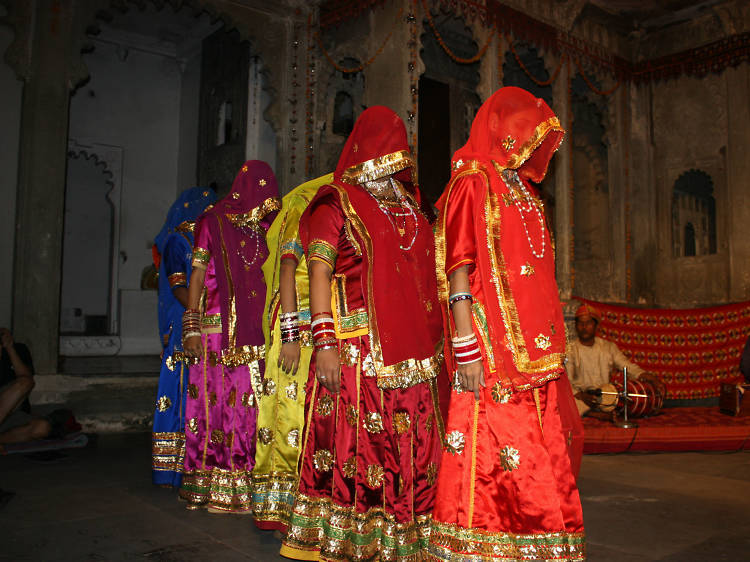 Photograph: Courtesy CC/Flickr/Arian Zwegers
What is it? A mansion turned into a museum with cultural performances.
Why go? This sprawling eighteenth century mansion of more than 100 rooms and several courtyards was built by the erstwhile Prime Minister of the Mewar state. The restored rooms are excellent for a feel of how the rich lived (coloured glass mosaics in your bedroom, anyone?). A highlight is the nightly bilingual show, featuring dances and crafts from across the region. Go for the costumes, stay for the puppets, but get there early as the line is long and space is limited.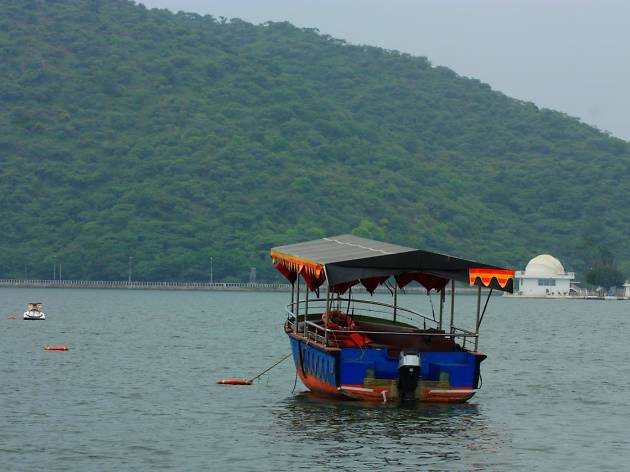 Photograph: Courtesy CC/Flickr/Sudhamsu Hebbar
What is it? Udaipur's largest lake with a promenade, bazaar and lakeside restaurants.
Why go? This is where the locals go to enjoy camel rides and snacks from the food stalls doing boisterous business on the promenade. Need a break from the crowds? The other side of the lake is serene and perfect for a stroll. Along the walkway are stone sculptures by renowned local artist Bhupesh Kavadia. Work up an appetite and end your walk at Raaj Bagh for a fabulously low-key al fresco dinner with a beautiful view of the lake.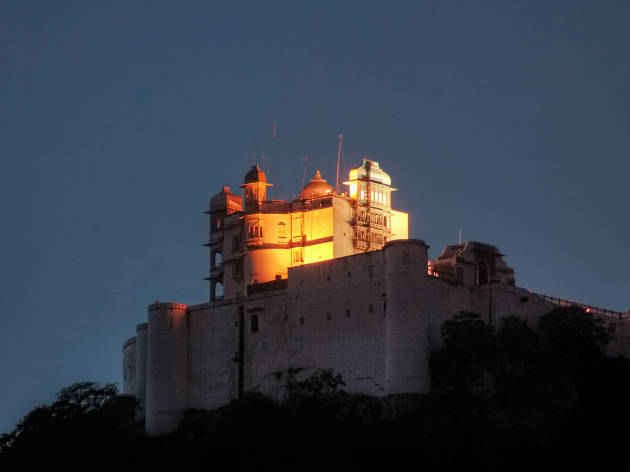 Photograph: Courtesy CC/Flickr/Daniel Mennerich
What is it? Udaipur's monsoon palace with a marvellous sunset view.
Why go? To imagine the nobles of the state lounging on diwans, watching the rain wash across the panorama at their feet as the desert blooms in the monsoon. Whatever the season, it's breathtaking from the top: both Udaipur's lakes, Pichola and Fateh Sagar, are visible from the ramparts and the cloud reflections in the waters are mesmerizing. This palace is partially open to the public and while its past isn't as wildly romantic as other palaces, the view is worth the trip.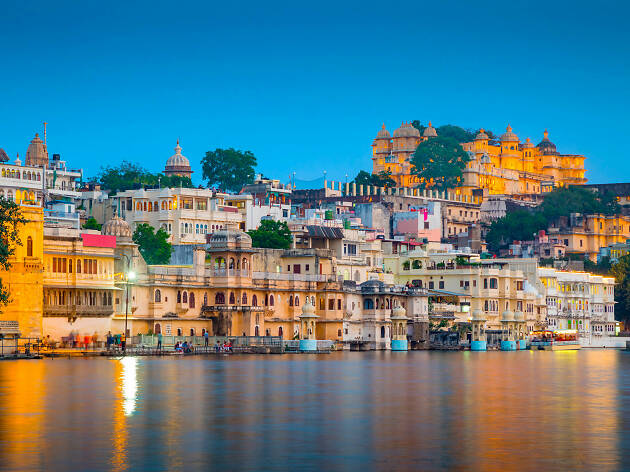 Photograph: Shutterstock
4. Shamiana Rooftop Restaurant
What is it? A dream-like restaurant right on Lake Pichola.
Why go? Set on the rooftop of Hotel Sarovar on Lake Pichola, the view of the City Palace and Gangaur Ghat lit up under a canopy of fairy lights just cannot be beat. It's less pricey than the other lakeside restaurants and has a wider menu, too (including incredible mango martinis). Bonus: If you go in the summer, twilight puts you in the flight path of thousands of bats in the sky, a sight unlike anything you've ever seen before.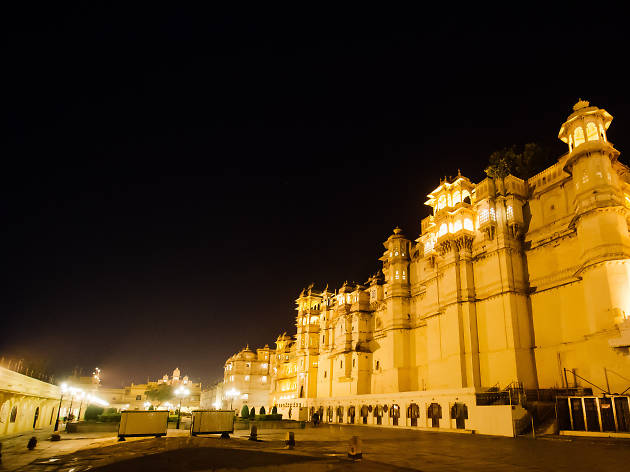 Photograph: Courtesy CC/Flickr/Ashwin Kumar
What is it? A 600-year-old palace complex offering a fascinating audio tour.
Why go? Despite the fact that the former rulers of the state still live here, the City Palace is open to the public. A highlight is the restored quarters; don't miss the peacock courtyard or the musical instrument gallery. Plus there are plenty of unusual artefacts like royal spitoons and toilet seats. If you're enthusiastic about vintage cars, stroll over to the classic cars section in the grounds for a gander. For a view of the palace lit up at night, you can book a dinner at Jag Mandir, the island restaurant run by the royal family.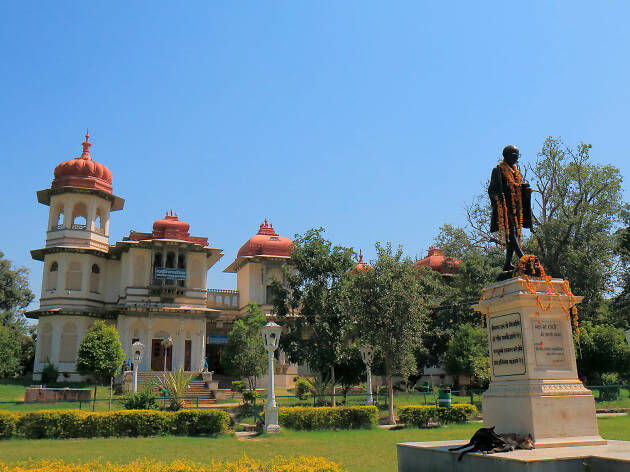 Photograph: Shutterstock
What is it? Udaipur's largest public garden, famous for its huge variety of roses.
Why go? Tucked away in the old city, Gulab Bagh is a cool and quiet respite from the clamour of voices and car horns. Its shaded avenues and dirt tracks make it great for a run or a walk if you're dying to stretch your muscles, but it's also good for sightseeing with nineteenth century fountains, sculptures, lotus pond, a small toy train, and even a zoo.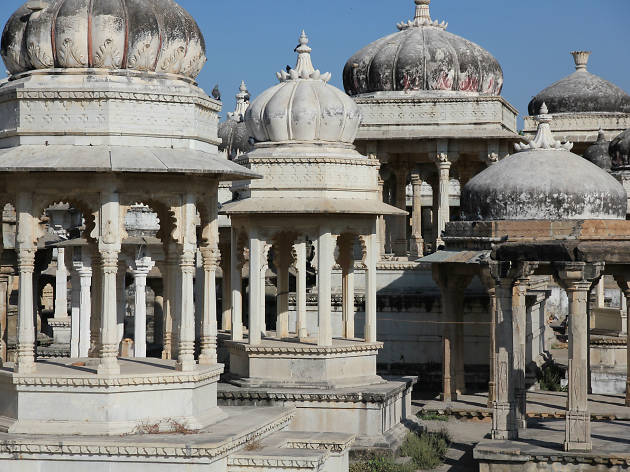 Photograph: Courtesy CC/Flickr/Kirk Kittell
What is it? Majestic monuments paying silent homage to old rajas.
Why go? More than 200 cenotaphs stud this enclosed area and it's worth going to see how the region's dead rulers were memorialised. There are 19 that are dedicated to maharajas from the region. Although kings were Hindu and, as tradition demands, cremated, these monuments were built to mark a space where their successors could commemorate the feats of their predecessors. The more pillars and embellishments on the tomb, the more revered they were.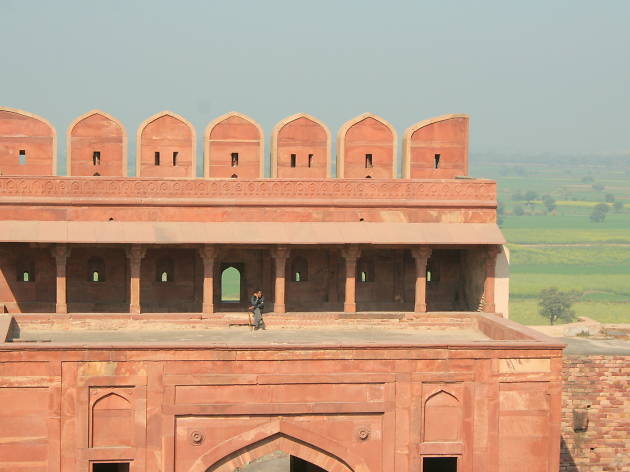 Photograph: Courtesy CC/Flickr/SaadAkhtar
What is it? One of the gates to the old city, famous for its bazaar.
Why go? The old walled city has gone, but the Elephant Gate is still standing. A large local market has grown up around it, catering to locals (stationery shops, grain, milk) as well as tourists (fabrics, trousers, camel leather shoes). When you're done, get a snack at the open sweet shops and then head to the Ghanta Ghar or old clock tower. If you take your shoes off, you can climb up to the top for a view of the market and the old city.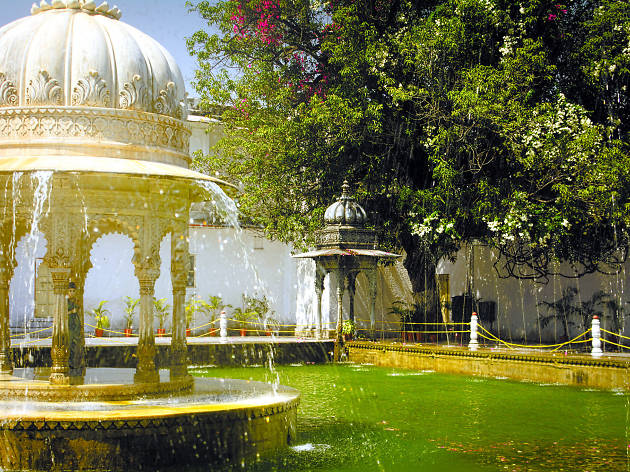 Photograph: Courtesy CC/Flickr/deepgoswami
What is it? A pretty leisure garden in the newer part of the city.
Why go? This garden was built in the sixteenth century for a princess who was married into the Udaipur royal family to chill with the handmaidens and girlfriends who accompanied her in her dowry. Quirky fountains, beautiful pavilions, flowering creepers, and ambling paths make this beautifully laid out garden rather charming.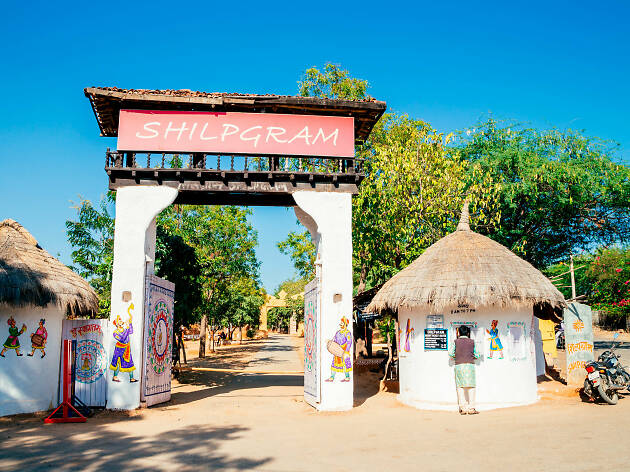 Photograph: Shutterstock
What is it? A year-round crafts village.
Why go? You can collect all your souvenirs and gifts in one go under the several thatched roofs in this compound. Featuring arts and crafts from across the region, there really is something for everyone from pottery to weaves, wooden toys to metal jewellery. You could easily spend a full day browsing here.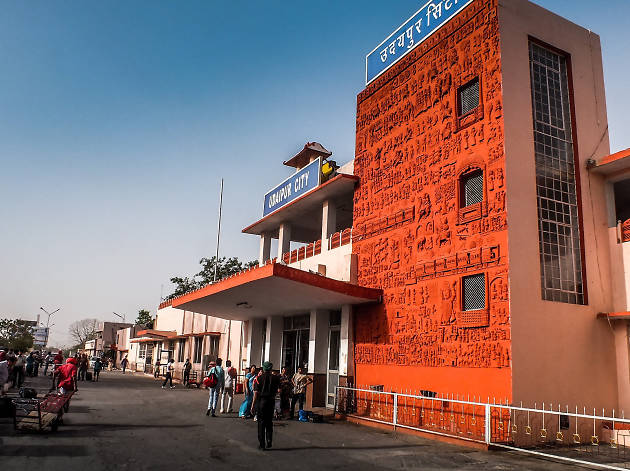 Photograph: Courtesy CC/Flickr/PIVISO
11. Udaipur City Railway station
What it it? A railway station with fabulous artworks on the walls.
Why go? As part of a government initiative to prettify railway stations across the country, Udaipur's has had a facelift. The wall art in the ticketing area has examples of Pichwai art, a local style that tells stories of cowherds and Lord Krishna. The ceilings have beautiful floral murals in delicate colors, and intricate miniature paintings reflecting the Mewar School of Art adorn the walls. There's also a relief depicting the battle of Haldighati, along with text explaining the legend.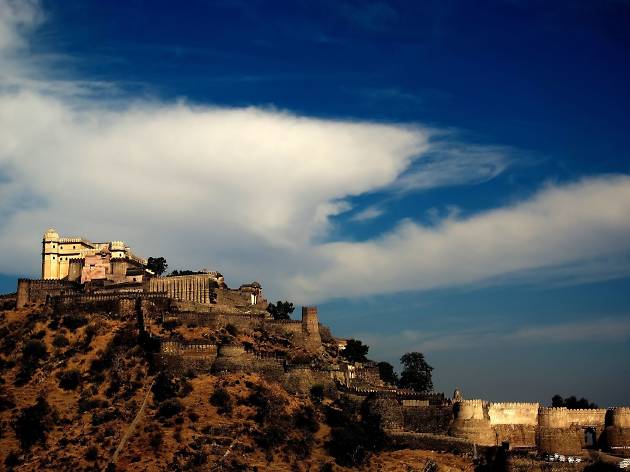 Photograph: Courtesy CC/Flickr/Lambert Mathias
What is it? An imposing ancient fort surrounded by the 'Great Wall of India', located less than three hours from Udaipur.
Why go? To check out the world's second-longest continuous wall and learn about its tumultuous history. This is a day trip, or better yet, an overnight trip. Visit the temple on the grounds and walk along the ramparts which are 14-feet wide in some places and go on for 35 kilometers. There are groups that offer hikes along the wall, but it's probably a better use of your time to do a day tour, then stay until dusk and watch the sound-and-light show.