We're nearing the end of 2022, and you might be drawing up some grand plans for the new year ahead. Well, if those grand plans involve buying a house, we might have just the thing for you – but it's a little more left field than your average one bed.
Mary Shelley's old home in Buckinghamshire has just hit the market, and it could be yours if you have a spare million lying around. The legendary Gothic novelist who wrote the infamous 'Frankenstein' moved out of the property around 200 years ago (to move to Italy – good move Shelley), and now it's up for sale once again.
The historic property is going for £925,000, which is considerably more than what Shelley would've nabbed it for in the 1800s, when it would have sold for around £12,000. If only, eh? Still, it's a pretty nice place to live. The Grade II listed building features some rather pretty architecture, with a little front porch leading out to a leafy street in the town of Marlow.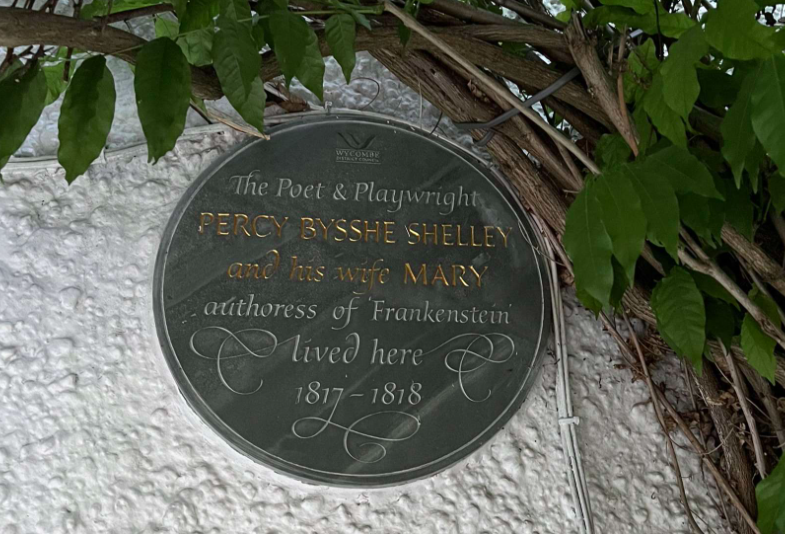 Inside, there's a reception room, inner hall, and a seriously nice kitchen and dining room with a vaulted ceiling – the perfect place to pour yourself a cuppa during the dark night and get to work on your first gothic novel, Wednesday Addams style. There's three bedrooms in total, so you can move a couple of your novel-writing pals in, too.
On the outside of the house, you'll find a plaque that writes: 'The Poet & Playwright Percy Bysshe Shelley and his wife Mary authoress of "Frankenstein" lived here, 1817-1818.' The front porch also features a sign over the front door, with the words 'Shelley Cottage'.
Check out the property on Savills here.