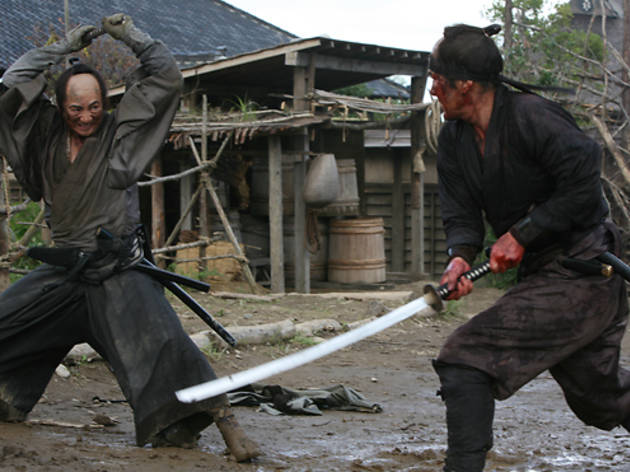 A samurai movie, yes---which you could probably tell from the title alone. But there are throwbacks and then there are glorious ones. A classically structured rampage (based on an obscure 1963 B pic by Eiichi Kudo) that bears serious comparison to the definitive greats of Akira Kurosawa, 13 Assassins will floor connoisseurs of action, mood and the dignity of a pissed-off scowl.
Its initial pleasures are modest: Grumbling feudal-era machinations alternate with the amplified shhhhick of the hara-kiri blade into gut flesh. Young Lord Naritsugu (Inagaki) rapes his subjects at will, while a graying warrior's eyes shine with purpose after secretly being asked to take the monster out. "I shall accomplish your task magnificently," asserts Shinzaemon (Babel's Yakusho), alluding to the film's Hollywood Western counterpart, assembling his team of likable experts: a rascal who wants his payment up front, a wiry weasel who whips around bags of sand, etc. By now, your grin will be fully fixed, even if tempered by the tongueless screams of an armless, legless woman, one of Naritsugu's torn-up playthings.
Who could be infusing such dark horror into the epic showdown that's building? Japan's Takashi Miike, who has often infuriated fans with his productivity: Since making Audition (1999), a minor classic of women's revenge, he's put his name to a credited 51 films, mostly junk. Here though, working with Bertolucci producer Jeremy Thomas, Miike slows down enough to demonstrate restraint and chops. Of 13 Assassins' final 45 minutes of elegant, Shaw Brothers--style mayhem (never confusing or difficult to follow), little should be said, other than "Wow, wow, wow." Also, "Wow." If Miike had to make all of his other flicks to get to this brilliant catharsis, it was worth it.
Watch the trailer
Release details
Rated:
R
Release date:
Friday April 29 2011
Duration:
126 mins
Cast and crew
Director:
Takashi Miike
Screenwriter:
Kaneo Ikegami, Daisuke Tengan
Cast:
Koji Yakusho
Takayuki Yamada
Yusuke Iseya
Ikki Sawamura