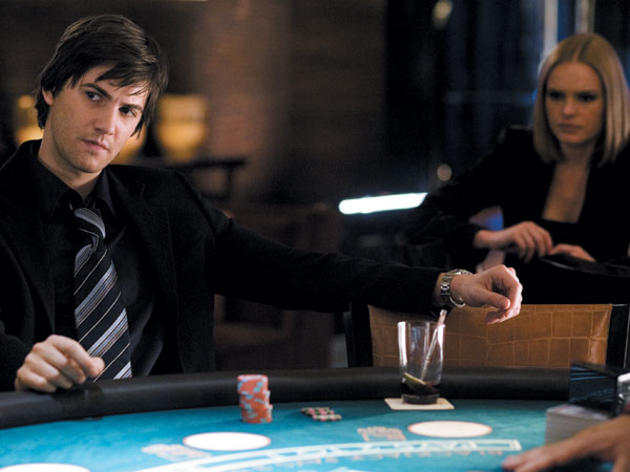 It might be useful to think of 21 as Robert Luketic's own Legally Blonde in reverse. First the Beverly Hills ditz crashed Harvard Law; now the MIT geeks will have their revenge, descending on Vegas blonds and booze like the most photogenic math team ever. Rather liberally adapting Ben Mezrich's nonfiction best-seller, Bringing Down the House, Luketic and his screenwriters preserve the excitement and a fair amount of the blackjack strategy—yet somehow the whole exercise plays like a high-tech John Hughes movie.
That element begins with an all-too-convenient framing device: Ben (Sturgess), our hero, is told he needs some "life experience" to win a med-school scholarship. Enter Micky Rosa (Spacey), a professor who cajoles Ben into joining his card-counting operation, because, as he puts it, Ben's "brain is like a goddamn Pentium chip." There's nothing illegal about the team's system of hand waves, disguises and fake identities, and to the extent that 21 sucks you in, it's as a thriller about law-abiding undergrads gone down the rabbit hole, rather than a conventional coming-of-age movie that happens to be set at the tables. (A subplot finds Ben, whose age makes the title a pun, having a fling with hard-to-get teammate Bosworth.)
More grating is the backstage intrigue involving Laurence Fishburne as a vengeful security agent; it's here that 21 suggests less a real-life story than a cut-rate Ocean's Fourteen. That vibe is crystallized the moment Spacey—who produced—hits the tables himself, dressed like an extra from Easy Rider. Next time, Kevin, just cash in.
Release details
Rated:
PG-13
Release date:
Friday March 28 2008
Duration:
123 mins
Cast and crew
Director:
Robert Luketic
Cast:
Jim Sturgess
Kate Bosworth
Kevin Spacey
Laurence Fishburne
Aaron Yoo
Liza Lapira
Sam Golzari
Spencer Garrett