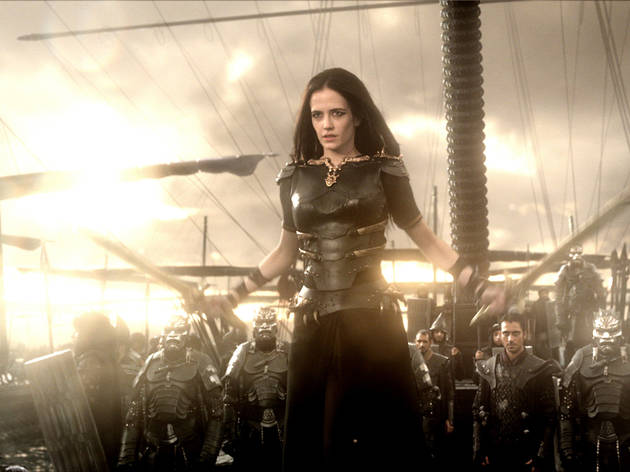 "You've come a long way to stroke your cock while watching men train," spits not-so-merry widow Queen Gorgo (Lena Headey) to the hero of this swords-and-sandals sequel. She might as well be speaking to the audience. Even lighter on story than Zack Snyder's 2007 predecessor, with a more imposing array of beardy-yet-waxed male specimens on display, 300: Rise of an Empire essentially owns up to being an equal-opportunity droolfest: as homoerotic or macho as you want it to be, with more women in play this time around.
The oppressive red-and-sepia styling of the original has been tempered a bit—manly charcoal hues are in this season, with burgundy blood now sloshed generously across the screen in 3-D. Stepping in for the slain Gerard Butler is the strappingly named Sullivan Stapleton as Themistocles of Athens (and, to judge by his accent, Melbourne), chosen to lead the allied Greek states in naval battle against Persia. Their fleet, in turn, is commanded by warrior queen Artemesia, played by the splendidly vampy Eva Green as a kind of Xena–Joan Crawford hybrid who lops off heads while wearing gold lamé.
Storytelling is left to a wordy voiceover; it's flesh and carnage that the audience is here to see, and director Noam Murro delivers it by the glistening ton, pausing only for stray bits of backstory.
Release details
| | |
| --- | --- |
| Rated: | R |
| Release date: | Friday March 7 2014 |
| Duration: | 102 mins |
Cast and crew
Director:
Noam Murro
Screenwriter:
Zack Snyder, Kurt Johnstad
Cast:
Eva Green
Rodrigo Santoro
Sullivan Stapleton