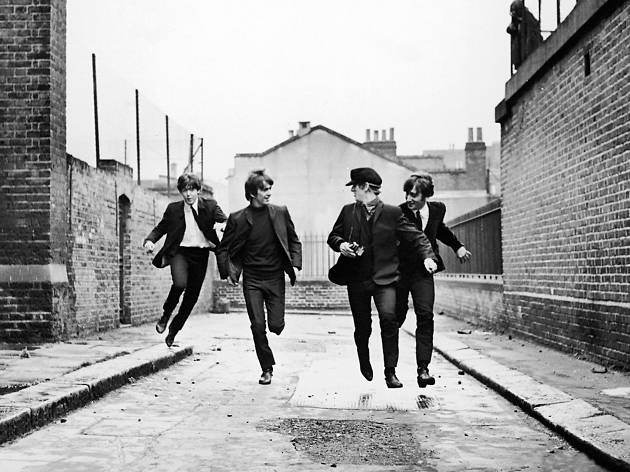 So here we are, half a century later and two Beatles fewer, and the newly reissued A Hard Day's Night looks more aggressively modern than any recent pop movie you can name. Elvis and the beach-party crowd had been grinning away on the big screen for nearly a decade when the film was released in 1964, but this is where it all started: the first (and, some would argue, the last) truly successful fusion of pop music and cinema.
Structured as a two-days-in-the-life portrait of the "real" Beatles, Richard Lester's film follows John, Paul, George and Ringo from Liverpool to London by train, into a fancy hotel, out to a club and off to the BBC for an afternoon's filming. Along the way, they're pursued by hordes of screaming (and worryingly young) girls. They have to bust Ringo out of jail. And they suffer the wily taunts of Paul's scheming granddad.
Inspired in equal measure by Godard and British radio series The Goon Show, the film is best remembered for its herky-jerky camerawork and mile-a-minute banter. So it's easy to forget that the romp also contains a rabid speech about police brutality, along with a scene where the lads sneeringly harass a member of the aristocracy. Add to that a stream of homoerotic asides from Lennon and a swing at teensploitation, and the film's freewheeling reputation looks insufficient.
So along with positioning A Hard Day's Night at the top of the music-movie pyramid, we should also view it as the pinnacle of the 1960s British New Wave—the one to outlast all those gloomy, patronizing dramas. And we haven't even mentioned George's amazing knees.…
Follow Tom Huddleston on Twitter: @TomHuddleston_
Release details
| | |
| --- | --- |
| Rated: | G |
| Release date: | Friday July 4 2014 |
| Duration: | 87 mins |
Cast and crew
Director:
Richard Lester
Screenwriter:
Alun Owen
Cast:
Wilfrid Brambell
John Lennon
Paul McCartney
Ringo Starr
George Harrison