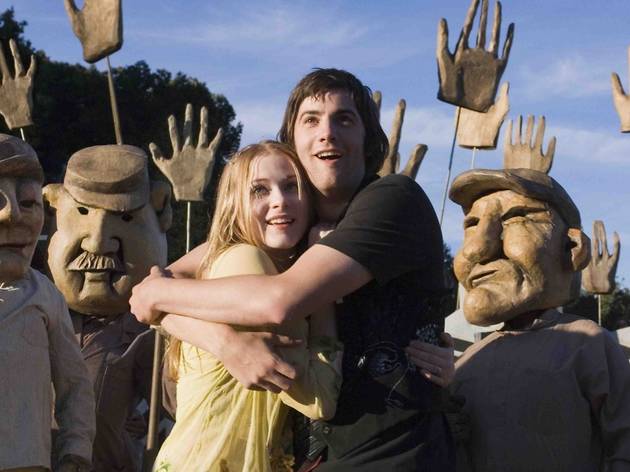 Audiences already have an answer song to Julie Taymor's latest folly: "Let It Be." In a season that will see the release of two extraordinary interpretations of the power of pop music—the Ian Curtis biopic, Control, and the splintered Bob Dylan disquisition I'm Not There—the completely misguided Across the Universe stands out even more as a theme-park travesty.
To be fair, at least, Taymor's jukebox musical, deploying most of the hits from the psychedelia-era Beatles catalog, doesn't have performers embodying the Fab Four. But who's that earthy mama at the mike with the long hair and the visceral growl? And who's the groovy Afroed dude accompanying her with those wild guitar licks? But why stop at Janis and Jimi simulacra—how about a Bobby Sherman surrogate?
The facile '60s nostalgia is made worse by the director's own fantasist tics: giant puppets, cameos by an undulating Salma Hayek (the star of Taymor's equally silly Frida Kahlo biopic), a top-hatted Eddie Izzard as Mr. Kite. Jai guru deva ohm: Nothin's gonna change Taymor's world. As for the songs themselves, they simply push along a narrative about a Liverpudlian named Jude (Sturgess) who moves to the States and falls in love with Lucy (Wood), who grows increasingly radicalized the longer her brother, Max (Anderson, who also stars in Control), serves in Nam. Dig those names, the license for the insufferably literal interpretations of several Beatles nuggets (there's also a Prudence and a Sadie). Goo goo g'joob; save your money for the Help! DVD.
Release details
Rated:
PG-13
Release date:
Friday September 14 2007
Duration:
131 mins
Cast and crew
Director:
Julie Taymor
Screenwriter:
Dick Clement, Ian La Frenais
Cast:
Jim Sturgess
Dana Fuchs
Martin Luther
T.V. Carpio
Evan Rachel Wood
Joe Anderson