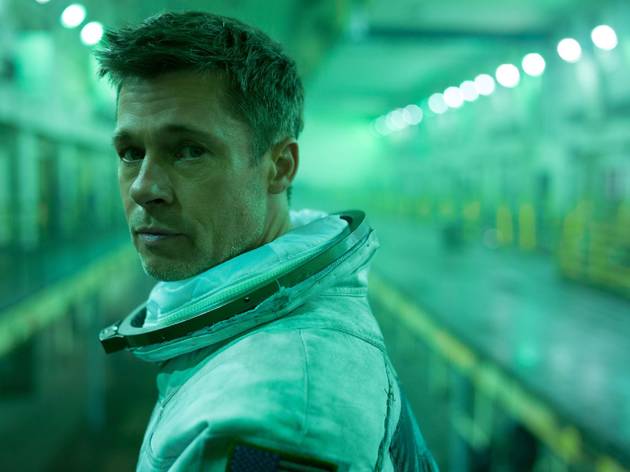 Time Out says
James Gray's space odyssey marries heart and spectacle—and a fine Brad Pitt performance—in a memorable journey to the stars.
If you like your space odysseys brimming with formula-filled blackboards and quantum mechanics, consider this a trigger warning: Ad Astra is not that kind of sci-fi. Unlike 2001: A Space Odyssey or Interstellar, two obvious points of comparison, there's no Arthur C. Clarke or Kip Thorne behind the scenes to bring Nobel-worthy science to the fiction. This is a movie in which a man travels to Neptune, a distance of 2.7 billion miles, without aging a day—a reach, even when that man is Brad Pitt. The film features killer baboons in zero gravity. At one point, Pitt's character hijacks a spaceship while it's taking off. On paper, at least, it's just Moonraker with attitude.
Leave any disbelief at the door, though, and you'll be rewarded with an often gorgeous, soulful effort that's charged with emotion and bursting with spectacle. It has meaningful things to say about letting go, dads and their sons, and the challenges of reconciling with the past. Sure, it takes place in the "near future" and is mostly set against the endless solitude of space—captured by Interstellar cinematographer Hoyte Van Hoytema with lunar grays and Martian ochres—and it boasts what is possibly cinema's first moon-buggy chase (as awesome as that sounds), but director James Gray and his cowriter Ethan Gross never lose sight of its intimate heart. They're aided in that by a terrific, nuanced performance from Pitt, playing a veteran astronaut tasked with finding his father (Tommy Lee Jones), another spaceman long presumed dead. Not only is he very much alive, he's gone rogue on a scientific mission and has a seismic weapon at his disposal. The stage is set for the ultimate father-son pep talk.
As with his equally ambitious The Lost City of Z, Gray looks for opportunities to let his story breathe—both films carry the stamp of Joseph Conrad's Heart of Darkness (and, of course, Apocalypse Now) in their man-on-a-thankless-mission philosophizing—but he throws in sudden jolts of adrenaline to switch up the tempo. Space debris cascades, lethal lasers zip soundlessly through space and there's a bit where things turn a little Silver Surfer in an asteroid field. It's often thrilling, occasionally improbable, sometimes confounding, but like its director, Ad Astra is never bound by the gravitational pull of the ordinary. Strap in.
Details
Release details
Rated:
PG-13
Release date:
Friday September 20 2019
Duration:
122 mins
Cast and crew
Director:
James Gray
Screenwriter:
James Gray, Ethan Gross
Cast:
Brad Pitt
Tommy Lee Jones
Ruth Negga
Donald Sutherland
Liv Tyler

Find a movie theater
1 movie theater showing 'Ad Astra'