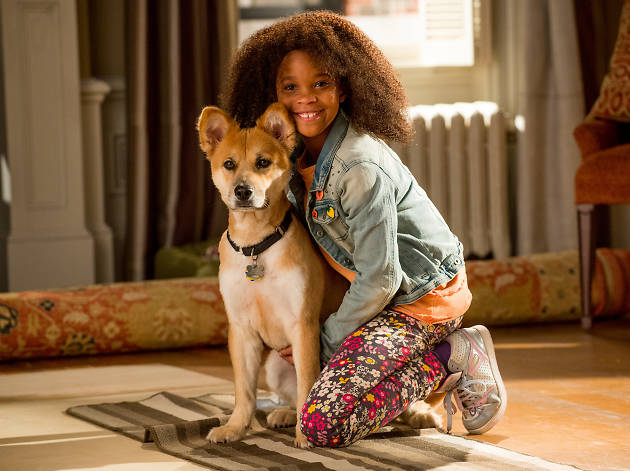 Time Out says
Updating the title character from the Great Depression to the Great Recession, director Will Gluck's thoroughly modern Annie is a candied corporate fantasia that could only take place in Taylor Swift's New York. Although the film might have been a fun holiday diversion, its admirably revisionist spirit is undermined by the same proto-Randian contempt for the poor that first defined the story of America's most optimistic orphan when she was introduced in a 1924 comic strip.
Annie (Quvenzhané Wallis) is now a plucky Manhattan foster child who, after a chance encounter, becomes the live-in ward of an antisocial billionaire (Jamie Foxx, terrific as mayoral candidate Will Stacks). At first, Stacks is literally allergic to poor people—he's "germophobic"—but after singing a few songs with Annie, he learns that the 99 percent might be human after all. At the very least, they can be domesticated, especially when in the service of a political campaign.
As a character, Annie has always reflected the sense of hope that greases the wheels of capitalism. But Wallis's pathologically upbeat Annie is so divorced from reality that her saga doesn't inspire optimism so much as it parodies upward mobility. Although the young actor delivers the same rambunctious moxie that defined her performance in Beasts of the Southern Wild, her character's robotic contentedness makes it hard to tell if she is bullish or brainwashed. The default shrillness of the musical's familiar numbers doesn't help, but at least the lower register of the film's R&B-inflected new songs gives Wallis the chance to prove that her talent is real, just misapplied. Meanwhile, Cameron Diaz's performance as the evil Ms. Hannigan is so big it can probably be seen from space.
Perhaps the most hypercurrent thing about Gluck's film is how it espouses the value of family while actually celebrating products as the only true form of modern connection: Annie's friends get cell phones instead of parents, Stacks's swanky, high tech penthouse is a veritable Sony showroom, and Instagram literally saves Annie from being kidnapped. It's the brilliant corporate spoof of 2001's logo-saturated Josie and the Pussycats, without the subversive irony. Annie deserves credit for illustrating that old racial prejudices don't have to be preserved by new entertainments, but this remixed rendition doesn't speak to the kids of today so much as it does to their parents' wallets. No wonder it's being released just in time for Christmas.
Follow Davd Ehrlich on Twitter: @davidehrlich
Details
Release details
Rated:
PG
Release date:
Friday December 19 2014
Duration:
118 mins
Cast and crew
Director:
Will Gluck
Screenwriter:
Will Gluck, Aline Brosh McKenna
Cast:
Jamie Foxx
Quvenzhané Wallis
Rose Byrne
Cameron Diaz