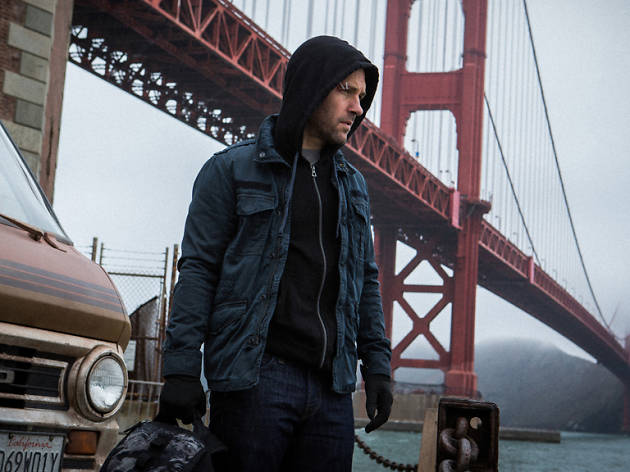 Time Out says
Marvel's latest is more of the same, only smaller
Just when it seemed like the Marvel Cinematic Universe was getting so big that the whole superhero-movie bubble might burst, along comes an adventure that's told on a much smaller scale. Put it this way: The first action sequence in Ant-Man takes place in a bathtub. Ant-Man is ultimately too bland to leave much of an impression, but at least it's still a much-needed reminder that there are people underneath all that spandex.
Based on a comic character that first appeared in 1962, Ant-Man tells the origin story of a sweet-natured thief named Scott Lang (Paul Rudd). Incapable of holding a job but determined to pay child support for his daughter, Lang re-teams with his old crew (a trio fronted by the great Michael Pena). Their first score, however, is revealed to be a scheme concocted by scientist Hank Pym (Michael Douglas). Ousted from the company he founded after his particle—capable of reducing things to a fraction of their original size—was deemed too dangerous for mass consumption, Hank needs a skilled but expendable stooge to break into his old lab and steal the research from his evil protégé, Darren Cross (Corey Stoll, essentially channelling Jeff Bridges's bald villain from Iron Man).
Rudd's affable wit makes him a perfect choice for the part. But his performance is uncharacteristically inhibited, as if he felt there was too much at stake to try something new. Even the jokes that do work leave some laughs on the table, and the impulse to play things safe proves emblematic of a film that shrinks in the face of a challenge. While Ant-Man borrows from the likes of Inception and Ocean's Eleven, its heist elements are reduced to window-dressing. Director Peyton Reed—who replaced Shaun of the Dead's Edgar Wright just weeks before shooting began—deserves credit for jumping aboard a speeding train, but his inoffensive finished product proves that Marvel is more interested in protecting the house style than making great movies. Ironically, it doesn't really matter if a superhero is big enough to punch Thor or small enough to squeeze through a keyhole: When it comes to Marvel movies, one size fits all.
Follow David Ehrlich on Twitter: @davidehrlich
Details
Release details
Rated:
PG-13
Release date:
Friday July 17 2015
Duration:
117 mins
Cast and crew
Director:
Peyton Reed
Screenwriter:
Gabriel Ferrari, Paul Rudd, Adam McKay
Cast:
Evangeline Lilly
Hayley Atwell
Paul Rudd

Rating Breakdown
5 star:

1

4 star:

0

3 star:

0

2 star:

0

1 star:

0