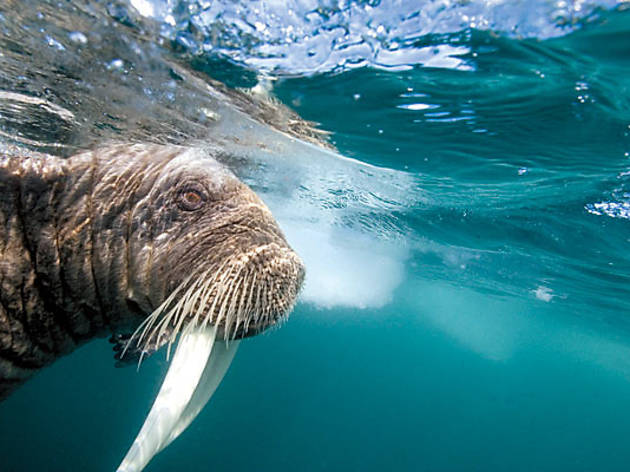 March of the Penguins created a rabid audience for cute Antarctic creatures, and now National Geographic Films follows up that environmental blockbuster with an inconvenient truth about its polar opposite. Nature documentarians Adam Ravetch and Sarah Robertson culled 15 years' worth of footage to create two complementary true-life narratives about a polar bear named Nanu and a walrus dubbed Seela struggling against climate change. The filmmakers' agenda is to create eco-propaganda for kids, which gives the film its odd mix of cloying characterizations and apocalyptic doom.
The creative team (which includes writer Kristin Gore, daughter of Al) imposes on the images the voice of "storyteller" Queen Latifah, whose "sista, please" cadences and sassy delivery are meant to anthropomorphize the animals into below-zero innocents whose street smarts can go only so far when the ice caps are melting.
The movie's strength lies in the moments when the protagonists actually behave like animals and not furry humanoid playthings. These well-intentioned scenes, though, are marred by saccharine sequences and a disappointing tendency to revel in semiaquatic-mammal farts. The end-credit scroll introduces a slew of children delivering platitudes, like how hybrid cars will save the earth—just the sort of simplistic preaching that alienates adults and insults the intelligence of their offspring.
Release details
Rated:
G
Release date:
Wednesday July 25 2007
Duration:
96 mins
Cast and crew
Director:
Adam Ravetch, Sarah Robertson