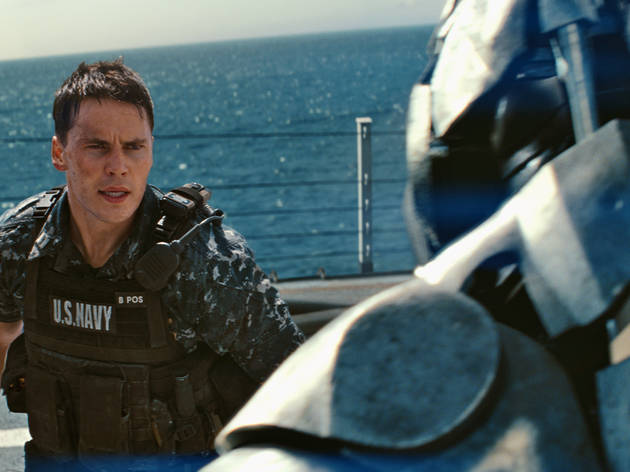 Time Out says
For the sake of passionate defenders of 1985's Clue (you can do worse), let's not come down too hard on this action film's origins as a board game. Plastic parts are the least of its worries: Battleship, a commercial for, alternately, the military or Michael Bay's back catalog, feels sunken from an overdose of charmless grunting and computer-generated ballast. Aliens (huh?) rain fiery destruction on Hong Kong, then upon a mysteriously dome-sealed portion of the South Pacific, requiring the tactical response of naval-officer brothers Stone (Alexander Skarsgård) and Alex Hopper (Taylor Kitsch). Separated from the war theater, fleet commander Shane (Liam Neeson, evidently putting a pool in) scowls on, helplessly.
Slo-mo salutes and bikini-filling Brooklyn Decker place us squarely in Armageddon territory—par for the course, but slackened by a complete absence of comic relief.
We dawdle: What's the word on the film debut of Rihanna, playing a sass-mouthed petty officer? Dreadful (ella, ella). An old-farts sequence of USS Missouri vets getting in on the payback might stir the heartstrings of mission-accomplished types, but little else will grab anyone who actually recalls playing the board game. For a second, the alien munitions look a lot like those peg pieces that would get lost under the couch cushions. Bring on the big-screen Monopoly—I'm not even kidding, unfortunately.
Follow Joshua Rothkopf on Twitter: @joshrothkopf
Details
Release details
Rated:
PG-13
Release date:
Friday May 18 2012
Duration:
131 mins
Cast and crew
Director:
Peter Berg
Screenwriter:
Jon Hoeber, Erich Hoeber
Cast:
Liam Neeson
Taylor Kitsch
Alexander Skarsgard
Rihanna

Users say