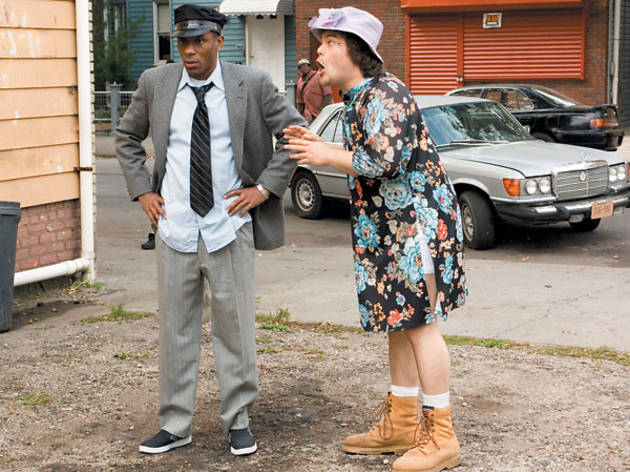 Most VHS-tape owners will tell you that magnets are kryptonite to those boxy holdovers from a bygone home-entertainment age. So when a mysteriously magnetized nut (Black) walks into the rundown video-only shop managed by his buddy (Def), he leaves dozens of blank rentals in his wake. What else can the duo do except remake each title from scratch, casting themselves in every role?
Given director Michel Gondry's infatuation with the charm of analog artifacts, it's not surprising that he'd base an entire film on the Achilles' heel of antiquated media. What's shocking is that the imaginative filmmaker puts all of his chips on a gimmick—watch two buffoons do hilariously amateurish versions of well-known flicks!—that rapidly wears out its welcome. When your tweaked high-concept premise is this thin, relying solely on the charms of your leads to sustain interest is a dangerous gamble.

The film drastically switches gears, however, when the gents' lo-fi updates become hits in their Passaic neighborhood, and Be Kind Rewind slyly reveals itself to be a touching tribute to community and grassroots creativity. Gondry also tones down his characteristic wide-eyed whimsy, saving his homemade arts-and-crafts aesthetic for the movie's Fats Waller minibiopic that, alas, turns into a major plot point. The grace notes don't quite cancel out the '80s-comedy Gouda that comes before it, yet Gondry's gentle manifesto about making your own guerrilla art proves to be oddly inspiring. You'll be planning your own Rewind remake before the credits are through.
Release details
Rated:
PG-13
Release date:
Friday February 22 2008
Duration:
101 mins
Cast and crew
Director:
Michel Gondry
Screenwriter:
Michel Gondry
Cast:
Jack Black
Mos Def
Mia Farrow
Danny Glover