Beasts of the Southern Wild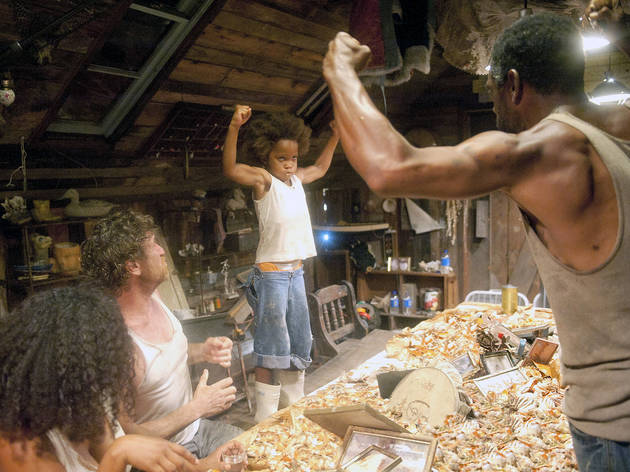 The tiny, fierce face of six-year-old Quvenzhané Wallis—filled with wonderment, serenity and a postapocalyptic tenacity that would shame Mad Max—might win you over to this rambunctious slice of fantasy, about a little girl called Hushpuppy living in flooded southern Louisiana. It's everything around her face that may have you frowning: Hushpuppy's hair is a hillbilly snaggle; her father, Wink (Dwight Henry), falls squarely into the shouty, semideranged category of cliché. Their surroundings—decimated cars converted into boats, kindly neighbors, a complete lack of pop detritus (save a Bulls jersey)—shriek of Screenwriterly Poetic Conceit. And the father-daughter duo's misadventure on higher ground emphasizes a naive disparity that would have us root against modern medicine, charity efforts and, well, cleanliness.
Beasts of the Southern Wild strongly cleaved opinion at last January's Sundance Film Festival, a divide that speaks well to that annual showcase's iffy reputation for adventurousness. But even if you're swept up in the Malick-swaddled flow—equal parts George Washington, Winter's Bone and, oddly enough, Spike Jonze's Where the Wild Things Are—there's a dangerous tweeness here. How can a movie so steeped in post-Katrina imagery eschew even the smallest comment about social responsibility? Maybe that was deemed too earnest, a decision that makes zero sense when a twinkling score (cocomposed by director Benh Zeitlin and Dan Romer) is ladled on like instant pathos. Real people aren't beasts, nor do they require starry-eyed glorification. Bring your liberal pity.
Follow Joshua Rothkopf on Twitter: @joshrothkopf
Release details
Rated:
PG-13
Release date:
Wednesday June 27 2012
Duration:
93 mins
Cast and crew
Director:
Benh Zeitlin
Screenwriter:
Benh Zeitlin
Cast:
Quvenzhané Wallis
Levy Easterly
Dwight Henry

Rating Breakdown
5 star:

1

4 star:

0

3 star:

0

2 star:

0

1 star:

1
ok, sorry about "douchebag", though I thought the review really baseless. Don't know if I am rating the film or the review, but if the former...5 stars.
Maybe it is not a preachy didactic movie about "social responsibility" because it is told from the point of view of a six year old? Duh! Go watch Spike Lee on Katrna if you want sociological cra pola. I'd give no stars to this review if it counted as a rating.