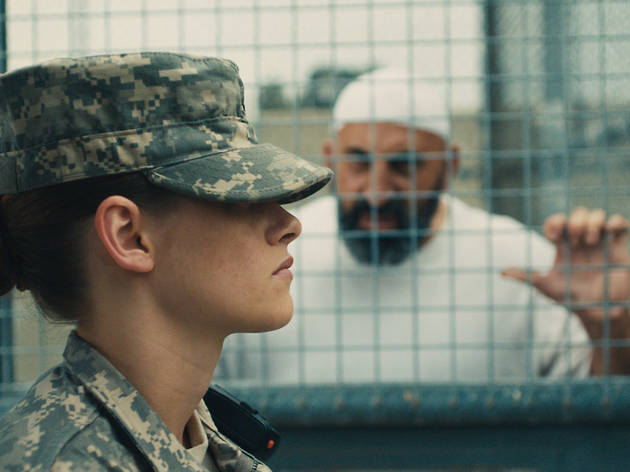 Time Out says
Kristen Stewart leads with her chin in Camp X-Ray—and she's not just jutting it out in her glum-girl pose. In this vehicle's first few minutes, Stewart's character, Cole, a soldier and recent transfer to the high-security cell block at Gitmo, actually gets elbowed in the face by a howling detainee. A spot of blood forms on her lip, but the jaw stays firm. Strenuously, writer-director Peter Sattler wants us to know his star can take a hit, even as the camera lingers on Cole tightening her hair bun and reining in her feelings.
Nonetheless, those feelings come into play as Cole bonds, initially against her will, with chatty Ali (Peyman Moaadi), an eight-year prisoner frustrated by the library cart's lack of the final Harry Potter book. Just as you're reeling from the tackiness of the premise, set within such an explosive context, the plot doubles down on it: Ali starts calling Cole "Blondie" (don't ask), and she tells him to "cut the Hannibal Lecter shit." That's exactly where things are headed, though, and you cringe at the banter yet to come.
Aside from incidents of feces-hurling and a hunger strike included to remind viewers they are, indeed, watching a human-rights drama, Camp X-Ray attempts to shade the situation with a poundingly obvious countervillain (Lane Garrison), Cole's superior, a sexual predator whose advances during the off-time are rebuffed. He then tries to humiliate both Cole and her new Arab friend, Abu Ghraib–style. Who, exactly, are the animals here? It ain't a deep movie.
As seen in 2011's A Separation, Moaadi is naturally magnetic, lending his tortured monologues more dignity than they deserve. And truthfully, Stewart isn't half bad—if you forget about Adventureland and the wider range she once displayed. Do these performances balance out a scenario that feels written by a politically outraged 12-year-old? When the chat turns to a metaphorical lion at the zoo, you'll wish you were back with the teen vampires.
Follow Joshua Rothkopf on Twitter: @joshrothkopf
Details
Release details
Rated:
R
Release date:
Friday October 17 2014
Duration:
117 mins
Cast and crew
Director:
Peter Sattler
Screenwriter:
Peter Sattler
Cast:
Kristen Stewart
Peyman Moaadi
John Carroll Lynch
Lane Garrison