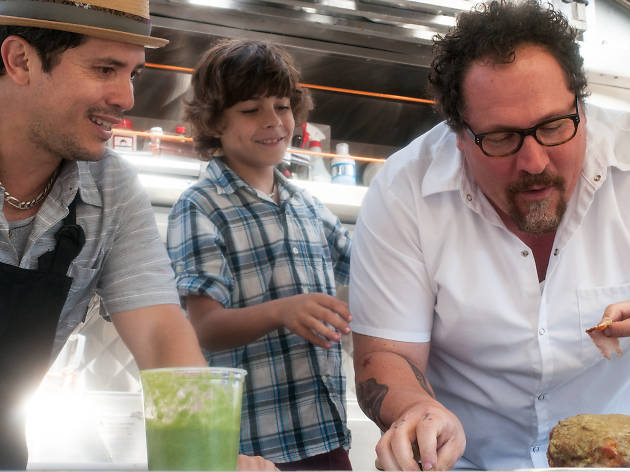 Time Out says
Carl Casper (writer-director Jon Favreau) is stuck in a chocolate-lava-cake rut. Ten years into his plum post at a high-end L.A. eatery, the onetime Miami food wunderkind has taken to passionless, crowd-baiting cooking, hamstrung by his seat-filling restaurateur boss (Dustin Hoffman). When that kitchen complacency is brutally called out by a big-time critic (Oliver Platt, in a deliciously cheeky bit of casting—real-life bro Adam is New York magazine's longtime food critic), Carl's retaliatory lash-out goes viral, and the disgraced toque is told to pack his knives and go.
At the cajoling of his ex-wife, Inez (a subdued Sofía Vergara), Carl escapes his newfound Internet infamy, returning to Miami and his long-neglected, mop-topped young son, Percy (Emjay Anthony). Reinvigorated by his old stomping grounds, Carl decides to pull a culinary 180 and ditch his fine-dining chef's whites for a junky Cubano food truck, embarking on a road to redemption both at home and in the kitchen.
Swap out a food truck for a personal-growth indie and you've got Favreau's career in an easy-to-crack nutshell. Since writing and starring in 1996 critics' darling Swingers, the multihyphenate has been wading in the franchise pool (namely, the Iron Man movies), sometimes meeting with his own version of reviewer hateration. (See: Cowboys & Aliens. Better yet, don't.) Chef marks a return to Favreau's home-cooked roots, albeit with the perks of his big-budget finesse. The nonstop kitchen bustle has the top-shelf slickness of an action-movie sequence, and the high-calorie food porn is as excellently gratuitous as a car chase.
A meandering middle and sticky-sweet third act can be overlooked if only for the savviness with which Favreau portrays the food world. Employing Kogi food-truck founder Roy Choi as an on-set consultant, Favreau nails the locker-room camaraderie between Carl and his line lieutenants (a game John Leguizamo and Bobby Cannavale), the local color of gastro meccas like New Orleans and Austin (a few ounces should have been shaved off these travelogue tangents, but you'll be too food-drunk off glistening barbecue to care) and the make-or-break role of social media in restaurant life. There's family-friendly fluff here, sure, but this dish has considerable bite.
Follow Christina Izzo on Twitter: @christinalizzo
Details
Release details
Rated:
R
Release date:
Friday May 9 2014
Duration:
115 mins
Cast and crew
Director:
Jon Favreau
Screenwriter:
Jon Favreau
Cast:
Jon Favreau
Scarlett Johansson
Sofía Vergara
Dustin Hoffman
John Leguizamo
Oliver Platt

Users say