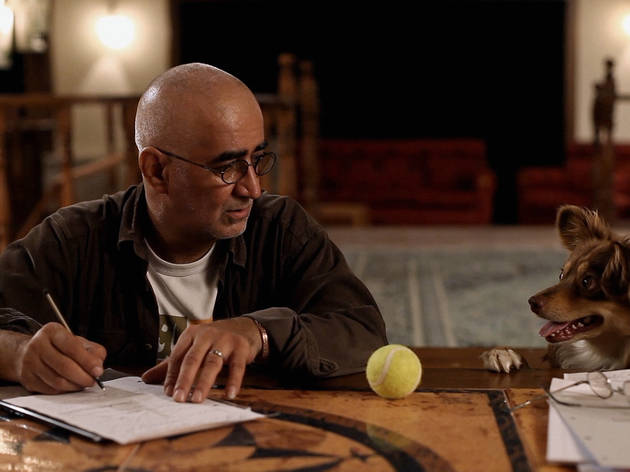 Writer-director Jafar Panahi last graced cinema screens with 2011's extraordinary This Is Not a Film, which dealt with his own house arrest under the repressive Iranian government. (Legend has it that the documentary was smuggled to its first screenings on a hard drive baked into a cake.) Now he's made another masterful, multifaceted feature under similarly draconian conditions. Closed Curtain begins with an absolutely stunning long shot looking through the barred window of a seaside home. A car pulls up, and two men get out. Only one of them (codirector Kambuzia Partovi) enters the house, where he unzips a bag and lets out his pet dog (a true scene-stealer), which runs around with liberated fervor.
The man's first order of business is to block every window with all-obscuring black curtains. His subsequent actions and a grim TV news report reveal that he's a writer who's come to this secluded spot to get away from authorities who are massacring canines countrywide. The first 20 minutes are nearly silent as the man goes through a variety of tasks (jotting down some ideas on a pad, shaving his head, preparing a litter box for his pup). Then a mysterious woman (Maryam Moqadam) and her brother (Hadi Saeedi) appear, at which point Panahi's seemingly simple, straightforward narrative begins to fracture in increasingly astonishing ways.
Closed Curtain touches on similar meta-artistic themes as This Is Not a Film. Panahi once again appears as a version of himself, and his entrance is breathtaking in the way it both shatters and reconfigures the story we thought we were seeing. This is the tale of a man who lives so completely with his muses and characters that he slips between reality and fantasy without an anchor to hold him. (He's not even necessarily played by the same person from scene to scene—identity is one of this bracing movie's most malleable facets.) The journey is often challenging, but the rewards—heady, emotional, provocative and invigorating—are endless.
Follow Keith Uhlich on Twitter: @keithuhlich
Release details
| | |
| --- | --- |
| Rated: | N/R |
| Release date: | Wednesday July 9 2014 |
| Duration: | 106 mins |
Cast and crew
Director:
Jafar Panahi, Kambuzia Partovi
Screenwriter:
Jafar Panahi
Cast:
Jafar Panahi
Kambuzia Partovi
Maryam Moqadam
Hadi Saeedi