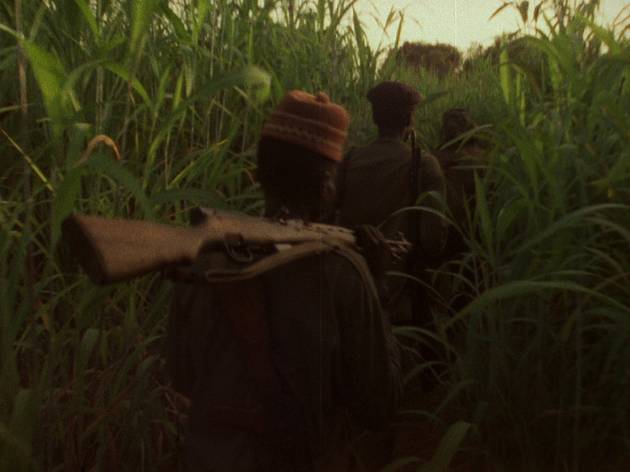 Time Out says
A pulsing, echoing trumpet blast, repeated throughout the film, reveals Concerning Violence for what it is: a prickly, passionate call to arms. The director, Göran Hugo Olsson, isn't some bomb-throwing radical. Rather, he's a Swede who enjoys going through old television reels. His previous composite film, 2011's The Black Power Mixtape 1967–1975, unearthed a trove of eye-opening material: interviews with a boldly Afroed Angela Davis, bustling Harlem street scenes, the Nixon era at war with itself.
Olsson returns to his method of 16mm exhumation, this time with more purpose and ambition. Instead of creating another chronological journey, he weds extraordinary found footage—an Angolan jungle night raid, a Liberian miners' strike, an early interview with Zimbabwe's Robert Mugabe—to the words of anticolonialist social theorist Frantz Fanon, whose 1961 text The Wretched of the Earth is the framework for this doc's nine sections. "Greater violence," Fanon contends, is the only way to oust an invading power. Only minutes in, and Olsson is getting his dark clouds brewing.
Will it help to be boned up on your '60s and '70s historical hot spots? Undoubtedly. Concerning Violence demands a plugged-in viewer, as does A Grin Without a Cat (1977), Chris Marker's immortal history of the left wing, to which this feels like a cousin. But Olsson is savvy enough to extend a helping hand to the young and curious: Ex-Fugee Lauryn Hill's soulful readings take Fanon's message to a personal place of fire. Elsewhere, the filmmaker uses the writer's shock tactics to fuel his own artistic strategy, confronting us with hospitalized militia victims missing their arms and feet (including an impossibly sad mother and infant).
The takeaway is less a didactic sense of outrage than a measured examination of sacrifice. Olsson doesn't connect the dots to today's struggles (a missed opportunity), but his footage discoveries are more than sufficient, e.g., a white Rhodesian, scowling at his butler, calling him "stupid" within earshot—the effrontery is hard to wrap your head around.
Follow Joshua Rothkopf on Twitter: @joshrothkopf
Details
Release details
Rated:
N/R
Release date:
Friday December 5 2014
Duration:
78 mins
Cast and crew
Users say