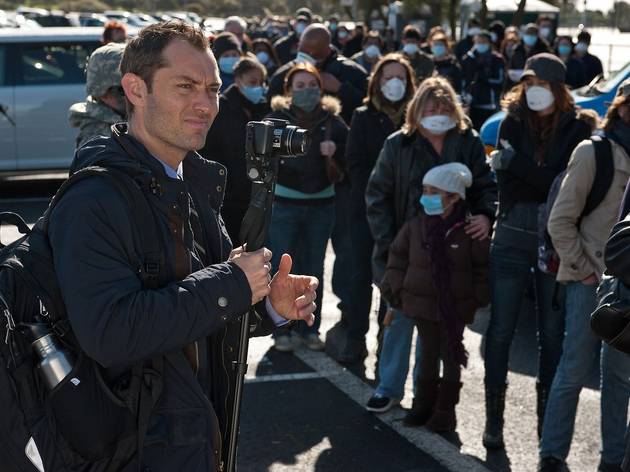 1/2
..2011 Warner Bros. Entertainment Inc. Claudette Barius
Contagion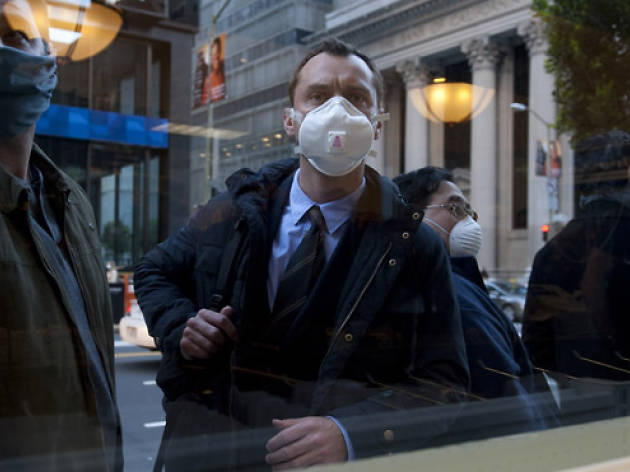 2/2
Jude Law in Contagion
Time Out says
Hurricane Irene has passed---even as we New Yorkers pry open that last can of tuna for a midnight snack, the thought lingers: What if it had been worse? Contagion is that type of worse. Sleek and propelled by an expert sense of suspense, the movie launches its own global killer, an airborne virus that takes millions of lives worldwide. It's a modern-day panic film, built out of a fine sense of quiet and implacable demise; the ramp-up is nearly silent except for the pounding synth beats of composer Cliff Martinez, who deserves some kind of award for making the end of humankind extremely danceable.
Contagion is also, in the truest and most satisfying definition, a melodrama (but not a soap), its characters defined by emergency and evolving into heroes and villains. Director Steven Soderbergh, not even 50 but having threatened early retirement, knows the form well. He delivered Julia Roberts to her rousing, righteous peak in Erin Brockovich and remade Benicio Del Toro into an agonized neo-Bogart with Traffic. These days, Soderbergh likes to throw his Oscar winners under the bus: Contagion is loaded with them, but, like poor Gwyneth Paltrow's business traveler in the first ten minutes, they soon start coughing and going into seizures. (Brace yourself for her cranial buzz-saw scene.)
Left in a state of shock is Paltrow's widower, Matt Damon, who's also lost his young son but is somehow immune. Now come the men and women in white space suits: Kate Winslet's intrepid scientist chasing down the primary case, Marion Cotillard's unavoidably glamorous WHO technician bound for China, and, working through the wee hours in a San Francisco lab, cranky doctor Elliott Gould. The rush of A-listers combined with apocalyptic dread creates its own kind of dizzy pleasure: Who's going down next on this Poseidon Adventure?
There are moments in the cinema of George Romero, as in Dawn of the Dead and The Crazies, that approach this pitch of doom (he'll watch Soderbergh's well-appointed Hollywood production and foam at the mouth with jealousy). But Romero, one guesses, wouldn't have the chutzpah to aim for this sort of high-toned domestic drama: Damon has to forcibly quarantine his other child, a texting teen, from sleeping with her high-school chum. You cringe as the movie actually goes there, or turns Jude Law into an egotistical blogger bent on uncovering a conspiracy.
And still, to be dragged toward catastrophe so confidently may have you forgiving these frizzier strands. Ultimately, Contagion is on the side of coolheadedness: Take Laurence Fishburne's health official, calmly correcting military paranoids who wonder if the bird flu could be weaponized. "The birds are already doing that," he frowns. Do we actually have someone like this in charge? Let's hope so. The movie is morbid fun: training for the real storm.
Follow Joshua Rothkopf on Twitter: @joshrothkopf
Three more epidemic thrillers!
Watch the trailer
Details
Release details
Rated:
PG-13
Release date:
Friday September 9 2011
Duration:
106 mins
Cast and crew
Director:
Steven Soderbergh
Cast:
Jude Law
Kate Winslet
Marion Cotillard
Matt Damon
Gwyneth Strong

Users say