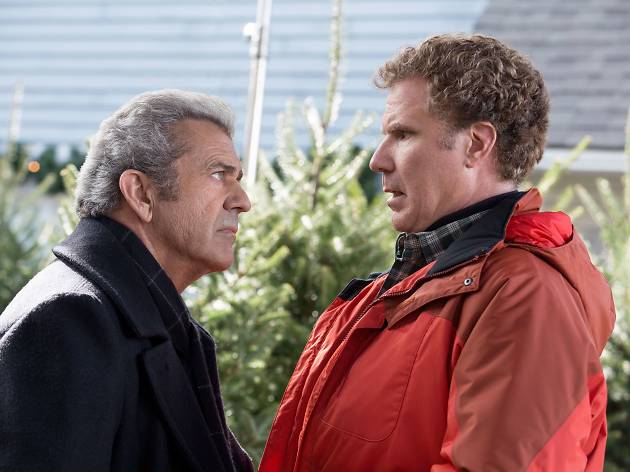 Time Out says
Patriarchal panic spans two generations in a comedy slick with flop sweat.
It's hard to know if this clunky comedy is part of Mel Gibson's redemption arc or some strange new form of karmic retribution. A pre-holiday turkey, Daddy's Home 2 sees him unleash a monster as the growling alpha dad of Mark Walhberg's rough-hewn Dusty. Meanwhile, John Lithgow is the touchy-feely father to Will Ferrell's wimpy Brad, who's still happily married to Dusty's ex (Linda Cardellini) and now has a baby of his own.
The set-up has the pair of younger men amicably sharing parenting duties for a posse of mischievous scamps—if you haven't seen Daddy's Home, prepare not to know who any of these children are—until Gibson's twinkly he-devil, Kurt, an ex-astronaut inexplicably magnetic to every woman he encounters, flies in to bring the whole arrangement crashing down. "It looks as if he's been chiseled from Gibraltar itself," gasps Brad of Kurt as they head off for a shared family Christmas at a snowbound chalet. In truth, he acts a bit like Gibraltar too: glowering and rock-like as the situation turns to chaos. It's a strangely on-edge comic turn from an actor who used to do this stuff with his eyes closed.
Saving the day is Ferrell, who gamely flings himself into all kinds of slapstick. One sequence involving a lawn mower and a string of Christmas lights is almost demonically punishing. If the Buster Keaton pratfalls start to wear a bit thin by the time he's been battered, shot and electrocuted, there are still laughs to be had along the way, as well as the film's best moment: a family trip to see a fictional action movie headlined by a surprise cameo star. It's a hilarious bit of spoofing and almost makes you wish you could watch that film instead.
Details
Release details
Rated:
PG-13
Release date:
Friday November 10 2017
Duration:
100 mins
Cast and crew
Director:
Sean Anders
Screenwriter:
Sean Anders, Brian Burns, John Morris
Cast:
Will Ferrell
Mark Wahlberg
Mel Gibson
John Lithgow

Users say