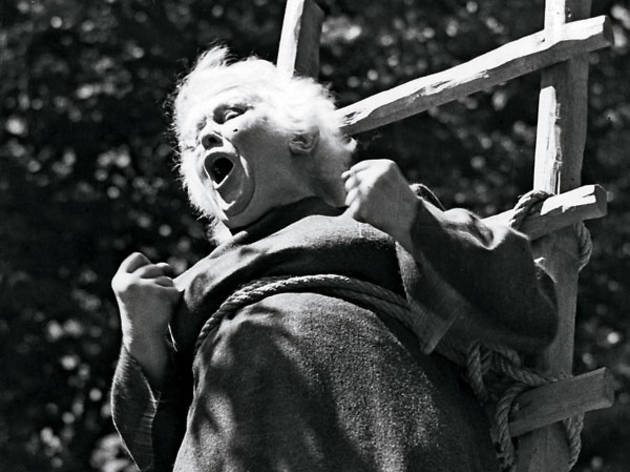 Time Out says
It would be nice to believe that as long as there is cinema, there will be room for Denmark's severe Carl Dreyer, master of the long-suffering close-up. That's just ridiculous, though. Dreyer's work requires commodities now in short supply: a vast expanse of screen, patience, a kind of theatergoing reverence. Maria Falconetti engulfed the lens with her emotional rawness in Dreyer's The Passion of Joan of Arc; when watched on TV, she's just another reality-show pity case.
All the more reason, then, to visit IFC Center for its one-week engagement of Day of Wrath, a lesser Dreyer work, but only in comparison with his own achievements. Hopefully the crowd will hush for the scary little hymnal that introduces the director's customary black-and-white compositions. To call this movie a 17th-century tale of witchcraft oversells the coolness factor a bit; but a pleasant elderly woman (Svierkier) is, indeed, burned at the stake—not before wishing ill on her widowed prosecuting pastor (Roose), while his much younger second wife (Movin) makes eyes with his adult son (Rye).
Soapy as that sounds, the film comes off like an apocalyptic thriller, with faith, family, lust and ash swirling into a vortex. In 1943, most Danes saw their country's Nazi occupiers as the hypocritical witch-hunters, but Dreyer's work has proven detached from time, less about persecution than the preservation of dignity at great cost. Dreyer is not an easy director. But he is one of the most worthy—a modernist as much as a moralist—and Day of Wrath is, relatively speaking, his most approachable effort. And with the images now flickering on the big screen, they actually have a fighting chance.
Details
Release details
Rated:
NR
Release date:
Saturday April 24 1948
Duration:
97 mins
Cast and crew
Director:
Carl Dreyer
Screenwriter:
Carl Dreyer, Poul Knudsen, Mogens Skot-Hansen
Cast:
Thorkild Roose
Lisbeth Movin
Sigrid Neiiendam
Preben Lerdorff Rye
Anna Svierkier
Albert Hoeberg

Users say