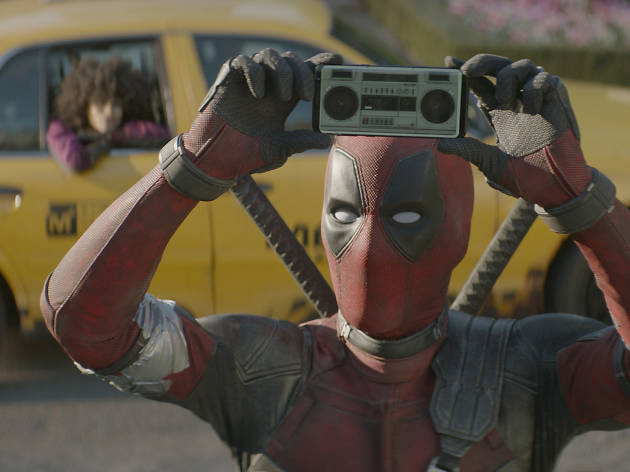 Vicious and smart-alecky, the sequel is a sugar rush that becomes a headache.
A franchise that knows its fans, the Deadpool series caters to its target audience with endless riffing on comic-book lore. If you haven't seen the first movie, which charted how gonzo mercenary Wade Wilson (Ryan Reynolds) became Deadpool, good luck following this equally violent and potty-mouthed sequel. With its steady stream of butt gags and CGI viscera spliced in between self-commentary and several hundred in-jokes, no film has been as unforgiving to latecomers since Alfred Hitchcock locked tardy Psycho ticket holders out of theaters when the opening credits rolled. If you're not a fan, you may as well be living in a cave. (Not the Batcave, obviously.)
Deadpool 2 kicks off with our super-antihero puffing on a cigarette (if the primly nonsmoking Disney completes its deal to purchase 20th Century Fox, expect Wade to be using Nicorette in the next chapter) before blowing himself and his apartment sky-high. His fiancée, Vanessa (Morena Baccarin), was killed in the last film's cross fire while he was taking down a batch of faceless goons; here, grief-stricken, Wade is attempting to end it all. Being indestructible, this proves tricky, though it does allow for a brief meeting with Vanessa in the afterlife—yes, really—where he learns that finding his heart is the key to being reunited with her.
The scene is so un-Deadpool, you almost expect cinema's most notorious fourth-wall–breaker to call a halt to the proceedings and declare it a joke. Instead, the movie toes an unconvincing line between earnest sentiment and sweary glibness as Deadpool tries to protect an orphaned misfit (Hunt for the Wilderpeople's Julian Dennison) from a warrior from the future, Cable (Josh Brolin, having a big-budget season with this and Avengers: Infinity War). The action comes thick and fast, with deafening, frenetically edited chases and fights. Things explode, stuff flips; sometimes things explode and flip at the same time.
Reynolds, a limited performer who is nonetheless perfectly suited to this character, mostly carries the film with his usual smarm. There are some giggly joys on hand: An ill-fated parachute drop to AC/DC's "Thunderstruck" features Rob Delaney as the dadlike Peter, an ordinary guy whose main superpower is having a mustache. But it's a long movie, and when its star isn't onscreen cracking wise, the boundary-pushing shocks and endless self-referencing wear thin. Still, if you're the Deadpool superfan who recently had Reynolds's masked face buzzed into your haircut, you won't be grumbling. For the rest of us, settle in.
Release details
Rated:
R
Release date:
Friday May 18 2018
Duration:
119 mins
Cast and crew
Director:
David Leitch
Screenwriter:
Paul Wernick, Rhett Reese, Ryan Reynolds
Cast:
Ryan Reynolds
Morena Baccarin
Brianna Hildebrand
T.J. Miller
Josh Brolin